Sheffield's golden girl Jessica Ennis-Hill crowned world heptathlon champion
University of Sheffield graduate and Olympic gold medallist Jessica Ennis-Hill has been crowned world heptathlon champion at the World Athletics Championships.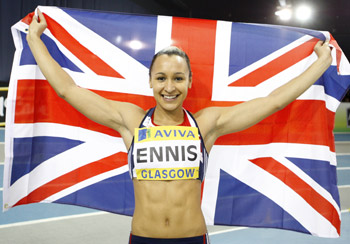 The 29-year-old, who studied Psychology at the University before graduating in 2007, had built up a comfortable lead in the first six events before storming through her 800m heat in two minutes and 10.13 seconds to secure gold in Beijing.
She amassed 6,669 points – 115 points ahead of her nearest rival, Canada's Brianne Theisen-Eaton.
The London 2012 winner only decided to compete in the championships last month, nine months after returning to training since giving birth to her son, Reggie.
Jessica previously overcame the heartbreak of missing the Beijing 2008 Olympics due to injury to become the country's first heptathlon gold medallist at the World Championships in Berlin in 2009, before winning gold again at the European Championships in Barcelona and scooping silver in Daegu in 2011.
She then became the face of the London 2012 Olympics and was the focus of intense media spotlight.
However, she thrived under pressure as the crowd cheered her on to the gold medal and a British and Commonwealth record score of 6,955 points, beating silver medallist Lilli Schwarzkopf by 306 points and bronze medallist Tatyana Chernova by a further 21 points.
Jessica received an honorary degree from the University of Sheffield in January 2010 and was a patron of the University's Elite Sports Performance Scheme (ESPS) which was launched in 2009 to provide financial and non-financial support to talented student athletes at the University, who are representing England, Wales, Scotland or Northern Ireland in one of Sport England's recognised sports.
She was also awarded the University's Chancellor's Medal in 2008 in recognition of her outstanding athletic achievements.
Mr Miles Stevenson, Director of Alumni and Donor Relations for the University of Sheffield, said: "Jessica Ennis-Hill's outstanding achievements are the result of considerable dedication and hard work. Her continued success and her sporting legacy is something everyone in Sheffield is very proud of.
"She is an inspiration to our students on the University's Elite Sports Performance Scheme – all of whom are training to be the next generation of world class athletes."
Additional information
Elite Sports Performance Scheme
The Elite Sports Performance Scheme enables elite athletes wishing to study at Sheffield with the opportunities and support needed to ensure they can be successful not only in the sporting arena but in the academic one too. Any student representing their country in one of Sport England's recognised sports will have the opportunity to apply. For more information about the Elite Sports Performance Scheme visit ESPS.
University of Sheffield
With almost 26,000 of the brightest students from around 120 countries, learning alongside over 1,200 of the best academics from across the globe, the University of Sheffield is one of the world's leading universities.
A member of the UK's prestigious Russell Group of leading research-led institutions, Sheffield offers world-class teaching and research excellence across a wide range of disciplines.
Unified by the power of discovery and understanding, staff and students at the university are committed to finding new ways to transform the world we live in.
In 2014 it was voted number one university in the UK for Student Satisfaction by Times Higher Education and in the last decade has won four Queen's Anniversary Prizes in recognition of the outstanding contribution to the United Kingdom's intellectual, economic, cultural and social life.
Sheffield has five Nobel Prize winners among former staff and students and its alumni go on to hold positions of great responsibility and influence all over the world, making significant contributions in their chosen fields.
Global research partners and clients include Boeing, Rolls-Royce, Unilever, AstraZeneca, Glaxo SmithKline, Siemens and Airbus, as well as many UK and overseas government agencies and charitable foundations.
Contact
For further information please contact:
Hannah Postles
Media Relations Officer
University of Sheffield
0114 222 1046
h.postles@sheffield.ac.uk