Minister praises impact of industry and university partnerships during AMRC visit
Minister delivers first major speech at University of Sheffield's Advanced Manufacturing Research Centre
Jo Johnson MP highlights importance of universities working with businesses to power innovation and growth.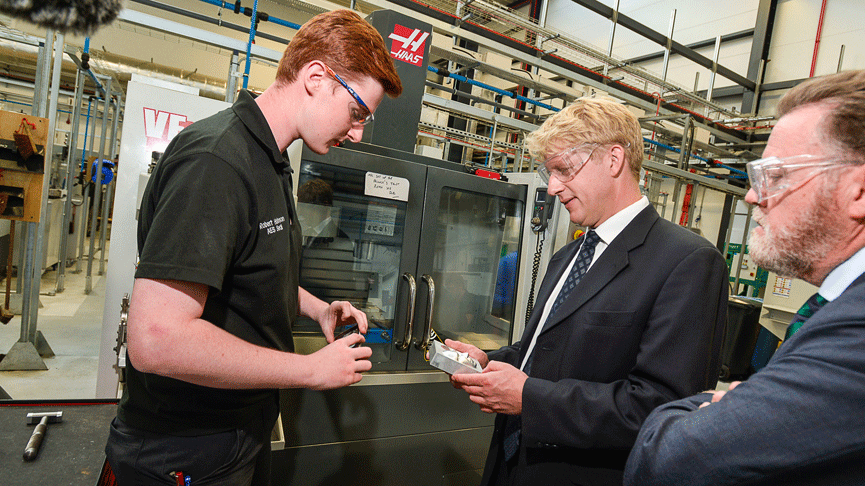 Universities Minister Jo Johnson saw first-hand how universities and businesses can successfully work together to power innovation and growth during a visit to the University of Sheffield's Advanced Manufacturing Research Centre (AMRC) with Boeing today (16 July 2015).
In his first major speech since being appointed Minister for Universities, Science and Innovation, the Minister spoke of the government's commitment to One Nation Science – upholding the best in British science and research and developing that excellence for the whole country to ensure everyone can reach their potential.
"I am delighted to be at the University of Sheffield AMRC to see for myself the strong base on which we want to build," he said.
"Yorkshire has a reputation for the practical and you should be proud of the practical impact of the work you do."
The Minister was taken on a tour of the University's AMRC Design, Prototype and Test Centre and Nuclear Advanced Manufacturing Centre (NAMRC), which are a major part of the ground-breaking High Value Manufacturing Catapult helping to stimulate growth in the sector by accelerating new research concepts into commercial reality.
He said: "Our universities are successfully engaging with industry and the returns from collaborations are now greater than ever before.
"The Higher Education Funding Council for England's (HEFCE) latest report on business-university interaction – published today, shows the value of these partnerships has reached record levels.
"Our Productivity Plan set out our ambition for universities to continue to increase their collaborations to £5 billion per annum by 2025."
But he added: "We know that the only way to secure a truly national recovery is through a fundamental rebalancing of the British economy. This is why we have committed to 28 City Deals, signed a historic Devolution Agreement with Greater Manchester and are working towards further devolution for Sheffield City Region and elsewhere.
"To ensure that productivity grows nationally we need to empower cities like Sheffield to reach their full potential. Productivity here is currently less than half that in Oxford and London. Research and innovation have a critical role to play in plugging these productivity gaps around the country."
During his visit, the Minister met apprentices at the AMRC Training Centre and announced the University of Sheffield will be pioneering a new education route for successful apprentices to study advanced vocational University degrees, as part of their training.
The quality, industry powered, apprenticeships are set to play a key role in cementing collaborations between universities and businesses and boosting UK productivity.
The ministerial visit was hosted by University of Sheffield Vice-Chancellor Professor Sir Keith Burnett, a member of the Prime-Minister's Advisory Council on Science and Technology, who welcomed the Minister's commitment to world-leading research with industry and pathways to degree level apprentices.
He said: "The AMRC is a place of ambition, hope and change. I think that the Minister would agree that ambition, hope and change are at the heart of education.
"We who are privileged to work in universities treasure this privilege and we look forward to working with the Minister to ensure the United Kingdom's universities continue to be admired around the world for research and teaching which are deeply ambitious, and which address global challenges, which transform the economy and help students and graduates achieve their true potential."
In his speech, the Minister also gave further details about Science and Innovation Audits, announced by Chancellor George Osborne in his summer budget, which will see the government work with universities, Local Enterprise Partnerships, cities, and businesses to map science and innovation strengths and identify potential areas of strategic focus for different regions.
Professor Richard Jones, Pro-Vice-Chancellor for Research and Innovation, said: "At the University of Sheffield, we already work in collaboration with the city, Sheffield Hallam University and local businesses through the Local Enterprise Partnership's Science and Innovation Board in support of our Advanced Manufacturing Innovation District and other areas of industrial strength, including healthcare technology and the digital sector.
"We also fully support the ongoing discussions about city devolution, and we're working closely with our partners in the N8 group of Northern universities in the context of the Northern Powerhouse. We look forward to contributing to a resurgence of productivity and growth in the Sheffield City Region and the nation more widely through our pioneering work on innovation and skills."
Additional information
The University of Sheffield
With almost 26,000 of the brightest students from around 120 countries, learning alongside over 1,200 of the best academics from across the globe, the University of Sheffield is one of the world's leading universities.
A member of the UK's prestigious Russell Group of leading research-led institutions, Sheffield offers world-class teaching and research excellence across a wide range of disciplines.
Unified by the power of discovery and understanding, staff and students at the university are committed to finding new ways to transform the world we live in.
In 2014 it was voted number one university in the UK for Student Satisfaction by Times Higher Education and in the last decade has won four Queen's Anniversary Prizes in recognition of the outstanding contribution to the United Kingdom's intellectual, economic, cultural and social life.
Sheffield has five Nobel Prize winners among former staff and students and its alumni go on to hold positions of great responsibility and influence all over the world, making significant contributions in their chosen fields.
Global research partners and clients include Boeing, Rolls-Royce, Unilever, AstraZeneca, Glaxo SmithKline, Siemens and Airbus, as well as many UK and overseas government agencies and charitable foundations.
The University of Sheffield's AMRC Advanced Apprentices
The first cohort of AMRC Advanced Apprentices was accepted in 2014 in a state-of-the-art training centre at the Advanced Manufacturing Park.
The ground breaking AMRC Training Centre, supported by the Regional Growth Fund and European Regional Development Fund, aims to create knowledge and manufacturing breakthroughs by equipping highly skilled workers who will go on to regenerate the UK's manufacturing industry.
Aged from 16, all of the apprentices come from a wide range of manufacturers with operations in the Sheffield city region, including Tata Steel, Rolls-Royce, Sheffield Forgemasters, AES Seal, MTL Group and Newburgh Engineering, and from the AMRC group itself.
As well as apprenticeships, the centre links with both Sheffield universities for higher-level education up to doctorate and MBA level, and offers a range of courses for continuing professional development.
The University's AMRC is the recipient of the Queen's Anniversary Prize for Higher Education for the way it works in partnership with industry, and has won a number of international awards including Boeing Supplier of the Year - the first time this international award had been made either to the UK or to a university. The AMRC Advanced Apprentices were also named Widening Participation Initiative of the Year in the most recent Times Higher Education awards.
The AMRC Training Centre was praised in 'Forging Futures: Building higher level skills through university and employer collaboration', published by Universities UK and the UK Commission for Employment and Skills. The report included the AMRC as a case study of how employers and universities are working together to build pathways to the highly skilled jobs crucial to the UK's economic future.
Contact
For further information please contact:
Hannah Postles
Media Relations Officer
0114 222 1046
h.postles@sheffield.ac.uk