Knighthood for University of Sheffield Vice-Chancellor
The Vice-Chancellor of the University of Sheffield, Professor Keith Burnett, has been awarded a knighthood in the New Year's honours list for services to science and higher education.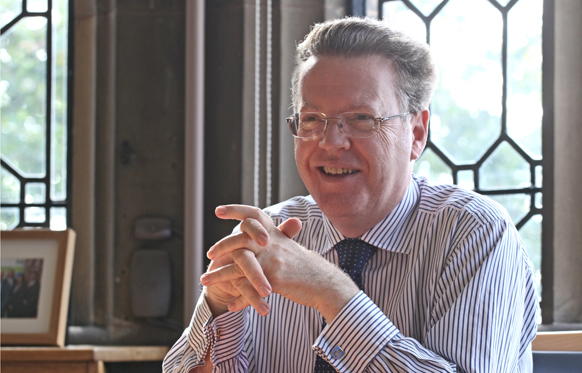 Professor Burnett is an eminent atomic physicist who has also played an important role in developing science policy in the United Kingdom. He is a member of the Council of Science and Technology reporting to the Prime Minister and has offered independent advice on issues such as postgraduate education.
He was also recently appointed to the Infrastructure Council which will advise the Treasury on major investments totalling up to £200 billion over the next five years, including on energy, transport, waste, science, water and telecoms.
As Vice-Chancellor of the University of Sheffield since 2007, Professor Burnett leads a University which combines world-class scholarship with the highest quality teaching. He has also focused attention on the impact of a civic university on wider society, and particularly its city and region. In 2011 the University of Sheffield was named the Times Higher Education University of the Year.
Responding to the announcement, Professor Burnett said: "I am delighted to accept this honour, which I do as the leader of an outstanding team here at the University of Sheffield. Our staff and students are drawn from the brightest and most talented people from all over the world, and others see in us the vision, expertise, determination and culture to use that knowledge to make a difference.
"From addressing the challenges of environmental change or the global economy, to treating diseases and understanding the beginnings of the universe, the University of Sheffield is a powerful force for good. But I also believe that the most important transformation we make is in the lives of our students who go on to benefit society in so many ways. It is this achievement which continues to be one of my greatest sources of pride and pleasure."
Professor Burnett has been a strong supporter of the University's Advanced Manufacturing Research Centre, an award-winning collaboration between leading companies such as Boeing and Rolls-Royce, as well as over 40 supply chain companies to create a step change in manufacturing. This work led last month to the award of over £37million in Regional Growth Funding to support developments in the manufacturing supply chain, and has led him to be described by industrialists as an exemplary Vice-Chancellor playing a vital role in an area directly relevant to the future economic prosperity of the United Kingdom.
Additional information
Formerly Chair in Physics and Head of Mathematics and Physical Sciences at Oxford, Professor Burnett Chaired the Review of Fusion Science for the Department of Trade and Industry and the Fusion Advisory Board at the UK Atomic Energy Authority. He was a member of the Science and Technology Facilities Council and led its Comprehensive Spending Review group.
Professor Burnett has served on national reviews of Higher Education policy and practice, including on Postgraduate Education. He led the N8 Universities Group to become a hub of academic capacity in the North, and recently completed a period as Chair of the Universities and Colleges Employers Association. He has Chaired the Board of Graduate Prospects, the Higher Education Careers Service, and is also an important advocate for professional standards and recognition for skilled scientific technicians.
Internationally, Professor Burnett is a prominent supporter of the vital role of UK universities as a home for world-class talent and creativity. His commitment to global scholarship reflects his experience working both at Oxford and Imperial College London, as well as in the United States. He has served as a Director of the Worldwide Universities Network and has a personal interest in Chinese language and culture.
The University of Sheffield
With nearly 25,000 students from 125 countries, the University of Sheffield is one of the UK's leading and largest universities. A member of the Russell Group, it has a reputation for world-class teaching and research excellence across a wide range of disciplines. The University of Sheffield was named University of the Year in the Times Higher Education Awards 2011 for its exceptional performance in research, teaching, access and business performance. In addition, the University has won four Queen's Anniversary Prizes (1998, 2000, 2002, and 2007).
These prestigious awards recognise outstanding contributions by universities and colleges to the United Kingdom's intellectual, economic, cultural and social life. Sheffield also boasts five Nobel Prize winners among former staff and students and many of its alumni have gone on to hold positions of great responsibility and influence around the world. The University's research partners and clients include Boeing, Rolls-Royce, Unilever, Boots, AstraZeneca, GSK, ICI, Slazenger, and many more household names, as well as UK and overseas government agencies and charitable foundations.
The University has well-established partnerships with a number of universities and major corporations, both in the UK and abroad. Its partnership with Leeds and York Universities in the White Rose Consortium has a combined research power greater than that of either Oxford or Cambridge.
Contact
Ruth Arnold
Head of Corporate Communications
The University of Sheffield
0114 222 1035 or 07747 007527
r.arnold@sheffield.ac.uk