Major film featuring Tom Cruise for University of Sheffield graduate
The international best-selling author Lee Child who graduated from the University of Sheffield has seen his work adapted for the big screen for the second time in a film starring Tom Cruise.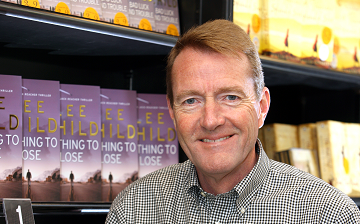 Lee Child, the writer behind the Jack Reacher series whose real name is Jim Grant, will see the film-version of his novel Never Go Back, released in the cinema this week (Friday 21 October 2016). The movie is the sequel to One Shot, released in 2012 which also has Cruise playing the lead role.
Jim Grant studied at Sheffield from 1974 to 1977. Although he came to Sheffield to study law, he has said that he had no intention of becoming a lawyer. Instead he used law as a lens through which to observe the world and the current issues it confronts.
During his studies Lee developed a passion for drama which led him to work in television after graduating. He joined Granada Television and produced successful programmes including Prime Suspect, The Jewel in the Crown, Cracker and Brideshead Revisited.
After leaving television in 1995, Lee decided to try his hand at writing. He signed a three book deal and in 1997 published his first book Killing Floor, which became an instant success. The book introduced the world to crime fiction character Jack Reacher, a former US military police officer who investigates suspicious and dangerous situations, confronting serial killers, kidnappers and assassins.
Jim is a great friend of our University and a sincere supporter of students in Sheffield today.

professor sir keith burnett, CBE, FRS, VICE-CHANCELLOR
Since then Jim has had over 20 books published and has sold well over 100 million books.
Jim Grant still has strong links with the University of Sheffield, where he met his wife Jane, and continues to show support for the University and its work. He is a Visiting Professor and in 2009 established more than 50 Jack Reacher Scholarships, supporting current students through their studies. He was awarded an Honorary Degree the same year.
According to Vice-Chancellor Professor Sir Keith Burnett:
"It is tremendous to see Jim Grant's ongoing success as a writer, and in particular with the release of this new film. Jim is a great friend of our University and a sincere supporter of students in Sheffield today. Earlier this year Jim was guest of honour and speaker at our University's American Alumni Reunion in New York where he described his experiences as a writer, his commitment to sharing opportunities with young people, and his concerns about growing nationalism in politics across the West, including both the UK and the US.
"I also had the pleasure of meeting Jim in his own home and sharing with him our concerns to share opportunities with young people from all backgrounds in ways which had benefitted us both personally. Jim in particular welcomed the University's work to raise funds for refugee scholars and Sheffield's leading role in the #WeAreInternational campaign, which stresses that education works best when it is open to talent and idea across national borders."
The University of Sheffield
With almost 27,000 of the brightest students from over 140 countries, learning alongside over 1,200 of the best academics from across the globe, the University of Sheffield is one of the world's leading universities.
A member of the UK's prestigious Russell Group of leading research-led institutions, Sheffield offers world-class teaching and research excellence across a wide range of disciplines.
Unified by the power of discovery and understanding, staff and students at the university are committed to finding new ways to transform the world we live in.
Sheffield is the only university to feature in The Sunday Times 100 Best Not-For-Profit Organisations to Work For 2016 and was voted number one university in the UK for Student Satisfaction by Times Higher Education in 2014. In the last decade it has won four Queen's Anniversary Prizes in recognition of the outstanding contribution to the United Kingdom's intellectual, economic, cultural and social life.
Sheffield has six Nobel Prize winners among former staff and students and its alumni go on to hold positions of great responsibility and influence all over the world, making significant contributions in their chosen fields.
Global research partners and clients include Boeing, Rolls-Royce, Unilever, AstraZeneca, Glaxo SmithKline, Siemens and Airbus, as well as many UK and overseas government agencies and charitable foundations.