Research into living walls aims to improve urban life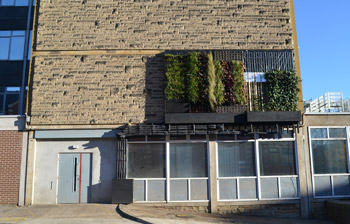 A year-long research programme at the University of Sheffield is aiming to improve urban life in the UK through the use of living walls.
The research will quantify the long term effects of living wall systems in the UK climate over all four seasons of the year. Living walls are made by covering surfaces of buildings in plants and creating conditions for them to grow and live successfully there.
"Studies have shown that covering the surfaces of buildings in urban environments with green plants results in an improvement in air quality, aesthetics and wellbeing." explained Dr Hasim Altan from the University of Sheffield's School of Architecture. "However, most of these studies have taken place in climates significantly warmer than the UK. Our study will find out how living walls fare in the UK's weather and how they can be of most benefit in this country."
Dr Altan explained the need for living walls in our cities: "Our working and living spaces in inner cities forcibly have to climb vertically as a lack of available land increasingly becomes more of an issue. Vertical greenery has great potential to increase necessary green mass in cities by utilising surfaces that have conventionally not been considered as platforms for vegetation.
"As the initial installation cost of living walls are the major disadvantage of promoting the practice, it is vital to clarify the benefits for investments. Studies like ours will provide the knowledge of quantifiable data that will help businesses and individuals make informed decisions and choices when they consider building specifications.
"There is also a significant lack of technical information on living walls. It is important to investigate factors that could affect the success and the environmental performance of living wall systems to establish practice guidelines. It will encourage people to choose effective ways of incorporating this new concept into practical building design and optimise the benefits."
Test beds consisting of three different types of living wall systems and two types of climber covers have been installed on the south-west wall of the George Porter Building at North Campus at the University of Sheffield. The thermal data within each system, wall surface temperatures behind them and the internal and external air temperatures will be recorded until autumn 2013.
Detailed analysis will then be carried out to look at how the systems functioned differently in relation to variation and climatic conditions. The observational data will also help to validate computer simulation results, enabling the researchers to clarify the benefits of vegetated walls in improving building energy performance and the indoor thermal comfort of its occupants.
The study is also looking at the consumption of irrigation water required for each system. There have been concerns regarding the maintenance and environmental costs of keeping living walls thriving, especially the requirements for mains water. The monitoring will provide a good indication as to which system is most efficient and possible ideas for future improvements.
The study is being carried out in collaboration with a leading Living wall contractor, Scotscape Ltd and is funded by the UK Engineering and Physical Sciences Research Council (EPSRC). It has established the first bridge between the rapidly growing 'green wall' industry and academic knowledge, and will promote the benefits of living walls with much needed technical data.
The benefits of living walls in terms of providing habitats for essential invertebrate life, birds and bees is also being assessed by the charity Buglife. Quarterly analytical assessments are being undertaken to monitor the rich variety of 'birds, bugs and bees' which gravitate to areas of biodiversity in urban areas.
Juri Yoshimi, PhD Student and Research Assistant to Dr Altan, is running her own research parallel to the Living Walls project, exploring green walls and their thermal effects using a long term monitoring and simulation study.
Scotscape's Managing Director, Angus Cunningham said: "The University of Sheffield has an enviable reputation for the quality of its research into sustainable building materials and we're absolutely delighted to be sponsoring and working with the research team on this particular programme, which will enable future clients to select the system most appropriate for their budget and sustainable infrastructure goals. This is the most comprehensive piece of research ever undertaken into the thermal benefits of Living Walls and we're looking forward to seeing the results in the autumn of 2013.''
Additional information
Dr Altan leads an independent research group, Building Environments Analysis Unit (BEAU), which is a long-established and a registered Research Centre in the University of Sheffield which aims to promote Sustainable Design and Simulation in practice and provide Environmental Design and Sustainability advice, and resources to the building industry in related areas as part of knowledge transfer and exchange. To find out more visit: BEAU Group
To find out more about Scotscape Ltd visit: Scotscape Ltd
The University of Sheffield
With nearly 25,000 of the brightest students from 125 countries coming to learn alongside 1,181 of the world's best academics, it is clear why the University of Sheffield is one of the UK's leading universities. Staff and students at Sheffield are committed to helping discover and understand the causes of things - and propose solutions that have the power to transform the world we live in.

A member of the Russell Group, the University of Sheffield has a reputation for world-class teaching and research excellence across a wide range of disciplines. The University of Sheffield has been named University of the Year in the Times Higher Education Awards 2011 for its exceptional performance in research, teaching, access and business performance. In addition, the University has won four Queen's Anniversary Prizes (1998, 2000, 2002, 2007), recognising the outstanding contribution by universities and colleges to the United Kingdom's intellectual, economic, cultural and social life.

One of the markers of a leading university is the quality of its alumni and Sheffield boasts five Nobel Prize winners among former staff and students. Its alumni have gone on to hold positions of great responsibility and influence all over the world, making significant contributions in their chosen fields.

Research partners and clients include Boeing, Rolls-Royce, Unilever, Boots, AstraZeneca, GSK, ICI, Slazenger, and many more household names, as well as UK and overseas government agencies and charitable foundations.

The University has well-established partnerships with a number of universities and major corporations, both in the UK and abroad. Its partnership with Leeds and York Universities in the White Rose Consortium has a combined research power greater than that of either Oxford or Cambridge.

Contact
For further information please contact:
Amy Stone
Media Relations Officer
The University of Sheffield
0114 222 1046
a.f.stone@sheffield.ac.uk