Share the care: long-tailed tits show coordinated parenting is beneficial for chicks
Long-tailed tits are more successful at raising young when they alternate their feeding trips, scientists from the University of Sheffield have found.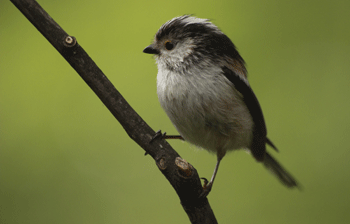 A new study shows parents who take it in turns to feed their chicks in the nest give their young more food and better protect them from being eaten by predators, in comparison to those who give them food at random intervals.
This is the first time the strategy, which is similar to humans sharing late night feeds, has been shown to benefit the family group.
Lead author of the research, Kat Bebbington, said: "Parents with a young baby often take it in turns to do the gruelling night time feeds so that neither of them gets too exhausted.
"This is a situation we are all familiar with as humans, but there's almost no evidence for animals doing this in nature.
"Our research shows that for long-tailed tits at least, coordinating and alternating parental responsibilities like feeding can mean the difference between life and death for chicks."
The research, which is published today in the journal Behavioral Ecology, suggests that parents who take turns visiting the nest do so by making sure they both arrive at the nest at the same time.
This strategy allows them to keep an eye on whose turn it is to feed, but also means that, over the course of the day, parents spend less time near the nest than they would do if each visited the nest alone.
Scientists think this is the reason why chicks are less likely to be eaten if their parents take turns to feed them – visually-based predators like foxes and crows are less likely to be attracted to the nest if the parents are not flying around it as often.
"Most animals provide care for their young, but birds, and people, are unusual because care is often provided by both parents. This situation generates conflict between the parents because each of them would like their partner to take a greater share of parenting effort. How parents negotiate to resolve this conflict has rarely been investigated, but 'tit-for-tat' alternation of visits provides one potential solution to the problem." said Kat.
"Our study is the first to show that parents who coordinate care better are more successful in raising young. This clear benefit is a substantial step forward in our understanding of how parenting evolves.
"This "tit-for-tat" style bargaining might also work in other areas of life - at work we all negotiate our tasks with others to make sure the workload is shared, and in nature animals can do the same when feeding offspring, fighting predators or sharing food."
Additional information
University of Sheffield
With almost 26,000 of the brightest students from around 120 countries, learning alongside over 1,200 of the best academics from across the globe, the University of Sheffield is one of the world's leading universities.
A member of the UK's prestigious Russell Group of leading research-led institutions, Sheffield offers world-class teaching and research excellence across a wide range of disciplines.
Unified by the power of discovery and understanding, staff and students at the university are committed to finding new ways to transform the world we live in.
In 2014 it was voted number one university in the UK for Student Experience by Times Higher Education and in the last decade has won four Queen's Anniversary Prizes in recognition of the outstanding contribution to the United Kingdom's intellectual, economic, cultural and social life.
Sheffield has five Nobel Prize winners among former staff and students and its alumni go on to hold positions of great responsibility and influence all over the world, making significant contributions in their chosen fields.
Global research partners and clients include Boeing, Rolls-Royce, Unilever, AstraZeneca, Glaxo SmithKline, Siemens and Airbus, as well as many UK and overseas government agencies and charitable foundations.
Contact
For further information please contact:
Amy Pullan
Media Relations Officer
University of Sheffield
0114 222 9859
a.l.pullan@sheffield.ac.uk