University of Sheffield develops partnership with Singapore and Malaysia
The University of Sheffield's Vice-Chancellor Professor Sir Keith Burnett will this week (4 - 11 April 2016) visit Singapore and Malaysia. A key focus of the trip will be to learn more about the region's strengths in science, engineering and economic growth - meeting with a number of leading scientists, industrialists and educational leaders - and to celebrate the expansion of activities supported by our Kuala Lumpur office.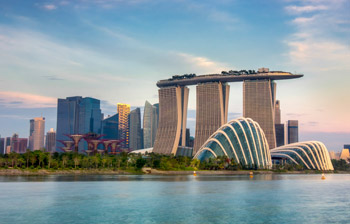 During his trip, Sir Keith will strengthen links between UK Higher Education and South East Asia, while highlighting the strengths and ambitions of the University of Sheffield in key areas such as medicine, sustainable development, architecture and advanced manufacturing. Sir Keith will also hold visits with senior alumni of the University, including those helping to shape the region's social and legal systems.
The University of Sheffield has 2,000 graduates in Singapore and 4,500 in Malaysia, many of whom studied architecture, engineering, medicine and law, as well as subjects in the arts and humanities and social sciences. In the six decades since the first South East Asian students graduated from Sheffield, they have helped to shape the development and success of these thriving societies and economies.
On Saturday 9th April the Vice-Chancellor will introduce the new Director of our office in Kuala Lumpur, Jessie Teo, at an event for partners, alumni and friends of the University. The office has been operating successfully in Malaysia and neighbouring countries for many years but is starting a new phase of increased activity, developing partnerships and recruitment for the University across the ASEAN region from its base in Kuala Lumpur.
The University of Sheffield, which was ranked one of the 100 'most international' universities by The Times Higher Education earlier this year, fosters long-standing connections in Malaysia and is proud to be among the top three study destinations in the UK for Malaysian students. The academic year 2014/15 saw a significant increase in the number of Malaysian students taking up courses at the University, with a rise in the number of postgraduate research students, whilst the number of Malaysian undergraduates at the University also reached its highest number on record.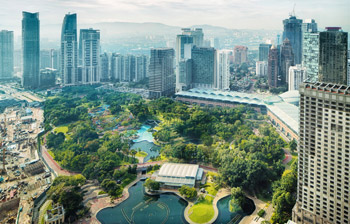 Professor Sir Keith Burnett, Vice-Chancellor of the University of Sheffield, said: "I am delighted to be visiting Singapore and Malaysia at this very important time, both for our students from the region, but also as the UK and South East Asia address common challenges relating to advanced manufacturing, sustainability and health.
"The key to success for all of us will be the commitment of talented people who have had the education which enables them to understand the nature of problems and opportunities, and to work in new ways to address them. We have a proud tradition of working with students and graduates from Singapore and Malaysia, and we are thrilled that new generations of South East Asian students are following in the footsteps of those who have already given so much to their societies."
The celebration event for our Kuala Lumpur office will be attended by Malaysian Lord Chief Justice and Sheffield alumnus Tun Arifin Zakaria. Chair of the Campaign for Social Sciences in the UK, Professor James Wilsdon, who is the University's Director of Policy, Impact and Engagement in the Faculty of Social Sciences, will also travel to Singapore and Malaysia with the University representatives.
The visit to both Singapore and Malaysia will also include lectures from Professor James Wilsdon and Professor Daniel Goodley to key groups of alumni and VIP guests on the importance of interdisciplinary work between science, engineering and social sciences to tackle global challenges. This will be linked to a forthcoming research institute to be launched later in the year that will look at what it is like to be human.
Malaysian Students' Union International Officer Peggy Lim will represent current students and help to celebrate Sheffield's thriving community of international students and scholars, as well as continue to raise awareness of the University's award-winning #WeAreInternational campaign, which is supported by over 100 universities keen to welcome international students to the UK.
Additional information
The University of Sheffield
With almost 27,000 of the brightest students from over 140 countries, learning alongside over 1,200 of the best academics from across the globe, the University of Sheffield is one of the world's leading universities.
A member of the UK's prestigious Russell Group of leading research-led institutions, Sheffield offers world-class teaching and research excellence across a wide range of disciplines.
Unified by the power of discovery and understanding, staff and students at the university are committed to finding new ways to transform the world we live in.
Sheffield is the only university to feature in The Sunday Times 100 Best Not-For-Profit Organisations to Work For 2016 and was voted number one university in the UK for Student Satisfaction by Times Higher Education in 2014. In the last decade it has won four Queen's Anniversary Prizes in recognition of the outstanding contribution to the United Kingdom's intellectual, economic, cultural and social life.
Sheffield has five Nobel Prize winners among former staff and students and its alumni go on to hold positions of great responsibility and influence all over the world, making significant contributions in their chosen fields.
Global research partners and clients include Boeing, Rolls-Royce, Unilever, AstraZeneca, Glaxo SmithKline, Siemens and Airbus, as well as many UK and overseas government agencies and charitable foundations.
Contact
For further information, please contact:
Shemina Davis
Media Relations Manager
The University of Sheffield
0114 222 5339
shemina.davis@sheffield.ac.uk