Mars mission could solve Earth's biggest issues, says University of Sheffield student
• Gillian Finnerty is among 1,058 shortlisted for one-way Mars trip
• The astrophysics student believes the mission could start a new era of sustainable living on Earth
• She could be one of four taking off in 2024 to start a new colony on the Red Planet
A University of Sheffield student who is down to the final stages of a one-way trip to Mars believes the mission could be the answer to Earth's biggest threats.
Astrophysics student, Gillian Finnerty, 21, has been shortlisted from more than 200,000 other hopefuls for the $6billion Mars One project to set up the first human colony on another planet.
Gillian says by heading to the Red Planet she could help to educate people to live sustainably and kick-start a new era of sustainable technology and people growing their own food.
"Overpopulation is the biggest problem we have and we will eventually run out of food," said Gillian.
"If we go to Mars and live in a sustainable manner then it will prove to the people on Earth you can live well without being greedy. It will hopefully inspire people to not take Earth for granted. There's nothing on Mars but we will make the most of it. On Earth we have everything but we are spoiling it. Hopefully Mars One will save the future!"
Gillian, who has wanted to be an astronaut since a teen, found out by email that she had made it through to a shortlist of 1,058 people in the Dutch project after sending in a CV and video explaining why she wanted to take part.
She admitted she was excited but nervous at the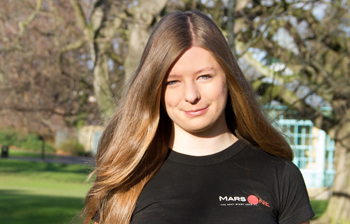 prospect of the one-way trip if selected and said being able to communicate with friends and family, including non-identical twin Kelly, via the internet, would stave off getting homesick, and she believes she has all the right attributes.
"I'm physically fit," said Gillian who has represented the University of Sheffield in snowboarding, wakeboarding, trampolining and badminton. "I've got quick reactions learnt through snowboarding and the right mindset. I believe I can be trained in anything and have the right personality."
Applicants will now be whittled down to just 24 with a seven-year training course starting in 2015. The programme will feature in a reality TV show and will put contenders through rigorous testing similar to those undertaken by astronauts.
The plan is for the first four selected for the Mars mission to take off in 2024 to start a colony following several unmanned trips to take equipment including homes, vehicles and supplies.
Gillian added: "I want to do something significant with my life, inhabiting another planet is the biggest step ever taken and there really is nothing more significant which I could do."
Additional information
A video of Gillian talking about her Mars mission is available here http://www.youtube.com/watch?v=xTEXyL2_SGE
The University of Sheffield
With nearly 25,000 of the brightest students from 117 countries coming to learn alongside 1,209 of the world's best academics, it is clear why the University of Sheffield is one of the UK's leading universities. Staff and students at Sheffield are committed to helping discover and understand the causes of things - and propose solutions that have the power to transform the world we live in.
A member of the Russell Group, the University of Sheffield has a reputation for world-class teaching and research excellence across a wide range of disciplines. The University of Sheffield has been named University of the Year in the Times Higher Education Awards 2011 for its exceptional performance in research, teaching, access and business performance. In addition, the University has won four Queen's Anniversary Prizes (1998, 2000, 2002, 2007), recognising the outstanding contribution by universities and colleges to the United Kingdom's intellectual, economic, cultural and social life.
One of the markers of a leading university is the quality of its alumni and Sheffield boasts five Nobel Prize winners among former staff and students. Its alumni have gone on to hold positions of great responsibility and influence all over the world, making significant contributions in their chosen fields.
Research partners and clients include Boeing, Rolls-Royce, Unilever, Boots, AstraZeneca, GSK, Siemens, Yorkshire Water and many more household names, as well as UK and overseas government agencies and charitable foundations.
The University has well-established partnerships with a number of universities and major corporations, both in the UK and abroad. The White Rose University Consortium (White Rose) a strategic partnership between three of the UK's leading research universities of Leeds, Sheffield and York. Since its creation in 1997 White Rose has secured more than £100M into the Universities.