Supercar manufacturer McLaren Automotive opens £50 million innovation and manufacturing facility next to the University of Sheffield's Advanced Manufacturing Research Centre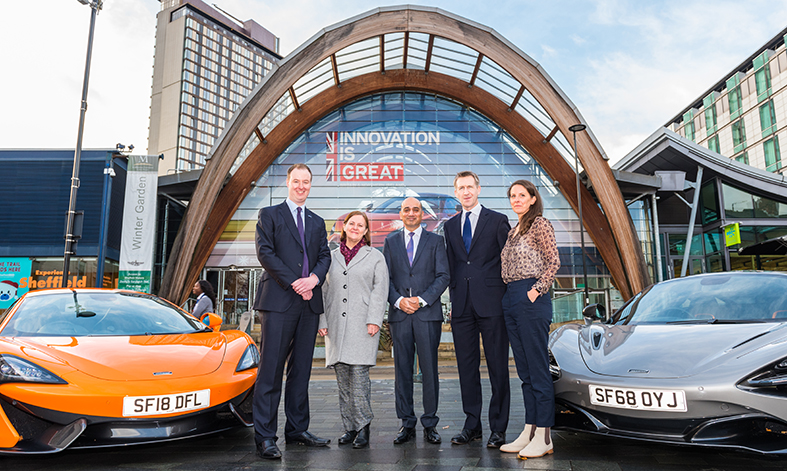 A partnership between luxury supercar manufacturer McLaren Automotive and the University of Sheffield's Advanced Manufacturing Research Centre (AMRC) has led to the development of a significant new manufacturing facility, which was officially opened by the Duke and Duchess of Cambridge today (Wednesday 14 November 2018).
The £50 million McLaren Composites Technology Centre (MCTC), on the border of Sheffield and Rotherham, next to the University of Sheffield's AMRC, aims to become a world-leader in lightweight carbon fibre and composites technology.
The innovation and manufacturing facility will build carbon fibre chassis for McLaren's new models from 2020 - creating around 200 jobs and providing an estimated £100 million of GVA (gross value added) benefit to the local economy by 2028.
The launch of the MCTC comes three weeks after aerospace giant Boeing opened its first European production facility next to the University's AMRC - which is known across the world as an epicentre of regional and national economic impact, a source of life-changing apprenticeship opportunities for young people in industry and a large-scale innovation hub for some of the world's most dynamic businesses.
Professor Koen Lamberts, President and Vice-Chancellor of the University of Sheffield, said: "This new centre is a cause for celebration for our region, the North of England and the UK as a whole.
"We are proud that McLaren was attracted to our region by our AMRC's world-leading research, our investments in facilities and our established partnerships with industry. Just yards away from McLaren's new centre we also have the AMRC Training Centre, which is training McLaren's first degree apprentices in the Sheffield City Region.
"Offering these specialised apprenticeships is helping to ensure that our region has the right skills and knowledge to drive the manufacturing workforce of the future."
Keith Ridgway, Executive Dean of the University of Sheffield's AMRC, added: "It's great to see McLaren Automotive bringing the production of their supercar bodies to Britain; and even better that they chose to do it here in the Sheffield City Region. The AMRC's expertise in composites and lightweighting was a critical factor in this great British car maker's decision to locate their own state-of-the-art factory here in Rotherham.
"Our partnership with McLaren will help develop synergies between future powertrain development and the clever use of lighter materials to save weight and reduce the energy needed to power them. If the UK is to win the weight race, industry and government and universities must continue to work closely to ensure we make the most of what Composites UK estimate to be a £12 billion market by 2030. That's why we continue to invest significantly in our lightweighting capability."
Some of McLaren's latest sports cars and supercars were in Sheffield city centre today, allowing members of the public to see the vehicles up close and learn more about the new facility.
McLaren is the latest in a line of significant international companies to choose to locate in the Sheffield City Region's growing Global Innovation Corridor.
Focused around Sheffield City Region's skills and specialisms, the Global Innovation Corridor will be a global magnet for people, industry and innovators, connecting assets such as the University of Sheffield's AMRC, the Olympic Legacy Park, the National College for High Speed Rail and Doncaster Sheffield Airport.
The region's ability to design, develop and distribute innovative solutions, with collaborative partnerships between businesses and Sheffield's two world-class universities, places it at the forefront of the fourth industrial revolution.
The investment has also been welcomed by the government.
Minister for International Investment, Graham Stuart MP, said: "McLaren is a world leading company and today's opening of its £50m Technology Centre, which will custom build innovative carbon fibre chassis, is another a vote of confidence in the UK as a world leading destination for global investment.
"Famed for its traditional industries, Sheffield is once again attracting global investment and the city region's Advanced Manufacturing Innovation District is a great example of how international investment continues to create jobs and drive prosperity throughout the Northern Powerhouse."
Sheffield City Region made a financial investment into the project, while partners including the University of Sheffield, Sheffield City Council and Rotherham Council have worked closely with McLaren throughout the process.
Additional information
The University of Sheffield
With almost 29,000 of the brightest students from over 140 countries, learning alongside over 1,200 of the best academics from across the globe, the University of Sheffield is one of the world's leading universities.
A member of the UK's prestigious Russell Group of leading research-led institutions, Sheffield offers world-class teaching and research excellence across a wide range of disciplines.
Unified by the power of discovery and understanding, staff and students at the university are committed to finding new ways to transform the world we live in.
Sheffield is the only university to feature in The Sunday Times 100 Best Not-For-Profit Organisations to Work For 2018 and for the last eight years has been ranked in the top five UK universities for Student Satisfaction by Times Higher Education.
Sheffield has six Nobel Prize winners among former staff and students and its alumni go on to hold positions of great responsibility and influence all over the world, making significant contributions in their chosen fields.
Global research partners and clients include Boeing, Rolls-Royce, Unilever, AstraZeneca, Glaxo SmithKline, Siemens and Airbus, as well as many UK and overseas government agencies and charitable foundations.
Contact
For further information please contact:
Hannah Postles
Media Relations Officer
The University of Sheffield
0114 2221046
h.postles@sheffield.ac.uk