Scientists discover networks of lakes and streams on Antarctica's ice sheets
Scientists discover vast networks of lakes and streams on surface of Antarctica's ice sheets
Surface water drains onto ice shelves that are vulnerable to collapse
Meltwater drainage is more extensive than previously thought and could accelerate ice loss as climate warms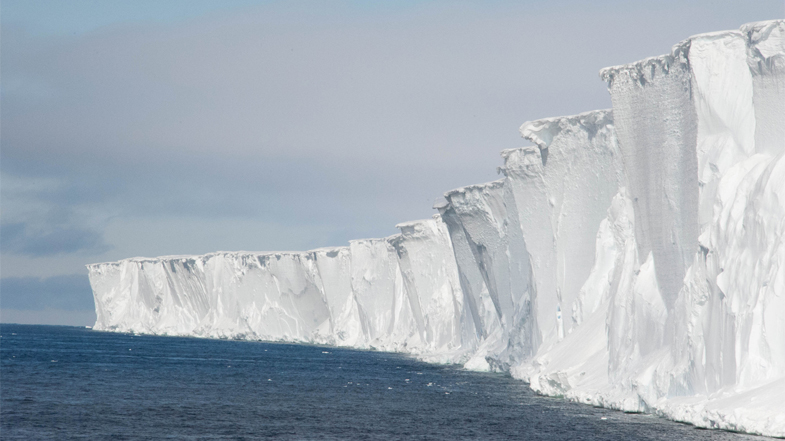 Vast lakes and streams are widespread on the surface of Antarctica's ice sheets according to new research published in Nature by an international team of scientists.
The study, which included geographers from the University of Sheffield, has found that huge lakes have been forming on the surface of Antarctica since at least the 1940s and extensive networks of streams have been draining water onto vulnerable ice shelves that are prone to collapse.
Scientists previously believed that the drainage of surface water, known as meltwater, was a rarity in Antarctica. However, the international team of researchers used aerial photography and satellite imagery to find that meltwater moves vast distances across the surface of the ice sheets onto ice shelves.
Ice shelves, which are floating parts of ice sheets, are prone to collapse when water flows into their cracks and crevasses. The research team believes that in a warming climate, more water is likely to be produced on the surface of Antarctica, which could accelerate the ice sheets' contribution to sea level rise. Current predictions of sea-level rise do not include these processes.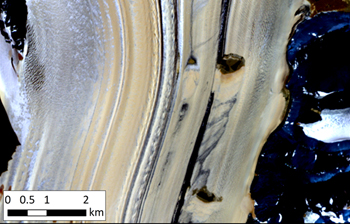 Dr Jeremy Ely, a member of the research team from the University of Sheffield's Department of Geography, said: "If melted completely, Antarctica's ice sheets contain enough water to raise global sea levels by around 58 metres, so it's important that we understand how and where meltwater forms, moves, drains and the impact it can have on ice shelves, which can be prone to collapse.
"Our study has found that extensive networks of lakes and streams have persisted in Antarctica for decades which move surface water across its ice sheets onto ice shelves. One network of streams feeds a lake which is situated at 85 degrees south – making it the most southern lake in the world.
"Despite extensive studies in Greenland and observations of individual meltwater drainage systems in Antarctica, we previously had little understanding of how water moves across the surface of Antarctica's ice sheets."
The study, Widespread movement of meltwater onto and across the Antarctic ice shelves, is published in Nature on Thursday 20 April 2017.
The research also gives geography students at Sheffield access to the latest innovations in climate science.
Additional information
For more information studying geography at the University of Sheffield, please visit: http://sheffield.ac.uk/geography
The University of Sheffield
With almost 27,000 of the brightest students from over 140 countries, learning alongside over 1,200 of the best academics from across the globe, the University of Sheffield is one of the world's leading universities.
A member of the UK's prestigious Russell Group of leading research-led institutions, Sheffield offers world-class teaching and research excellence across a wide range of disciplines.
Unified by the power of discovery and understanding, staff and students at the university are committed to finding new ways to transform the world we live in.
Sheffield is the only university to feature in The Sunday Times 100 Best Not-For-Profit Organisations to Work For 2017 and was voted number one university in the UK for Student Satisfaction by Times Higher Education in 2014. In the last decade it has won four Queen's Anniversary Prizes in recognition of the outstanding contribution to the United Kingdom's intellectual, economic, cultural and social life.
Sheffield has six Nobel Prize winners among former staff and students and its alumni go on to hold positions of great responsibility and influence all over the world, making significant contributions in their chosen fields.
Global research partners and clients include Boeing, Rolls-Royce, Unilever, AstraZeneca, Glaxo SmithKline, Siemens and Airbus, as well as many UK and overseas government agencies and charitable foundations.
Contact
For further information please contact:
Sean Barton
Junior Public Relations Officer
University of Sheffield
0114 222 9852
s.barton@sheffield.ac.uk