Study could help boost conservation of migrating birds

A pioneering study by the University of Sheffield has provided new evidence on which African habitat types declining breeds of migrating birds spend the winter in when away from their European breeding sites.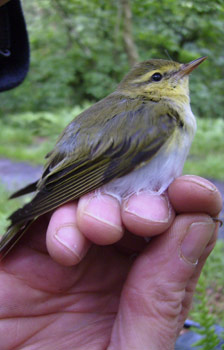 The research has solved a number of mysteries that have intrigued ornithologists for decades and it is hoped it could be used to help save shrinking populations of three declining African-Eurasian birds: wood warblers, house martins and common swifts.
The threatened species are suffering across much of Europe - for example British wood warblers have declined by about 70 per cent since 1995.
The study used state-of-the-art machinery for detailed chemical analysis of feathers grown in Africa, but collected across Europe and the Middle East, to identify the key habitats birds forage during the winter. This technique identifies the key habitat types that must be protected to help prevent further population declines.
Dr Karl Evans, Conservation Biology Lecturer in the University's Department of Animal and Plant Sciences, led the study. He said: "Before this study we didn't previously know which habitat types the species used in winter in Africa, especially for house martins and wood warblers. It was previously thought that house martins spent the winter foraging over tropical rainforest and would be threatened by deforestation. This study proves that that is incorrect and they use a wider range of habitat types, with some birds using more grassy areas.
"Perhaps the most important, but worrying, finding is that wood warblers from across Europe all use the same very specialised habitat type on their African wintering grounds; moist forest. Wood warblers are likely to be very vulnerable to loss of this habitat type.
"This is important information because wood warbler populations are declining rapidly across much of their European range.
"Swifts use an even wider range of habitat types so are unlikely to be adversely influenced by habitat changes in Africa."
Feather samples were obtained – with permits – from birds breeding in the populations in the UK, Germany, Switzerland and Israel by researchers carrying out the investigation.

The types of habitat producing the foods the birds eat is reflected in the mix of carbon and nitrogen isotopes (i.e. different versions of the same chemical) found in the feathers.

The samples were then analysed using a mass spectrometer, a highly-sensitive tool capable of detecting the smallest differences in the weight of carbon and nitrogen produced when the feathers were burnt.

Bird facts:

Populations of three African-Eurasian birds; wood warblers, house martins and common swifts, are rapidly shrinking. 

The threatened species are suffering across much of Europe.

British wood warblers have declined by about 70 per cent since 1995.
Dr Evans added: "Using the stable isotope approach enables data to be generated without needing to visit Africa; it is relatively cheap and avoids potential biases that may be generated by the difficulty of accessing certain regions or habitats.
"The focal species are declining and could be influenced by habitat loss on African wintering grounds. Our findings demonstrate how stable isotope research can contribute to understanding avian migrants' winter ecology and conservation status."
The research was published in PLoS One and was funded by the Leverhulme Trust and the Natural Environment Research Council funded the analyses
Additional information
The University of Sheffield's Department of Animal and Plant Sciences
Department of Animal and Plant Sciences

The University of Sheffield
With nearly 25,000 students from 125 countries, the University of Sheffield is one of the UK's leading and largest universities. A member of the Russell Group, it has a reputation for world-class teaching and research excellence across a wide range of disciplines. The University of Sheffield has been named University of the Year in the Times Higher Education Awards for its exceptional performance in research, teaching, access and business performance. In addition, the University has won four Queen's Anniversary Prizes (1998, 2000, 2002, and 2007).

These prestigious awards recognise outstanding contributions by universities and colleges to the United Kingdom's intellectual, economic, cultural and social life. Sheffield also boasts five Nobel Prize winners among former staff and students and many of its alumni have gone on to hold positions of great responsibility and influence around the world. The University's research partners and clients include Boeing, Rolls Royce, Unilever, Boots, AstraZeneca, GSK, ICI, Slazenger, and many more household names, as well as UK and overseas government agencies and charitable foundations.

The University has well-established partnerships with a number of universities and major corporations, both in the UK and abroad. Its partnership with Leeds and York Universities in the White Rose Consortium has a combined research power greater than that of either Oxford or Cambridge.
Contact

For further information please contact: 
Paul Mannion
Media Relations Officer
The University of Sheffield
0114 222 9851
p.f.mannion@sheffield.ac.uk