Minimum pricing for alcohol effectively targets high risk drinkers, with negligible effects on moderate drinkers with low incomes
Minimum pricing for alcohol of 45p per unit [1] would reduce deaths and hospital admissions among high risk drinkers who purchase large quantities of low cost alcohol, but would have negligible effects on low income moderate drinkers' alcohol consumption and spending, according to a new modelling study from the University of Sheffield.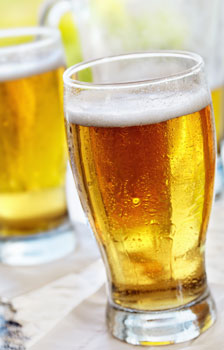 The model by the Sheffield Alcohol Research Group (SARG), which analyses how consumers respond to price changes, estimates how those in different income brackets and socioeconomic groups would change their drinking habits and spending if a minimum price for alcohol of 45p per unit was implemented.
The study published today in The Lancet is the first to consider how drinkers from different income groups would be affected by minimum pricing in terms of alcohol consumption and spending, alcohol-related deaths, illnesses, and costs to the health service.
The results show that minimum pricing would have the most pronounced effects on the five per cent of the population whose drinking is classified as harmful (more than 50 units per week for men, and more than 35 units per week for women). Three quarters of the total reduction in alcohol consumption resulting from minimum pricing would occur in harmful drinkers, with a predicted total reduction in alcohol-related deaths of 860 per year and hospital admissions by 29900 per year [2].
Harmful drinkers on the lowest incomes (bottom 20 per cent) would be most affected by minimum pricing, say the researchers. This group spends on average just under £2700 a year on alcohol, with around two fifths (41 per cent) of the alcohol they consume purchased for less than 45p per unit.
These low income harmful drinkers are projected to reduce their alcohol consumption by nearly 300 units per year under minimum pricing. This is also the group at greatest risk of health harm from alcohol, and estimated reductions in mortality due to minimum pricing are therefore much greater for lower income harmful drinkers than for any other group.
In contrast, the effects on moderate drinkers would be very small. Moderate drinkers in the lowest income group buy on average less than one unit of alcohol per week below the 45p threshold. They would reduce their consumption by an estimated 3•8 units (approximately 2 pints of beer) per year, with an increase in spending of just 4p per year. Across the entire population, moderate drinkers are estimated to reduce their consumption by just 1•6 units (approximately 1 pint of beer) and spend just 78p more per year.
According to the study's lead author, Dr John Holmes from University's School of Health and Related Research, "Overall, the impact of a minimum unit price policy on moderate drinkers would be very small, irrespective of income.
"The policy would mainly affect harmful drinkers, and it is the low income harmful drinkers—who purchase more alcohol below the minimum unit price threshold than any other group—who would be most affected. Policy makers need to balance larger reductions in consumption by harmful drinkers on a low income against the large health gains that could be experienced in this group from reductions in alcohol-related illness and death."*
Professor Petra Meier, Director of the Sheffield Alcohol Research Group, and another author of the study, added: "Our study finds no evidence to support the concerns highlighted by Government and the alcohol industry that minimum unit pricing would penalise responsible drinkers on low incomes. Instead, minimum unit pricing is a policy that is targeted at those who consume large quantities of cheap alcohol.
"By significantly lowering rates of ill health and premature deaths in this group, it is likely to contribute to the reduction of health inequalities."
Additional information
The study is funded by the UK Medical Research Council and Economic and Social Research Council. *Quote direct from author and cannot be found in text of Article.
[1] A unit is defined as 8g or 10ml of pure alcohol (ethanol). There are approximately 2 units in a normal pint of beer/lager/cider, 9–10 units in a bottle of wine, and 1 unit in a 25ml shot of spirits.
[2] Reductions in annual deaths and admissions are estimates after the policy has been in effect for 10 years. As many alcohol-related diseases take several years to develop, it is necessary to account for lagging effects over this 10 year period to estimate the full effect of the policy.

To view the full paper visit:
http://www.thelancet.com/journals/lancet/article/PIIS0140-6736(13)62417-4/abstract
The University of Sheffield
With almost 25,000 of the brightest students from around 120 countries, learning alongside over 1,200 of the best academics from across the globe, the University of Sheffield is one of the world's leading universities.
A member of the UK's prestigious Russell Group of leading research-led institutions, Sheffield offers world-class teaching and research excellence across a wide range of disciplines.
Unified by the power of discovery and understanding, staff and students at the university are committed to finding new ways to transform the world we live in.
In 2011 it was named University of the Year in the Times Higher Education Awards and in the last decade has won four Queen's Anniversary Prizes in recognition of the outstanding contribution to the United Kingdom's intellectual, economic, cultural and social life.
Sheffield has five Nobel Prize winners among former staff and students and its alumni go on to hold positions of great responsibility and influence all over the world, making significant contributions in their chosen fields.
Global research partners and clients include Boeing, Rolls-Royce, Unilever, AstraZeneca, Glaxo SmithKline and Siemens, as well as many UK and overseas government agencies and charitable foundations.

Contact
For further information please contact:
Amy Pullan
Media Relations Officer
University of Sheffield
0114 222 9859
a.l.pullan@sheffield.ac.uk