MRI scanners can steer tumour busting viruses to specific target sites within the body
Scientists from the University of Sheffield have discovered MRI scanners, normally used to produce images, can steer cell-based, tumour busting therapies to specific target sites in the body.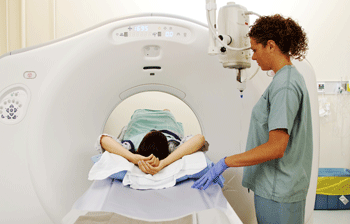 Magnetic resonance imaging (MRI) scanners have been used since the 1980s to take detailed images inside the body – helping doctors to make a medical diagnosis and investigate the staging of a disease.
An international team of researchers, led by Dr Munitta Muthana from the University of Sheffield's Department of Oncology, have now found MRI scanners can non-invasively steer cells, which have been injected with tiny super-paramagnetic iron oxide nanoparticles (SPIOs), to both primary and secondary tumour sites within the body.
This targeted approach is extremely beneficial for patients as it dramatically increases the efficiency of treatment and drug doses could potentially be reduced – helping to alleviate side effects.
Revolutionary cell-based therapies, which exploit modified human cells to treat diseases such as cancer, have advanced greatly over recent years. However, targeted application of cell-based therapy in specific tissues, such as those lying deep in the body where injection is not possible, has remained problematic.
The new research suggests MRI scanners are the key to administering treatments directly to both primary and secondary tumours wherever they are located in the body.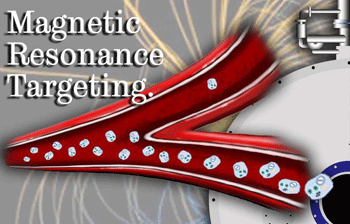 The study, published today (date) in Nature Communications shows that cancer mouse models injected with immune cells carrying SPIOs and armed with the cancer killing oncolytic virus (OV) which infects and kills cancer cells, showed an 800 per cent increase in the effects of the therapy.
Dr Munitta Muthana, from the University of Sheffield, said: "Our results suggest that it is possible to use a standard MRI scanner to naturally deliver cell-based therapies to both primary and secondary tumours which would normally be impossible to reach by injection.
"This not only increases the therapeutic efficacy but also decreases the risk of unwanted side effects.
"The beauty of using the MRI scanner to administer the therapy is that you can also use it for its original purpose providing a real-time image-guide to ensure the treatment has gone where it is needed."
The study, which was funded by the Medical Research Council (MRC), was conducted in collaboration with University College London and University College London Comprehensive Cancer Imaging Centre and the University of Florida.
Additional information
University of Sheffield
With almost 26,000 of the brightest students from around 120 countries, learning alongside over 1,200 of the best academics from across the globe, the University of Sheffield is one of the world's leading universities. A member of the UK's prestigious Russell Group of leading research-led institutions, Sheffield offers world-class teaching and research excellence across a wide range of disciplines. Unified by the power of discovery and understanding, staff and students at the university are committed to finding new ways to transform the world we live in. In 2014 it was voted the number one university in the UK for Student Experience by Times Higher Education and in the last decade has won four Queen's Anniversary Prizes in recognition of the outstanding contribution to the United Kingdom's intellectual, economic, cultural and social life. Sheffield has five Nobel Prize winners among former staff and students and its alumni go on to hold positions of great responsibility and influence all over the world, making significant contributions in their chosen fields. Global research partners and clients include Boeing, Rolls-Royce, Unilever, AstraZeneca, Glaxo SmithKline, Siemens and Airbus, as well as many UK and overseas government agencies and charitable foundations.
The Medical Research Council (MRC)
The MRC is at the forefront of scientific discovery to improve human health. Founded in 1913 to tackle tuberculosis, the MRC now invests taxpayers' money in some of the best medical research in the world across every area of health. Thirty-one MRC-funded researchers have won Nobel prizes in a wide range of disciplines, and MRC scientists have been behind such diverse discoveries as vitamins, the structure of DNA and the link between smoking and cancer, as well as achievements such as pioneering the use of randomised controlled trials, the invention of MRI scanning, and the development of a group of antibodies used in the making of some of the most successful drugs ever developed. Today, MRC-funded scientists tackle some of the greatest health problems facing humanity in the 21st century, from the rising tide of chronic diseases associated with ageing to the threats posed by rapidly mutating micro-organisms. www.mrc.ac.uk
Contact
For further information please contact:
Amy Pullan
Media Relations Officer
University of Sheffield
0114 222 9859
a.l.pullan@sheffield.ac.uk