International collaboration launched with plans to create a more energy efficient world
A new pioneering partnership has been signed between the University of Sheffield and Nanjing University in China beginning with a specialist centre bidding to create a more energy efficient world within the next 50 years.
The universities' first collaboration will see a state-of-the-art centre established which will play an important role in the field of energy-saving lighting, leading to more sustainable energy usage across the globe.
University of Sheffield Vice-Chancellor, Professor Keith Burnett, travelled to China to meet the President of Nanjing University, Professor Chen Jun, to sign a memorandum of understanding at a ceremony on May 9 2012.
Vice-Chancellor, Professor Keith Burnett, said of the new partnership: "This exciting partnership is more than exchanging knowledge and working together, it represents a coming together of shared values - in particular, our common desire to use education to make a vital difference in our world.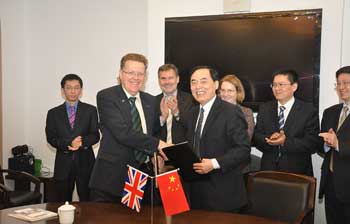 "Both our universities already share an international reputation for outstanding research and teaching, and long histories of educational achievement, including important scientific achievements.
"By establishing this international collaboration we are setting in motion a new chapter in our histories which we trust will lead to further important contributions in science and technology in the future. The agreement between our two universities will see collaborations across a range of areas of mutual interest and a broad spectrum of subjects."
Teams of academics from Sheffield and Nanjing – one of the top five Universities in China – will share facilities and expertise to expand on their world leading research. The relationship will be further strengthened through exchanges of academics, research staff, and students, joint publication of academic papers, regular workshops and knowledge sharing.
The partnership will lead to more joint research grants for collaborative work; increase the University of Sheffield's reputation in China, as well as offering the most talented of the country's students the chance to study in Sheffield.
Professor Tao Wang, of the University of Sheffield's Department of Electronic and Electrical Engineering, has already secured almost £500,000 funding from a Local Engagement Grant, supported by the European Physical Science Research Council to partly support the establishment of the joint research centre.
Professor Wang said: "One of the targets for the joint research is to achieve a novel and ultra-high efficiency white solid-state lighting, which will replace the conventional lighting sources.
"It will massively save energy, electricity consumption, and help lead to a very clean, sustainable and energy-consumption-efficient world in the next 10-to-50 years. It is definitely unique work in terms of our approach and ideas."
The centre – which will specialise in wide-bandgap semiconductor optoelectronics – will also research next generation information storage, ultra-high resolution displays, next generation biomedical instrument, environmental protection and more. The Nanjing University team has been provided a state-of-the-art cleanroom with an area of 3,000 m2 to support the joint centre, which will provide a best infrastructure for accommodating a large number of advanced research equipment.
Additional information
The University of Sheffield
With nearly 25,000 students from 125 countries, the University of Sheffield is one of the UK's leading and largest universities. A member of the Russell Group, it has a reputation for world-class teaching and research excellence across a wide range of disciplines. The University of Sheffield has been named University of the Year in the Times Higher Education Awards for its exceptional performance in research, teaching, access and business performance. In addition, the University has won four Queen's Anniversary Prizes (1998, 2000, 2002, and 2007).

These prestigious awards recognise outstanding contributions by universities and colleges to the United Kingdom's intellectual, economic, cultural and social life. Sheffield also boasts five Nobel Prize winners among former staff and students and many of its alumni have gone on to hold positions of great responsibility and influence around the world. The University's research partners and clients include Boeing, Rolls Royce, Unilever, Boots, AstraZeneca, GSK, ICI, Slazenger, and many more household names, as well as UK and overseas government agencies and charitable foundations.

The University has well-established partnerships with a number of universities and major corporations, both in the UK and abroad. Its partnership with Leeds and York Universities in the White Rose Consortium has a combined research power greater than that of either Oxford or Cambridge.

The University of Sheffield's Department of Electronic and Electrical Engineering
Electronic and Electrical Engineering

The University of Nanjing
Nanjing
Contact
For further information please contact:

Paul Mannion
Media Relations Officer
The University of Sheffield
0114 2229851
p.f.mannion@sheffield.ac.uk