Nanotechnology helps protect patients from bone infection
Leading scientists at the University of Sheffield have discovered nanotechnology could hold the key to preventing deep bone infections, after developing a treatment which prevents bacteria and other harmful microorganisms growing.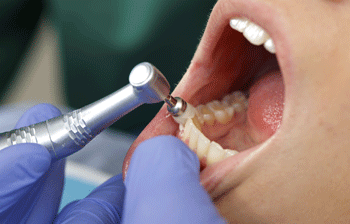 The pioneering research, led by the University of Sheffield's School of Clinical Dentistry, showed applying small quantities of antibiotic to the surface of medical devices, from small dental implants to hip replacements, could protect patients from serious infection.
Scientists used revolutionary nanotechnology to work on small polymer layers inside implants which measure between 1 and 100 nanometers (nm) – a human hair is approximately 100,000 nm wide.
Lead researcher Paul Hatton, Professor of Biomaterials Sciences at the University of Sheffield, said: "Microorganisms can attach themselves to implants or replacements during surgery and once they grab onto a non-living surface they are notoriously difficult to treat which causes a lot of problems and discomfort for the patient.
"By making the actual surface of the hip replacement or dental implant inhospitable to these harmful microorganisms, the risk of deep bone infection is substantially reduced.
"Our research shows that applying small quantities of antibiotic to a surface between the polymer layers which make up each device could prevent not only the initial infection but secondary infection – it is like getting between the layers of an onion skin."
Bone infection affects thousands of patients every year and results in a substantial cost to the NHS.
Treating the surface of medical devices would have a greater impact on patients considered at high risk of infection such as trauma victims from road traffic collisions or combat operations, and those who have had previous bone infections.
Professor Hatton added: "Deep bone infections associated with medical devices are increasing in number, especially among the elderly.
"As well as improving the quality of life, this new application for nanotechnology could save health providers such as the NHS millions of pounds every year."
The study, funded by the European Commission and the UK Engineering and Physical Sciences Research Council, is published in Acta Biomaterialia.
Additional information
The University of Sheffield
With almost 26,000 of the brightest students from around 120 countries, learning alongside over 1,200 of the best academics from across the globe, the University of Sheffield is one of the world's leading universities.
A member of the UK's prestigious Russell Group of leading research-led institutions, Sheffield offers world-class teaching and research excellence across a wide range of disciplines.
Unified by the power of discovery and understanding, staff and students at the university are committed to finding new ways to transform the world we live in.
In 2014 it was voted number one university in the UK for Student Satisfaction by Times Higher Education and in the last decade has won four Queen's Anniversary Prizes in recognition of the outstanding contribution to the United Kingdom's intellectual, economic, cultural and social life.
Sheffield has five Nobel Prize winners among former staff and students and its alumni go on to hold positions of great responsibility and influence all over the world, making significant contributions in their chosen fields.
Global research partners and clients include Boeing, Rolls-Royce, Unilever, AstraZeneca, Glaxo SmithKline, Siemens and Airbus, as well as many UK and overseas government agencies and charitable foundations.
Contact
For further information please contact:
Amy Pullan
Media Relations Officer
University of Sheffield
0114 222 9859
a.l.pullan@sheffield.ac.uk