Sheffield highlighted as centre for Olympic Legacy
A National Centre for Sport and Exercise Medicine developed with the University of Sheffield in the city has been launched days before the London 2012 Olympic Games begin.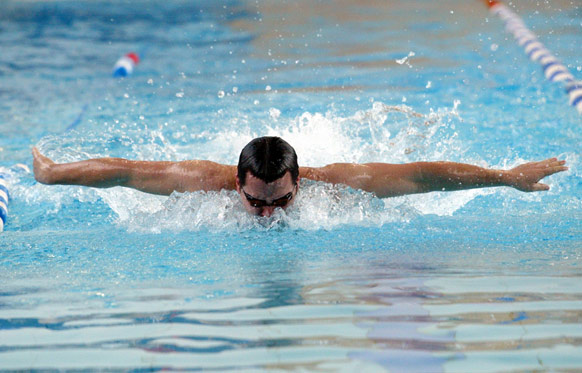 The city will receive £10m in funding to develop its own centre of excellence and to build facilities to bring together research, education and NHS services.
The new institute will bring together the University with Sheffield Teaching Hospitals Trust NHS Foundation Trust, Sheffield City Council, Sheffield Hallam University, Sheffield International Venues, Sheffield Chamber of Commerce and more.
The group will tackle some of the country's most serious health issues, including chronic long-term conditions, obesity and musculoskeletal disorders. Together these conditions cost the country more than £20 billion per year in healthcare costs and lost days at work.
Professor Keith Burnett, Vice-Chancellor of the University of Sheffield, said: "I am absolutely delighted that the University of Sheffield is playing such an important role in developing a National Centre for Sport and Exercise Medicine.
"The outstanding research into the role of exercise within health taking place at the University of Sheffield promises real improvements for the health of people right across the city and beyond."
The national centre will aim to translate research into innovative and improved services and programmes that will help transform health and start to reverse the forecasts for premature deaths from unhealthy lifestyles. Research findings and best practice will be shared with the entire NHS for the benefit of patients across the country.

Sir Andrew Cash, Chief Executive of Sheffield Teaching Hospitals Trust NHS Foundation Trust, added: "It is fantastic news that the National Centre for Sport and Exercise Medicine is to be launched and that Sheffield is to be one of three network hubs.

"The focus of the Sheffield arm of the three Olympic Legacy centres of excellence is centred on the promotion of physical activity and improvement of the health and productivity of the people of Sheffield.

"The city is well placed to ensure this project is successful. Sheffield has world class sport and medical facilities complemented by leading research and educational programmes in the city's two universities. In addition Sheffield has award winning public health and voluntary sector programmes aimed at engaging 'at risk' groups and communities and reducing health inequalities."

Additonal information
The University of Sheffield
With nearly 25,000 students from 125 countries, the University of Sheffield is one of the UK's leading and largest universities. A member of the Russell Group, it has a reputation for world-class teaching and research excellence across a wide range of disciplines. The University of Sheffield has been named University of the Year in the Times Higher Education Awards for its exceptional performance in research, teaching, access and business performance. In addition, the University has won four Queen's Anniversary Prizes (1998, 2000, 2002, and 2007).
These prestigious awards recognise outstanding contributions by universities and colleges to the United Kingdom's intellectual, economic, cultural and social life. Sheffield also boasts five Nobel Prize winners among former staff and students and many of its alumni have gone on to hold positions of great responsibility and influence around the world. The University's research partners and clients include Boeing, Rolls Royce, Unilever, Boots, AstraZeneca, GSK, ICI, Slazenger, and many more household names, as well as UK and overseas government agencies and charitable foundations.
The University has well-established partnerships with a number of universities and major corporations, both in the UK and abroad. Its partnership with Leeds and York Universities in the White Rose Consortium has a combined research power greater than that of either Oxford or Cambridge.

Contact
For further information please contact:
Paul Mannion
Media Relations Officer
The University of Sheffield
0114 222 9851
p.f.mannion@sheffield.ac.uk