Sheffield students helping elderly to 'keep moving' win national award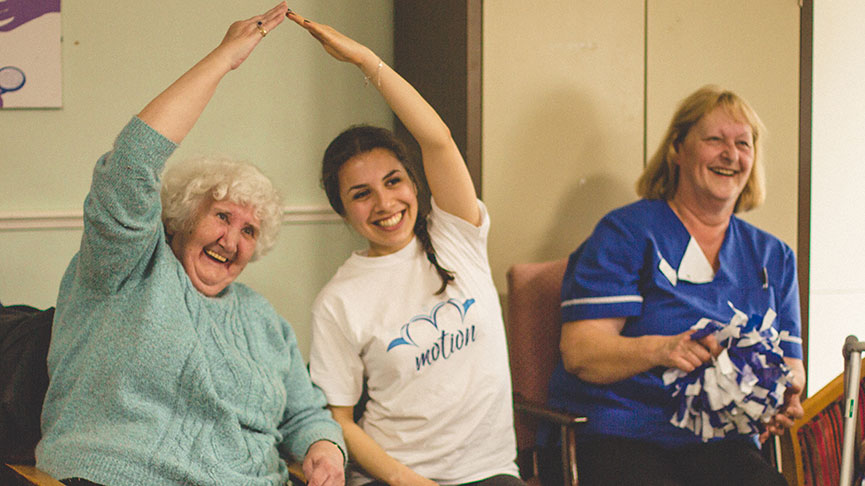 Students from the University of Sheffield have been honoured with a national award for their pioneering exercise initiative which is helping to make a real difference to the lives of elderly people across South Yorkshire.
The entrepreneurial students were awarded £25,000 from the Ford Motor Company for their social enterprise Motion which is improving the mental, physical and emotional health and well-being of residents in local care homes.
Motion provides innovative physical exercise classes inspired by dance and games, to create modern, inspiring and imaginative sessions for elderly people.
The project was developed by Enactus Sheffield. Enactus is a non-profit organisation that operates in 58 universities across the UK, providing a platform for student-led teams to create community development projects whilst developing their own leadership skills.
Sarah Bell, Biomedical Science student at the University of Sheffield and Managing Director of Enactus Sheffield, said: "Not only are we helping people to improve mobility with the exercises – which are adapted to meet individual needs – but we are also enhancing their emotional well-being and reducing social isolation.
"It is so heart-warming to hear from staff and the family of the residents about the difference the sessions are making – one gentleman left his room for the first time in six weeks to attend one of our classes, which is remarkable.
"Motion has made a real impact on the lives of local care home residents and we are delighted that thanks to this award and funding we can extend the programme even further."
The sessions include a range of chair, supported and standing based activities and postural stability exercises which are designed to help reduce trips and falls. They are hosted by fully trained instructors with the support of student volunteers from the University of Sheffield.
"With our project we wanted to help provide employment opportunities for locally vulnerable people such as refugees and also young mums who may find it hard to get back into work," said Sarah.
"We want to help these people get the qualifications and training they need in order to empower them to go on and set up new sessions themselves. The new funding will help us to widen the project out into the community and employ more instructors."
Members of the Motion team - Biomedical Science student Sam Tyrell, Biomaterial Science and Engineering student Jessica May Brown, and Business Studies student Manish Das-were presented with the award at the Enactus World Cup.
The annual international event, which took place in London last week (26-28 September 2017), saw a select group of 3,500 student, business and academic leaders from around the globe meet to showcase the entrepreneurial action and shared innovation that transforms lives and creates a better future.
Dr Gary Wood, Enterprise Education Developer and Enactus University Adviser, said: "There is nothing more inspiring than students who dedicate their time and skills to making a real difference to people's lives.
"The impact of this project is two-fold – not only are they supporting the care home residents in a number of life-changing ways but they are also giving vulnerable members of society the chance to re-train and gain new qualifications which will enhance their future careers.
"At the University of Sheffield we believe investing in entrepreneurial students who are dedicated to making a difference will create a better world for us all."
The Ford UK Innovation Challenge offers Enactus student teams the opportunity to apply for a £25,000 award to allow them to significantly upscale a community initiative that addresses an unmet social need or problem and helps to make people's lives better.
Jim Vella, President, Ford Motor Company Fund, said: "All the teams would have been worthy winners but the Motion project really stood out as a transformational idea that impacts lives and contributes towards physical, social and economic mobility."
Additional information
For more information about Motion please visit https://www.motionexercise.com/
If you would like to become a Motion Instructor please contact hannah@wearemotion.org
The University of Sheffield
With almost 27,000 of the brightest students from over 140 countries, learning alongside over 1,200 of the best academics from across the globe, the University of Sheffield is one of the world's leading universities.
A member of the UK's prestigious Russell Group of leading research-led institutions, Sheffield offers world-class teaching and research excellence across a wide range of disciplines.

Unified by the power of discovery and understanding, staff and students at the university are committed to finding new ways to transform the world we live in.

Sheffield is the only university to feature in The Sunday Times 100 Best Not-For-Profit Organisations to Work For 2017 and was voted number one university in the UK for Student Satisfaction by Times Higher Education in 2014. In the last decade it has won four Queen's Anniversary Prizes in recognition of the outstanding contribution to the United Kingdom's intellectual, economic, cultural and social life.

Sheffield has six Nobel Prize winners among former staff and students and its alumni go on to hold positions of great responsibility and influence all over the world, making significant contributions in their chosen fields.
Global research partners and clients include Boeing, Rolls-Royce, Unilever, AstraZeneca, Glaxo SmithKline, Siemens and Airbus, as well as many UK and overseas government agencies and charitable foundations.
Contact
For further information please contact:
Amy Huxtable
Media Relations Officer
University of Sheffield
0114 222 9859
a.l.huxtable@sheffield.ac.uk