Feeding the Schwanns: new technique could bring cell therapy for nerve damage a step closer
A new way to grow cells vital for nerve repair, developed by researchers from the University of Sheffield, could be a vital step for use in patients with severe nerve damage, including spinal injury.1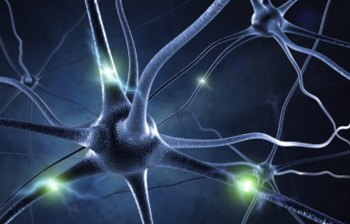 Schwann cells are known to boost and amplify nerve growth in animal models, but their clinical use has been held back because they are difficult, time-consuming and costly to culture.
The Sheffield team, led by Professor John Haycock, has developed a new technique with adult rat tissue which overcomes all these problems, producing Schwann cells in less than half the time and at much lower cost.
"The ability of Schwann cells to boost nerve growth was proved many years ago in animals, but if you want to use this technique with patients, the problem is: where do you get enough cells from?" said Professor Haycock, from the University's Department of Materials Science and Engineering.
"To reduce immune rejection, the cells have to be grown from the patient's own tissue. Of course, you want to take the smallest amount of tissue necessary, so the technique must be efficient. It must also be fast, so treatment can begin as soon as possible after injury. For clinical use, it must also provide pure Schwann cells. And finally, to make it viable, it has to be at a reasonable cost."
Existing methods for growing Schwann cells from adult tissue promote the growth of another type of cell, called fibroblasts, which swamp the Schwann cells, reducing the speed they grow and their numbers. This means that large amounts of tissue are needed at the outset, to grow sufficient cells for therapeutic use. It also requires extra purification stages added to the process, making it slow and costly – taking up to 3 months to complete.
Professor Haycock and his team have come up with a very simple solution: feed the Schwann cells but starve the fibroblasts. The research, published today in Nature Protocols, uses an amino acid that only the Schwann cells can break down and feed off, and are able to produce a 97 per cent pure population of Schwann cells in a much shorter space of time – just 19 days – from a small sample of adult tissue.
Professor Haycock is confident the technique can be replicated in humans. His team are trialling the same method using human nerve tissue, with results expected within the next six months.
Additional information
1The Food and Drug Administration (FDA) last month authorised the first Phase 1 clinical trial in the USA into the use of Schwann cells to reduce paralysis in spinal cord injury (http://www.themiamiproject.org/announcement). The trial will see Schwann cells cultured from leg nerve tissue injected into the spine of newly paralyzed patients. The treatment is expected to take place up to five weeks after the injury took place, a delay imposed by the time it takes to culture and purify the cells. If Professor Haycock's method works with human tissue, this delay between injury and treatment could be substantially reduced.
The University of Sheffield
With nearly 25,000 students from 125 countries, the University of Sheffield is one of the UK's leading and largest universities. A member of the Russell Group, it has a reputation for world-class teaching and research excellence across a wide range of disciplines.
The University of Sheffield has been named University of the Year in the Times Higher Education Awards for its exceptional performance in research, teaching, access and business performance. In addition, the University has won four Queen's Anniversary Prizes (1998, 2000, 2002, 2007). These prestigious awards recognise outstanding contributions by universities and colleges to the United Kingdom's intellectual, economic, cultural and social life. Sheffield also boasts five Nobel Prize winners among former staff and students and many of its alumni have gone on to hold positions of great responsibility and influence around the world.
The University's research partners and clients include Boeing, Rolls-Royce, Unilever, Boots, AstraZeneca, GSK, ICI, Slazenger, and many more household names, as well as UK and overseas government agencies and charitable foundations.
The University has well-established partnerships with a number of universities and major corporations, both in the UK and abroad. Its partnership with Leeds and York Universities in the White Rose Consortium has a combined research power greater than that of either Oxford or Cambridge.
Contact
For further information, please contact:
Shemina Davis
Acting Media Relations Manager
The University of Sheffield
0114 222 5339
shemina.davis@sheffield.ac.uk