New bone identification method will help the study of past human societies
 New technique enables researchers to distinguish between the bones of sheep and goats more accurately, currently a notorious challenge in zooarchaeology
Sheep and goats have played a fundamental role in the culture and economy of past societies
Distinguishing the bones of sheep and goats will help boost our understanding of how humans have lived through the ages
A new technique enabling archaeologists to distinguish between the bones of sheep and goats has been developed by researchers at the University of Sheffield.
The methodology, developed by Dr Lenny Salvagno and Dr Umberto Albarella from the University's Department of Archaeology, could be a vital tool for researchers who study past human societies.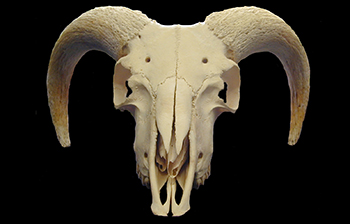 Distinguishing between the bones of sheep and goats is a notorious challenge in zooarchaeology. Both species have played a fundamental role in human history and our current insufficient ability to separate them represents a limitation to our understanding of how humans have lived through the ages.
Currently, there are several ways in which archaeologists try to distinguish between the two species. Most of these methods rely on identifying morphological criteria, but these features are rather subjectively assessed, which means correct identification relies heavily on a researcher's experience and access to appropriate reference collections.
Now, the Sheffield-led research team has developed a new methodology based on measurements using a sample of more than 150 skeletons as a basis. This is based on morphometry - the translation of morphological characters into measurements, which are assessed in terms of their relative values. Not only does this method provide an additional tool for the distinction of the two species but, crucially, allows for much greater objectivity as the identification will be backed by metric diagrams that will explain the basis on which identifications were carried out.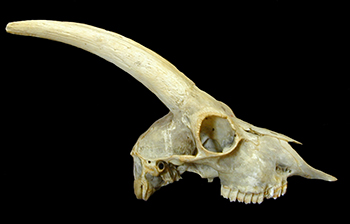 Dr Lenny Salvagno, who led the research at the University of Sheffield, said: "Distinguishing between the bones of sheep and goats may seem like a purely technical concern, but it's important to emphasise that these species have played a major role in the history of human societies.
"The discovery of bones from sheep and goats can provide different insights in the cultural and economic evolution of humans. For example, the two animals may have been used for different products (e.g. meat, wool, milk) and their relative frequencies therefore can inform us on which of these was particularly sought after by a certain cultural group."
The study, A Morphometric System to Distinguish Sheep and Goat Postcranial Bones, is published in the journal PLOS ONE and can be accessed via: http://journals.plos.org/plosone/article/related?id=10.1371/journal.pone.0178543
The findings strengthen the position of Sheffield's Department of Archaeology as one of the most respected archaeology departments in Europe, which gives its students access to the latest innovations in the field conducted in a dynamic and vibrant international community.
Additional information
For more information on studying archaeology at the University of Sheffield, please visit: https://www.sheffield.ac.uk/archaeology/index
The University of Sheffield
With almost 27,000 of the brightest students from over 140 countries, learning alongside over 1,200 of the best academics from across the globe, the University of Sheffield is one of the world's leading universities.
A member of the UK's prestigious Russell Group of leading research-led institutions, Sheffield offers world-class teaching and research excellence across a wide range of disciplines.
Unified by the power of discovery and understanding, staff and students at the university are committed to finding new ways to transform the world we live in.
Sheffield is the only university to feature in The Sunday Times 100 Best Not-For-Profit Organisations to Work For 2017 and was voted number one university in the UK for Student Satisfaction by Times Higher Education in 2014. In the last decade it has won four Queen's Anniversary Prizes in recognition of the outstanding contribution to the United Kingdom's intellectual, economic, cultural and social life.
Sheffield has six Nobel Prize winners among former staff and students and its alumni go on to hold positions of great responsibility and influence all over the world, making significant contributions in their chosen fields.
Global research partners and clients include Boeing, Rolls-Royce, Unilever, AstraZeneca, Glaxo SmithKline, Siemens and Airbus, as well as many UK and overseas government agencies and charitable foundations.
Contact
For further information please contact:
Sean Barton
Junior Public Relations Officer
University of Sheffield
0114 2229852
s.barton@sheffield.ac.uk