New chapter for the University of Sheffield as President and Vice-Chancellor confirms intention to retire
Chair of Council announces President and Vice-Chancellor Professor Sir Keith Burnett has confirmed his long-stated intention to retire following his 65th birthday
Sir Keith will retire at a time to be determined, following a comprehensive selection and recruitment process.
University Council will begin the process of recruiting a new leader for our world-leading University to continue its commitment to global scholarship for the public good into a new era for higher education.
Council thanks Sir Keith for a decade of truly exceptional leadership in which the University has secured a global reputation for academic quality and progressive partnerships as well as being a national and international advocate for universities as international communities.
The Chair of the University of Sheffield Council Tony Pedder has today (8 January 2018) confirmed that, after more than 10 years in post, President and Vice-Chancellor Professor Sir Keith Burnett has reconfirmed his long-stated wish to retire in the coming months.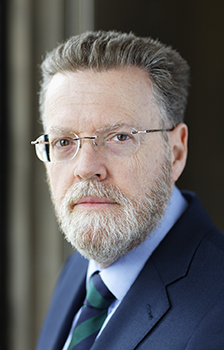 Sir Keith became the Vice-Chancellor of the University of Sheffield in 2007 and was previously the Head of the Division of Maths and Physical Sciences at the University of Oxford.
According to Tony Pedder: "The transition to a new leader is a very important time for any organisation. Over the coming months, we will undertake the process of identifying the right person to guide and inspire our great University. I am grateful to Sir Keith for facilitating this process by agreeing to keep his retirement date flexible to enable us to select and recruit the best successor."
He added: "Over the last decade, the University of Sheffield has grown in standing as a centre of global scholarship committed to making a difference in our own region and around the world. In pursuit of our agreed strategy, Sir Keith has led a focus on the development of international partnerships, which bring opportunities to our students and staff, as well as economic benefits to our region. Both in the UK and globally, we are known as a University which speaks fearlessly for the value of international scholarship to do good, willing to work with industry and government in progressive ways and yet still one true to our founding mission of public education.
"Our University campus boasts excellent facilities for teaching and research, our reputation for global scholarship has risen and major multinational companies have chosen to work with our Advanced Manufacturing Research Centre. We are widely recognised for our commitment to civic values and our work on apprenticeships has been hailed as a model for widening participation. Sir Keith has personally campaigned with students, other universities and industry to persuade the UK to adopt policies which signal welcome for the overseas staff and students who are so crucial to our University and country. As a scientist and an educational leader, his advice has been sought by governments and published around the world, raising the profile of Sheffield in the process."
Thanking Tony Pedder for his support, Sir Keith said: "I am truly honoured to have been given the opportunity to lead the University of Sheffield over this past decade. During that time, I have met many inspirational staff, students and alumni around the world, and I am proud to have represented them here in the UK and overseas.
"There could be no greater privilege than to help talented young people in our own locality and right across the globe to achieve their own educational potential and to see our scholars do real good across the world. As we enter this period of transition, I am now looking forward to helping secure the opportunities we have begun to develop and to prepare to hand over the responsibility of leadership to whoever is chosen to be the next Vice-Chancellor. That individual will inherit a legacy of public education which began with our University's founders – the people of Sheffield themselves. I am sure they will find this is a powerful inspiration, just as I have."
Additional information
Professor Sir Keith Burnett FRS became the Vice-Chancellor of the University of Sheffield in 2007. He was previously the Head of the Division of Maths and Physical Sciences at the University of Oxford and in his early career worked as a physicist in the United States and Imperial College in London.
Sir Keith has held a number of additional leading roles in education and policy including:
Member of the Prime-Minister's Council of Science and Technology
Member of the Council of the Royal Society
Member of the Higher Education Funding Council for England
Member of the Board of the UK Atomic Energy Authority
Member of the Treasury Infrastructure Advisory Group
Chair of Universities and Colleges Employers Association
Chair of the N8 group of Northern Research Intensive Universities
Chair of the White Rose group of Research Intensive Universities
Member of the Board of the Council for Universities and Business
Member of the Board of the Worldwide Universities Network
Chair of Heated (Technician Training)
President of the Science Council
Chair-elect of the Nuffield Foundation
Member of the Global Board of Confucius Institutes
Chair of the Science and Innovation Board for the Sheffield City Region.
In addition to scholarly publications in the field of physics, Sir Keith has published articles on the subjects of education, science, industrial strategy and international communities in the Financial Times, Telegraph, Guardian, Times, Washington Post, China Daily, International Business Times, Economist, Spectator, Times Higher Education and has been interviewed by the BBC, Sky and Bloomberg.
Sir Keith co-founded the award-winning #WeAreInternational campaign in 2013. He is a speaker of Mandarin Chinese and in 2016 received a personal honour from the Vice-Premier of China for his commitment to Chinese language and culture. Sir Keith was knighted for services to science and education in the 2013 New Years' Honours.
The University of Sheffield
With almost 27,000 of the brightest students from over 140 countries, learning alongside over 1,200 of the best academics from across the globe, the University of Sheffield is one of the world's leading universities.
A member of the UK's prestigious Russell Group of leading research-led institutions, Sheffield offers world-class teaching and research excellence across a wide range of disciplines.
Unified by the power of discovery and understanding, staff and students at the university are committed to finding new ways to transform the world we live in.
Sheffield is the only university to feature in The Sunday Times 100 Best Not-For-Profit Organisations to Work For 2017 and was voted number one university in the UK for Student Satisfaction by Times Higher Education in 2014. In the last decade it has won four Queen's Anniversary Prizes in recognition of the outstanding contribution to the United Kingdom's intellectual, economic, cultural and social life.
Sheffield has six Nobel Prize winners among former staff and students and its alumni go on to hold positions of great responsibility and influence all over the world, making significant contributions in their chosen fields.
Global research partners and clients include Boeing, Rolls-Royce, Unilever, AstraZeneca, Glaxo SmithKline, Siemens and Airbus, as well as many UK and overseas government agencies and charitable foundations.
Contact
For further information please contact:
Hannah Postles
Media Relations Officer
The University of Sheffield
0114 222 1046
h.postles@sheffield.ac.uk