New research will allow more reliable dating of major past events
• New method could be used to date items like a recently discovered baby mammoth in Siberia
• The radiocarbon calibration curve will provide improved accuracy to archaeologists, environmental scientists and climate researchers
• More precise date estimates can be obtained than was previously possible
Academics have developed a new method which will allow key past events to be dated more accurately.
Research led by Professors Paul Blackwell and Caitlin Buck from the University of Sheffield's School of Mathematics and Statistics and Professor Paula Reimer from Queen's University Belfast has resulted in a new, internationally agreed radiocarbon calibration curve which will provide improved accuracy to archaeologists, environmental scientists and climate researchers who rely on radiocarbon dating to put their findings onto a reliable time-scale.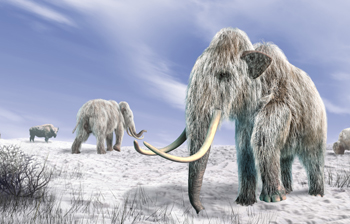 The release of the new curve will mean that more precise date estimates can be obtained than previously possible and will reduce uncertainty about the timing of major events in the history and development of humans, plants and animals and the environments in which they lived.
The radiocarbon calibration curve would allow researchers to reliably date everything from items like the recently excavated bones of King Richard III, to confirm they were from the right time period, to baby woolly mammoths preserved in permafrost in Siberia. It also provides reliable time-scales for those seeking to understand ancient environments, including members of the International Panel on Climate Change.
Professor Caitlin Buck, from the University of Sheffield, said: "We are proud to have developed such an important tool for archaeologists and environmental scientists, allowing them to more accurately date their findings and reduce uncertainty about the timings of major events. We're also grateful to the more than 30 other scientists who have shared data and research ideas with us to make it all possible."
Professor Paula Reimer, from Queen's University Belfast added: "This project built on research begun in the 1980s at Queen's and elsewhere and is essential for the continued utility and development of radiocarbon dating."
The release of the new curve is the culmination of five years of research funded by the Natural Environment Research Council (NERC) and more than ten years of research by the teams at Sheffield and Queen's Universities which involved collation of data from colleagues across the world, development of rigorous quality control procedures for selecting the best data, building of tailored statistical models and the writing of thousands of lines of computer code.
Additional information
The research paper is published in the current issue of the journal Radiocarbon and can be viewed in full via http://www.radiocarbon.org/
The University of Sheffield

With nearly 25,000 of the brightest students from 117 countries coming to learn alongside 1,209 of the world's best academics, it is clear why the University of Sheffield is one of the UK's leading universities. Staff and students at Sheffield are committed to helping discover and understand the causes of things - and propose solutions that have the power to transform the world we live in.
A member of the Russell Group, the University of Sheffield has a reputation for world-class teaching and research excellence across a wide range of disciplines. The University of Sheffield has been named University of the Year in the Times Higher Education Awards 2011 for its exceptional performance in research, teaching, access and business performance. In addition, the University has won four Queen's Anniversary Prizes (1998, 2000, 2002, 2007), recognising the outstanding contribution by universities and colleges to the United Kingdom's intellectual, economic, cultural and social life.
One of the markers of a leading university is the quality of its alumni and Sheffield boasts five Nobel Prize winners among former staff and students. Its alumni have gone on to hold positions of great responsibility and influence all over the world, making significant contributions in their chosen fields.
Research partners and clients include Boeing, Rolls-Royce, Unilever, Boots, AstraZeneca, GSK, Siemens, Yorkshire Water and many more household names, as well as UK and overseas government agencies and charitable foundations.
The University has well-established partnerships with a number of universities and major corporations, both in the UK and abroad. The White Rose University Consortium (White Rose) a strategic partnership between 3 of the UK's leading research universities of Leeds, Sheffield and York. Since its creation in 1997 White Rose has secured more than £100M into the Universities.
Contact
For further information please contact
Clare Parkin
University of Sheffield
Media Relations Officer
0114 222 9851 
email clare.parkin@sheffield.ac.uk