Nobel Prize in Chemistry awarded to former Sheffield scientist
The Nobel Prize in Chemistry has today (5 October 2016) been awarded to a former University of Sheffield lecturer.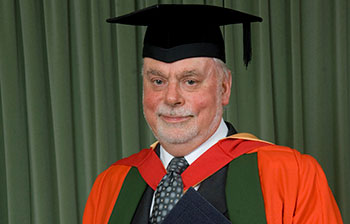 The Royal Swedish Academy of Sciences presented the accolade to Professor Sir Fraser Stoddart who joined the University of Sheffield in 1970 where he was the first Imperial Chemical Industries (ICI) Research Fellow before going on to become a lecturer and then Associate Professor of Chemistry.
The work conducted by Sir Fraser and his Sheffield research group in 1991 was cited and praised in the Nobel Prize announcement for enabling the field of molecular machinery to take a 'big leap forward'.
Mike Ward, Head of the Department of Chemistry and Professor of Inorganic Chemistry at the University of Sheffield, said: "On a personal note, Professor Stoddart was the external examiner for my PhD thesis back in 1989 and I also went on to do Post-Doctoral research with another of the winners, Professor Jean-Pierre Sauvage, in Strasbourg during the 1990's.
"I am delighted, not just that my PhD examiner and postdoc supervisor has been honoured in this way, but that the area in which I grew up as an academic has been given such recognition."
He added: "It is wonderful to see Professor Stoddart's work in supramolecular chemistry honoured in this way. He, along with the other two winners, popularised the field of molecular topology in which molecules can be mechanically interlinked without a chemical bond between them; or can be folded up into elaborate structures such as complex knots."
Sir Fraser will share the £727,000 prize with fellow scientists Jean-Pierre Sauvage from the University of Strasbourg and Bernard L Feringa (Ben) from the University of Groningen, for the development of the world's smallest machines which are a thousand times thinner than a strand of hair.
The machines conceived by the laureates could slip inside the human body to deliver drugs from within - for instance, applying pharmaceuticals directly to cancer cells.
Professor Nigel Clarke, Pro-Vice Chancellor of the Faculty of Science at the University of Sheffield, said: "I was delighted to learn that Professor Sir Fraser Stoddart is one of this year's Nobel Prize winners in Chemistry. He spent 20 years working in our chemistry department during which time he laid the foundations for his pioneering work on rotaxanes."
Sir Fraser was born in Edinburgh in 1942. During his career he has received a number of prestigious national and international honours including the Royal Medal in 2010 from His Royal Highness the Duke of Edinburgh, the Albert Einstein World Award of Science and the Royal Society of Chemistry's Century Prize.
He was also awarded an Honorary Doctorate of Science from the University of Sheffield in 2008.
He has published 1,080 scientific papers, trained more than 500 graduate and postdoctoral students, and in 2007 the Sunday Times wrote that Sir Fraser 'is to nanotechnology what J.K Rowling is to children's literature'.
Sir Fraser is now Board of Trustees and Professor of Chemistry at Northwestern University in Chicago.
Professor Sir Keith Burnett, Vice-Chancellor of the University of Sheffield, said: "My warmest congratulations to Sir Fraser Stoddart on the wonderful news that his work has been recognised by the Nobel committee in this way. His exceptional contribution to Science is a source of great pride to us here in Sheffield, and we are delighted that this honour has been awarded to a former member of staff and recipient of an honorary degree."
The University of Sheffield has six Nobel Prize winners
Lord Florey (Joseph Hunter Chair of Pathology 1932-35) for isolating and purifying penicillin and discovering its therapeutic effect in infectious diseases.
Sir Hans Krebs (Lecturer in Pharmacology 1935-45, Professor of Biochemistry 1945-54) for the development of the Krebs Cycle, which explains how life-giving energy is set free in cells by oxidation of glucose to carbon dioxide and water.
Lord Porter (Professor of Physical Chemistry 1955-66) for his discovery of flash photolysis, a technique which enabled chemists for the first time to measure the speed and mechanism of certain reactions that occurred too quickly for detection by conventional methods.
Richard Roberts (BSc Chemistry 1965, PhD 1968) for his discovery of "split genes", thereby disproving the long-held theory that genes in plants and animals were made up of continuous segments of DNA. This has important biological, medical and evolutionary consequences.
Sir Harry Kroto (BSc Chemistry 1961, PhD 1964) for discovering a new form of carbon, known as "buckminsterfullerene", which stands alongside the two other well-defined forms, diamond and graphite.
Professor Sir Fraser Stoddart (Imperial Chemical Industries Research Fellow then Lecturer 1970-1978; Reader in Chemistry 1981-1990) for the design and synthesis of the world's smallest molecular machines, which are a thousand times thinner than a strand of hair.
Additional information
Department of Chemistry
For more information about the University's Department of Chemistry please visit https://www.sheffield.ac.uk/chemistry
The University of Sheffield
With almost 27,000 of the brightest students from over 140 countries, learning alongside over 1,200 of the best academics from across the globe, the University of Sheffield is one of the world's leading universities.
A member of the UK's prestigious Russell Group of leading research-led institutions, Sheffield offers world-class teaching and research excellence across a wide range of disciplines.
Unified by the power of discovery and understanding, staff and students at the university are committed to finding new ways to transform the world we live in.
Sheffield is the only university to feature in The Sunday Times 100 Best Not-For-Profit Organisations to Work For 2016 and was voted number one university in the UK for Student Satisfaction by Times Higher Education in 2014. In the last decade it has won four Queen's Anniversary Prizes in recognition of the outstanding contribution to the United Kingdom's intellectual, economic, cultural and social life.
Sheffield has six Nobel Prize winners among former staff and students and its alumni go on to hold positions of great responsibility and influence all over the world, making significant contributions in their chosen fields.
Global research partners and clients include Boeing, Rolls-Royce, Unilever, AstraZeneca, Glaxo SmithKline, Siemens and Airbus, as well as many UK and overseas government agencies and charitable foundations.
Contact
For further information please contact:
Amy Pullan
Media Relations Officer
University of Sheffield
0114 222 9859
a.l.pullan@sheffield.ac.uk
Save
Save
Save
Save
Save