Nobel Prize winner explains the universe's most elusive particles to University of Sheffield students
A Nobel Prize winner explained the importance of the universe's most elusive particles at a special event at the University of Sheffield last week (Thursday 1 June 2017).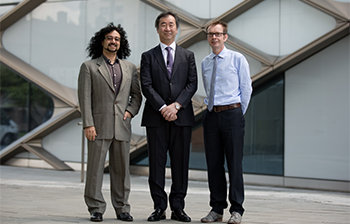 Professor Takaaki Kajita, the Director of the Institute for Cosmic Ray Research (ICRR), University of Tokyo, won the 2015 Nobel Prize in Physics for his research which led to the discovery of atmospheric neutrino oscillations.
Neutrinos are among the lightest subatomic particles. There are more of them in the universe than any other known type of matter, yet they will almost never interact. Over one trillion neutrinos per second pass through your body, yet none will ever hit you.
Dr Matthew Malek from the University's Department of Physics and Astronomy hosted Professor Kajita during his visit to Sheffield. He said: "Professor Kajita is one of the world's greatest physics minds and his talk was an amazing opportunity for everyone who has an interest in physics, the big bang and the Universe, from school children to senior academics, to hear him speak and talk to him about this fascinating subject.
"It was a complete honour to host Professor Kajita and to have him talk at the University."
Proving the existence of neutrinos was a massive challenge for physicists due to them having almost no mass and no charge. However, Professor Kajita's research eventually led to confirmation of their existence and we now have the chance to unlock one of the major unsolved mysteries of physics: why is there any matter in the Universe today?
Professor Kajita's talk was part of the 2017 Fred Combley Colloquium in High Energy Particle Physics and was attended by more than 350 staff, students and the general public.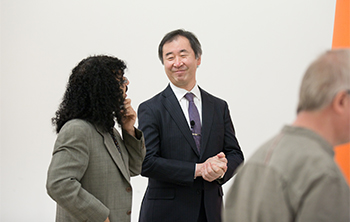 The series is named after the late Fred Combley, a former Head of Department at the University of Sheffield (1990-1995) and Dean of the Faculty of Science (1995-1998). Fred was an immensely popular teacher with students and was passionate about science communication.
Professor Nigel Clarke, Vice-President and Head of the Faculty of Science at the University of Sheffield, said: "I hope that Professor Kajita's talk inspired a number of our students. Perhaps I will be welcoming some of them back to the university as Nobel Prize winners in the years to come."
Professor Kajita's visit coincided with the announcement that a team of international scientists, including physicists from the University of Sheffield, have made the third detection of gravitational waves – ripples in space and time – demonstrating that a new window in astronomy has been firmly opened.
Additional information
For more information about Science at the University of Sheffield please visit:
Science at Sheffield
To find out more about Professor Takaaki Kajita please visit:
Nobel Prize
The University of Sheffield
With almost 27,000 of the brightest students from over 140 countries, learning alongside over 1,200 of the best academics from across the globe, the University of Sheffield is one of the world's leading universities.
A member of the UK's prestigious Russell Group of leading research-led institutions, Sheffield offers world-class teaching and research excellence across a wide range of disciplines.
Unified by the power of discovery and understanding, staff and students at the university are committed to finding new ways to transform the world we live in.
Sheffield is the only university to feature in The Sunday Times 100 Best Not-For-Profit Organisations to Work For 2017 and was voted number one university in the UK for Student Satisfaction by Times Higher Education in 2014. In the last decade it has won four Queen's Anniversary Prizes in recognition of the outstanding contribution to the United Kingdom's intellectual, economic, cultural and social life.
Sheffield has six Nobel Prize winners among former staff and students and its alumni go on to hold positions of great responsibility and influence all over the world, making significant contributions in their chosen fields.
Global research partners and clients include Boeing, Rolls-Royce, Unilever, AstraZeneca, Glaxo SmithKline, Siemens and Airbus, as well as many UK and overseas government agencies and charitable foundations.
Contact
For further information please visit:
Amy Pullan
Media Relations Officer
University of Sheffield
0114 222 9859
a.l.pullan@sheffield.ac.uk