World's longest running synchrotron light experiment reveals long-term behaviour of nuclear waste materials
Researchers from the University of Sheffield, in partnership with the Diamond Light Source, are leading the way in understanding slow transformations in nuclear waste materials. Their experiment has just reached a major landmark – 1000 days – the longest running synchrotron light experiment in the world.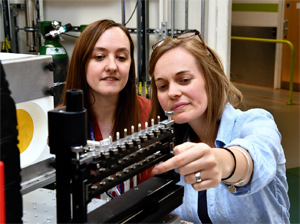 The research, led by Dr Claire Corkhill from the University's Department of Materials Science and Engineering, has used the world-leading capabilities at the Diamond Light Source to investigate how cement materials used in nuclear waste disposal behave in the long-term.
"These cements are being used to safely lock away the radioactive elements in nuclear waste for timescales of more than 10,000 years, so it is extremely important that we can accurately predict the properties of these materials in the future," explained Dr Corkhill.
She added: "The unique facility at Diamond has allowed us to follow this reaction in situ, for 1000 days, and the data is already allowing us to identify particular phases that will safely lock away radioactive elements in 1000 years' time, something we would otherwise not have been able to determine."
Dr Corkhill is planning to return to Diamond to investigate the reaction of these phases with uranium, technetium and plutonium on one of the X-ray absorption spectroscopy beamlines.
Professor Neil Hyatt, Director of the Immobilisation Science Laboratory and co-investigator of the research said: "We are very excited to be selected to participate, as the first ever users, in this world-leading capability and want to thank everyone at the Diamond Light Source, especially Dr Chiu Tang, Dr Sarah Day and Dr Claire Murray from I11, for all their support in bringing our experiments to fruition and being the custodians of our samples for 1000 days. We are pleased that this 1000 day landmark cements our long-term collaboration between the University of Sheffield and the scientists at the Diamond Light Source".
Dr Corkhill is monitoring changes in eight nuclear waste cement materials by measuring high resolution diffraction patterns on the I11-1 beamline at Diamond Light Source, the UK's national synchrotron science facility, funded as a joint venture by the UK Government through the Science & Technology Facilities Council (STFC) in partnership with the Wellcome Trust.
Her results are being used to support the ongoing safety case development for UK Government policy to dispose of nuclear waste in a deep geological disposal facility.
Additional information
The University of Sheffield
With almost 27,000 of the brightest students from over 140 countries, learning alongside over 1,200 of the best academics from across the globe, the University of Sheffield is one of the world's leading universities.
A member of the UK's prestigious Russell Group of leading research-led institutions, Sheffield offers world-class teaching and research excellence across a wide range of disciplines.
Unified by the power of discovery and understanding, staff and students at the university are committed to finding new ways to transform the world we live in.
Sheffield is the only university to feature in The Sunday Times 100 Best Not-For-Profit Organisations to Work For 2017 and was voted number one university in the UK for Student Satisfaction by Times Higher Education in 2014. In the last decade it has won four Queen's Anniversary Prizes in recognition of the outstanding contribution to the United Kingdom's intellectual, economic, cultural and social life.
Sheffield has six Nobel Prize winners among former staff and students and its alumni go on to hold positions of great responsibility and influence all over the world, making significant contributions in their chosen fields.
Global research partners and clients include Boeing, Rolls-Royce, Unilever, AstraZeneca, Glaxo SmithKline, Siemens and Airbus, as well as many UK and overseas government agencies and charitable foundations.
Contact
For further information please contact:
Sean Barton
Junior Public Relations Officer
University of Sheffield
0114 222 9852
s.barton@sheffield.ac.uk