Glass offers improved means of storing UK's nuclear waste
University of Sheffield researchers have shown, for the first time, that a method of storing nuclear waste normally used only for High Level Waste (HLW), could provide a safer, more efficient, and potentially cheaper, solution for the storage and ultimate disposal of Intermediate Level Waste (ILW).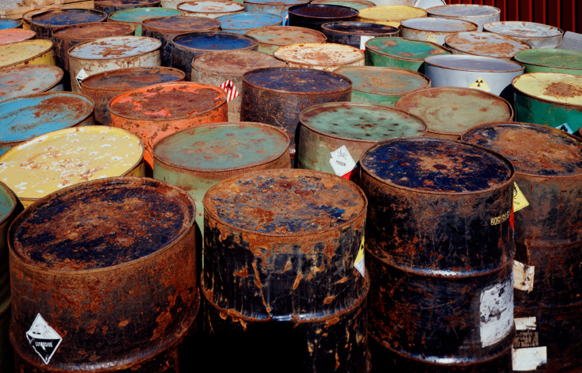 ILW makes up more than three quarters of the volume of material destined for geological disposal in the UK.1
Currently the UK's preferred method is to encapsulate ILW in specially formulated cement. The waste is mixed with cement and sealed in steel drums, in preparation for disposal deep underground.
Two studies, published in the latest issues of The Journal of Nuclear Materials and European Journal of Glass Science and Technology A show that turning this kind of waste into glass, a process called vitrification, could be a better method for its long-term storage, transport and eventual disposal.
HLW is already processed using this technology which reduces both the reactivity and the volume of the waste produced. Until now, this method has not been considered suitable for ILW because the technology was not developed to handle large quantities of waste composed from a variety of different materials.
The research programme, funded by the UK's NDA and led by Professor Neil Hyatt in the Department of Materials Science and Engineering, at the University of Sheffield, tested simulated radioactive waste materials – those with the same chemical and physical makeup, but with non-radioactive isotopes – to produce glass and assess its suitability for storing lower grades of nuclear waste.
The process used to produce the glass waste storage packages is straightforward: the waste is dried, mixed with glass forming materials such as iron oxide or sodium carbonate, heated to make glass and finally poured into a container. For certain wastes – for example radioactively contaminated sand – the waste is actually used in the glass-making process.
A key discovery made by the Sheffield team was that the glasses produced for ILW proved to be very resistant to damage by energetic gamma rays, produced from the decay of radioactive materials.
"We found that gamma irradiation produced no change in the physical properties of these glasses, and no evidence that the residual radiation caused defects," said Professor Hyatt. "We think this is due to the presence of iron in the glass, which helps heal any defects so they cannot damage the material.
"For large volumes of waste that need to be stored securely, then transported to and eventually disposed of, vitrification could offer improved safety and cost effectiveness," explains Professor Hyatt.
Dr Darrell Morris, Research Manager, NDA said: "We welcome this fundamental research demonstrating a possible alternative means of treating ILW. We look forward to seeing further progress on the applicability of this technology to the UK's waste inventory."
1 Radioactive Waste in the UK: The 2010 Estimate of Radioactive Waste for Geological Disposal
Additional information

1. "Vitrification of UK intermediate level radioactive wastes arising from site decommissioning: property modelling and selection of candidate host glass compositions", by P. A. Bingham, N. C. Hyatt & R. J. Hand, is published in European Journal of Glass Science and Technology A in Volume 53, Number 3, June 2012: http://www.ingentaconnect.com/content/sgt/gt/2012/00000053/00000003
2. "The effects of γ-radiation on model vitreous wasteforms intended for the disposal of intermediate and high level radioactive wastes in the United Kingdom", by O.J. McGann, P.A. Bingham, R.J. Hand, A.S. Gandy, M. Kavcˇicˇ, M. Zˇ itnik, K. Bucˇar, R. Edge, N.C. Hyatt, is published in the forthcoming issue of The Journal of Nuclear Materials: http://www.sciencedirect.com/science/article/pii/S002231151200178X
3. The University of Sheffield's Faculty of Engineering
The Faculty of Engineering at the University of Sheffield - the 2011 Times Higher Education's University of the Year - is one of the largest in the UK. Its seven departments include over 4,000 students and 900 staff and have research-related income worth more than £50M per annum from government, industry and charity sources. The 2008 Research Assessment Exercise (RAE) confirmed that two thirds of the research carried out was either Internationally Excellent or Internationally Leading.

The Faculty of Engineering has a long tradition of working with industry including Rolls-Royce, Network Rail and Siemens. Its industrial successes are exemplified by the award-winning Advanced Manufacturing Research Centre (AMRC) and the new £25 million Nuclear Advanced Manufacturing Research Centre (NAMRC).

The Faculty of Engineering is set to ensure students continue to benefit from world-class labs and teaching space through the provision of the University's new Engineering Graduate School. This brand new building, which will become the centre of the faculty´s postgraduate research and postgraduate teaching activities, will be sited on the corner of Broad Lane and Newcastle Street. It will form the first stage in a 15 year plan to improve and extend the existing estate in a bid to provide students with the best possible facilities while improving their student experience.

Faculty of Engineering
4. The NDA was established by the UK Government in 2005, charged with bringing a coherent national strategy to the challenging legacy of 19 diverse nuclear sties and associated hazardous and non-hazardous nuclear materials. Site management and operations are contracted out to private-sector companies with world-class skills, who drive progress and deliver technological innovation. An important element in delivering the NDA's mission is the promotion and funding of generic research relevant to decommissioning and clean-up.
Contact
For further information please contact
Shemina Davis
Acting Media Relations Manager
The University of Sheffield
0114 222 5339
shemina.davis@sheffield.ac.uk