Older people have a thirst for technology
Older adults want to adopt modern technology to help improve their quality of life, despite a huge 'technology gap', new research has found.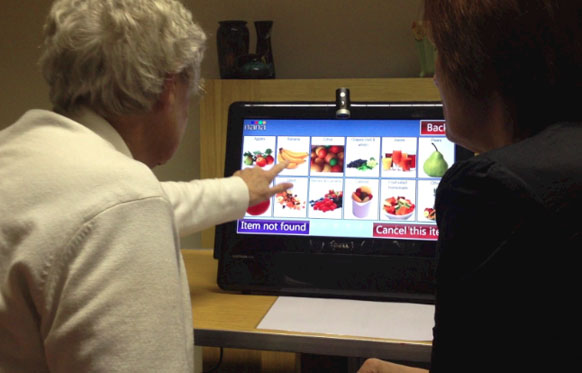 A pioneering study conducted by the Challenging Obstacles and Barriers Assisted Living Technology (COBALT) research team discovered that despite being branded a generation of technophobes older people are actually happy and eager to embrace new devices and equipment.
The research group, led by academics from the University of Sheffield, have been working closely with a wide range of older adults and health and social care professionals across the UK to identify why there is currently a huge gap between developments in technology and the low uptake of people using it in their daily lives.
Extensive research has found that when asked to describe technology they love – older adults frequently mentioned mobile, phones, computers and digital cameras. Reasons included that the technology is easy or convenient to use, it enables them to keep doing things that are important to them and meets their needs.
When asked about the equipment they had abandoned, reasons included that the device was cumbersome or did not meet their needs and that the technology was difficult to use.
COBALT research suggests a lack of awareness of what is available and the knowledge of how to access it are two of the main obstacles preventing people using technology. The study also highlighted a gap between mainstream technology which is used by everyone, such as iPads and smart phones, and technology provided by statutory services.
These devices tend to be prescribed in response to specific health and social care needs, for example a pendant alarm issued after a fall or medication reminders given to people with mild memory problems. Some of these items are seen as stigmatising or marking people out as vulnerable.
COBALT project leader, Professor Arlene Astell from the University of Sheffield's School of Health and Related Research, said: "Technology can play a big part in helping people stay at home and keep doing the things that are important for them to have a good life. If older people can live independently as long as possible this is good for them, their families and society.
"With our ageing population it is increasingly important to keep people as well and independent as possible, which includes their mental health. Keeping them in their own homes and out of hospital is a priority for health and social care providers and technology has a vital role to play."
The COBALT research shows that older adults have a thirst for technology that can make their life better. For example, an 83-year old woman who had recently moved into extra care accommodation was very enthusiastic about her Kindle as she could access thousands of books, which she could no longer have physically in her new home.
As part of understanding the barriers of getting technology out to people, COBALT has also worked with health and social care staff, service commissioners and providers.
By gathering knowledge and experiences from all these groups COBALT aims to help the Assistive Living Technology (ALT) industry take advantage of the current gap in the market and place the UK at the forefront of developing technology for older adults.
The COBALT team are running a series of exciting free interactive events to share the project findings and showcase some of the techniques they have developed to gather this evidence.
The inaugural event will be held at St Mary's Church and Community Centre, Bramall Lane, Sheffield, on Thursday 23 May 2013, between 10am and 4pm.
This will be followed by events in Swindon on 13 June, Edinburgh on 20 June and finally a closing event at Trinity Hall, Cambridge on 11 July.
Older adults, health and social care professionals, commissioners, policy makers, current and future ALT industry, charities and local agencies are invited to attend. To book a place please contact Dr Maggie Ellis by email at mpe2@st-andrews.ac.uk or by calling 01334 462017
For more information about COBALT visit www.cobaltproject.org
Additional information
COBALT
COBALT (Challenging Obstacles and Barriers to Assistive Living Technologies) is a multidisciplinary research project led by the University of Sheffield in partnership with the University of St. Andrews, University of Reading and Age UK with support from Bath Institute of Medical Engineering (BIME) and the South East Health Technologies Alliance (SEHTA). The Technology Strategy Board, the UK government agency for innovation, funds COBALT.
The University of Sheffield
With nearly 25,000 of the brightest students from 117 countries coming to learn alongside 1,209 of the world's best academics, it is clear why the University of Sheffield is one of the UK's leading universities. Staff and students at Sheffield are committed to helping discover and understand the causes of things - and propose solutions that have the power to transform the world we live in.
A member of the Russell Group, the University of Sheffield has a reputation for world-class teaching and research excellence across a wide range of disciplines. The University of Sheffield has been named University of the Year in the Times Higher Education Awards 2011 for its exceptional performance in research, teaching, access and business performance. In addition, the University has won four Queen's Anniversary Prizes (1998, 2000, 2002, 2007), recognising the outstanding contribution by universities and colleges to the United Kingdom's intellectual, economic, cultural and social life.
One of the markers of a leading university is the quality of its alumni and Sheffield boasts five Nobel Prize winners among former staff and students. Its alumni have gone on to hold positions of great responsibility and influence all over the world, making significant contributions in their chosen fields.
Research partners and clients include Boeing, Rolls-Royce, Unilever, Boots, AstraZeneca, GSK, Siemens, Yorkshire Water and many more household names, as well as UK and overseas government agencies and charitable foundations.
The University has well-established partnerships with a number of universities and major corporations, both in the UK and abroad.
The White Rose University Consortium (White Rose) a strategic partnership between 3 of the UK's leading research universities of Leeds, Sheffield and York.
Since its creation in 1997 White Rose has secured more than £100m into the Universities.
Contact
For further information, please contact:
Amy Pullan
Media Relations Officer
University of Sheffield
0114 222 9859
a.l.pullan@sheffield.ac.uk