Olympic gold for Sheffield graduate Jessica Ennis
Sheffield's very own Jessica Ennis, who graduated with a degree in Psychology from the University of Sheffield in 2007, has won a gold medal at the London 2012 Olympics for the Heptathlon.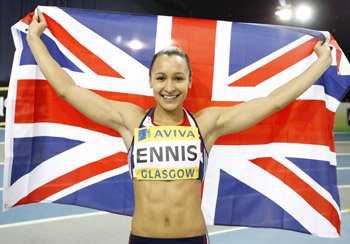 The pressure was on Ennis, who has become the face of the London 2012 Olympics and has been subject to an intense media spotlight, to achieve the dreams of Olympic glory that her home city and the entire nation were praying for.
But Jessica thrived under pressure as the crowd cheered her on to the gold medal and a British and Commonwealth record score of 6,955 points, beating silver medalist Lilli Schwarzkopf by 306 points and bronze medalist Tatyana Chernova by a further 21 points.
Ennis overcame the heartbreak of missing the Beijing 2008 Olympics due to injury to become the country's first heptathlon gold medalist at the World Championships in Berlin in 2009, before winning gold again at the European Championships in Barcelona and scooping silver in Daegu in 2011.
Jessica, who still lives and trains in Sheffield, received an honorary degree from the University of Sheffield in January 2010 and was made a Sheffield Legend after being nominated by Sheffield residents as bringing the city recognition at national or international level.
She is also patron of the University's Elite Sports Performance Scheme (ESPS), which was launched last in 2009 to provide financial and non-financial support to talented student athletes at the University, who are representing England, Wales, Scotland or Northern Ireland in one of Sport England's recognised sports.
Additional information
Elite Sports Performance Scheme
ESPS
The University of Sheffield's Department of Psychology
Department of Psychology
The University of Sheffield
With nearly 25,000 students from 125 countries, the University of Sheffield is one of the UK´s leading and largest universities. A member of the Russell Group, it has a reputation for world-class teaching and research excellence across a wide range of disciplines.
The University of Sheffield has been named University of the Year in the Times Higher Education Awards for its exceptional performance in research, teaching, access and business performance. In addition, the University has won four Queen´s Anniversary Prizes (1998, 2000, 2002, 2007). These prestigious awards recognise outstanding contributions by universities and colleges to the United Kingdom´s intellectual, economic, cultural and social life. Sheffield also boasts five Nobel Prize winners among former staff and students and many of its alumni have gone on to hold positions of great responsibility and influence around the world.
The University´s research partners and clients include Boeing, Rolls Royce, Unilever, Boots, AstraZeneca, GSK, ICI, Slazenger, and many more household names, as well as UK and overseas government agencies and charitable foundations.
The University has well-established partnerships with a number of universities and major corporations, both in the UK and abroad. Its partnership with Leeds and York Universities in the White Rose Consortium has a combined research power greater than that of either Oxford or Cambridge.
Contact
For further information please contact:
Amy Stone
Media Relations Officer
The University of Sheffield
0114 222 1046
a.f.stone@sheffield.ac.uk