Olympic medal-winning alumni
Sheffield graduates Hollie Webb, Bryony Page and Jess Ennis-Hill win medals in the Rio 2016 Olympics
Hollie helps Great Britain's women's hockey team claim gold; Bryony and Jessica take silver
Economics alumna Hollie Webb graduated in 2013
Bryony Page graduated in Biology in 2015 and was awarded the Chancellor's Medal in 2014 for her exceptional achievements
Fellow Olympic medal winner Jess Ennis-Hill graduated in 2007 and was awarded the Chancellor's Medal in 2008
Bryony and Hollie were both recipients of the University of Sheffield's Elite Sports Scholarship and have described how this support and that of their departments made it possible for them to combine study and training
Sheffield graduates Hollie Webb, Bryony Page and Jess Ennis-Hill have won gold and silver medals in the Rio 2016 Olympics.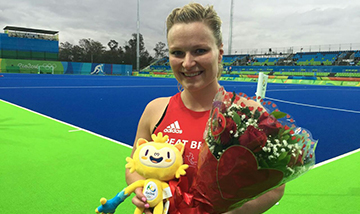 Economics alumna Hollie Webb, 25, helped Great Britain's women's hockey team win gold in the final against the Netherlands.
This time last year, Hollie and the team competed in the IAAF World Championships in Beijing, which saw them win their first Euro title for 14 years. In 2014, Hollie also led the team to success by winning silver at the Glasgow Commonwealth Games.
Hollie was a recipient of the University's Elite Sports Performance Scheme (ESPS) during her time at the University of Sheffield which was launched in 2009 to provide financial and non-financial support to talented student athletes at the University.
Thanks to donations from the Alumni Fund and other donors, the ESPS is able to offer a small number of athletes a scholarship of up to £1,000, which they can then use to help fund their training and competitions. This allows many students the chance to take part in training camps and events that they previously wouldn't have been able to afford to attend.
Speaking in 2012 when she was awarded the scholarship to help provide support for her training, she said: "Without the scholarship I wouldn't be able to play at the level I am and do well at University, so it's helping me to reach my goals. Before coming to University I had a part time job to pay for transport so I could get to training. Now I'm at University I wouldn't really have been able to work, so something would have had to give. The scholarship was one of the reasons I chose to come to the University as there are not many others that would offer something like this."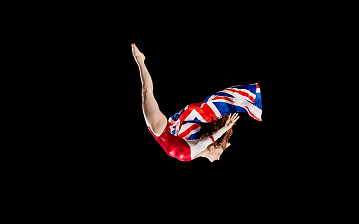 Last weekend, Bryony Page, winner of the 2014 Chancellor's Medal, took silver for trampolining.
Bryony, the first British trampolinist ever to qualify for an Olympic final, was overjoyed by the medal win - her previous best global ranking had been fourth place at the 2010 World Championships.
Bryony studied Biology at the University of Sheffield's Department of Animal and Plant Sciences, and has described the support she received from the department to balance her intensive training and academic studies.
Speaking in 2014 as she was awarded the University's Chancellor's Medal Bryony said: "I have to give an incredible amount of credit to the Department of Animal and Plant Sciences for their support and flexibility in understanding my goals to achieve academic excellence while maintaining my dream to be an elite athlete and competing for my country.
"My department helped me arrange my timetable so I could fit both study and training, allowing me to concentrate on trampolining near major competitions and alternatively focusing on exams and coursework deadlines when my training schedule allows."
In a light-hearted reference to her Sheffield studies, Bryony took a good luck memento with her to Rio - a dinosaur lunchbox given to her by her younger brother. During her degree, Bryony wrote a dissertation on the sounds dinosaurs would have made 'or that we think they made':
"They probably didn't have the vocal chords to roar like they did in the movies," Bryony explained, but probably squawked or chirped like birds.
Bryony was also a recipient of a University of Sheffield's Elite Sports Scholarship (ESPS) and has said that this support was vital in helping students balance out their academic life and sporting lifestyle.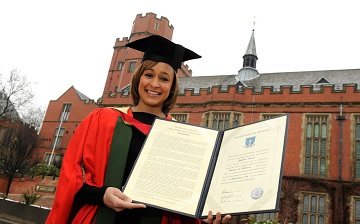 University of Sheffield alumna and current World heptathlon champion Jessica Ennis-Hill claimed silver in the fight to defend her Olympic title she won back at the London 2012 Olympic Games.
The 30 year-old, who studied Psychology at the University before graduating in 2007, gained 6,775 points - but she missed out on gold due to a challenge from Belgian athlete, Nafissatou Thiam who achieved 6,810.
Jessica has worked with fellow Sheffield alumnus and long-time coach Toni Minichiello, to become one of the best athletes in the world.
It was at the London 2012 Olympics that she won gold on what became known as 'super Saturday' following two other golds for Team GB on the same day.
After overcoming the heartbreak of missing the Beijing 2008 Olympics due to injury, her medal haul began a year later when she won the gold medal at the World Championships in Berlin in 2009, before winning gold again at the European Championships in Barcelona and scooping silver in Daegu in 2011.
Jess took time out to have her son Reggie in 2014 but was back at the top in 2015 - winning gold at the World Championships.
Miles Stevenson, Director of Alumni and Donor Relations at the University of Sheffield, said: "Jessica Ennis-Hill's achievements in the sporting arena are outstanding and the result of extreme dedication and hard work. She is an inspiration and we at the University, together with everyone in Sheffield, are immensely proud of her."
Jessica received an honorary degree from the University of Sheffield in January 2010 and was patron of the University's Elite Sports Performance Scheme (ESPS). 
Jessica was also awarded the University's Chancellor's Medal in 2008 in recognition of her outstanding athletic achievements.
We are proud of all our alumni competing at the Olympics and congratulate them on their efforts and achievements representing their country as Olympians.
The Olympics are taking place in Brazil for the first time, a country that the University has strong connections with. In addition to our alumni Olympians, we have 265 alumni based in Brazil, including new Alumni Board member Guilherme Guimaraes, who was the Sponsorship Manager for the Rio 2016 bid committee and was head of sports for Twitter in Brazil during the Brazil 2014 FIFA World Cup, before starting his own sports marketing consultancy.
Elite Sports Performance Scheme
---
Further Information
The University of Sheffield
With almost 27,000 of the brightest students from over 140 countries, learning alongside over 1,200 of the best academics from across the globe, the University of Sheffield is one of the world's leading universities.
A member of the UK's prestigious Russell Group of leading research-led institutions, Sheffield offers world-class teaching and research excellence across a wide range of disciplines.
Unified by the power of discovery and understanding, staff and students at the university are committed to finding new ways to transform the world we live in.
Sheffield is the only university to feature in The Sunday Times 100 Best Not-For-Profit Organisations to Work For 2016 and was voted number one university in the UK for Student Satisfaction by Times Higher Education in 2014. In the last decade it has won four Queen's Anniversary Prizes in recognition of the outstanding contribution to the United Kingdom's intellectual, economic, cultural and social life.
Sheffield has five Nobel Prize winners among former staff and students and its alumni go on to hold positions of great responsibility and influence all over the world, making significant contributions in their chosen fields.
Global research partners and clients include Boeing, Rolls-Royce, Unilever, AstraZeneca, Glaxo SmithKline, Siemens and Airbus, as well as many UK and overseas government agencies and charitable foundations.