Government report commends University of Sheffield outreach scheme for helping to improve the life chances of disadvantaged children
A University of Sheffield scheme promoting academic excellence and aspiration amongst some of the most disadvantaged pupils in Sheffield has been hailed as an area of good practice in a government report.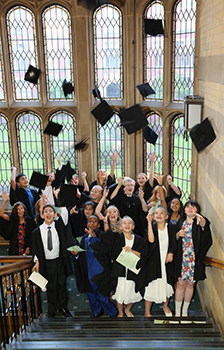 The scheme, Cool to be Clever, draws pupils from some of the most deprived areas of Sheffield to attend sessions led by students and staff at the University, Sheffield High School and Arbourthorne Primary to boost their learning and aspiration.
The outreach and widening participation project was highlighted as an example of good practice in the government's response to the consultation 'Schools that work for everyone', to which the University had submitted evidence. This paper will inform future education policy on the role of universities in partnering with local state schools to help raise attainment and aspiration for all pupils.
Cool to be Clever is run by the University's Outreach and Widening Participation team in partnership with Sheffield High School and the South East Learning Partnership family of schools. Around 70 of the most able yet most disadvantaged year five and six pupils from 13 local primary schools participate in the scheme, which aims to foster key skills in the children, including independent learning and self-reflection, teamwork, confidence and resilience.
Sessions explore topics such as poetry, chemistry, art, critical thinking and careers and aspirations. Activities have included experiences such as a day in journalism, where pupils get to create their own news reports using technology from the University's Department of Journalism Studies, as well as theatre workshops at the University drama studio, with a visit to the theatre.
The scheme was developed from an idea put forward by Sheffield High School into a sustained and measurable outreach programme, which launched in 2013. Pupils are selected for the programme on the basis of their academic ability and are from areas where progression to Higher Education is low, with priority given to those pupils whose parents didn't go to university.
The programme begins for the children in school year five and continues with the same cohort through to the end of school year six, before they transition into secondary school.
Undertaking activities in other learning environments beyond their own school or local community helps to broaden their horizons and expand their already high goals.

Gaynor Loxley, Outreach & Widening Participation Manager
At the end of the programme the year six pupils, along with their parents, attend a special graduation event to celebrate their achievements, dressing in graduation robes and mortar boards to receive their certificates. This year the children's author and University of Sheffield alumna Lucy Strange will be a special guest at the ceremony. She will be talking to the pupils about following their dreams and signing free copies of her book 'The Secret of Nightingale Wood'.
Cool to be Clever Club helps foster a passion for learning in pupils whilst equipping them with the skills and aspiration to aim high, including introducing the concept of Higher Education from an early age. It is hoped that it will be a formative and even life-changing experience for the children who participate, helping to expand their horizons and open the possibilities for their future. The scheme also helps to engage parents in their children's learning through a parent portal and newsletters, which include learning activities for children to do with their parents.
Gaynor Loxley, Outreach & Widening Participation Manager at the University of Sheffield, said: "The aspirations of the children who participate in Cool to Be Clever are already high, something that is easy to forget when we discuss areas of high deprivation. Undertaking activities in other learning environments beyond their own school or local community helps to broaden their horizons and expand their already high goals. There is no doubt that the enthusiasm and commitment from the partner organisations is fundamental in the success of this programme."
The University of Sheffield's Outreach and Widening Participation team works with around 1279 school children in intensive outreach programmes of between 2-3 years in duration. The team collaborate with students, schools, teachers and parents alongside local and national partnerships to develop a range of innovative activities that are fun and engaging, whilst being academically challenging for the young people.
The government's 'Schools that work for everyone' consultation called for submissions on how best to harness the resources and expertise of independent schools and the Higher Education sector in widening access to disadvantaged pupils. Following the consultation, a dedicated unit within the Department For Education has been set up to work with universities and independent schools to develop and strengthen partnerships with state schools to help raise attainment and aspiration for all pupils.
For further information please email primary@sheffield.ac.uk
Additional information
The University of Sheffield
With almost 29,000 of the brightest students from over 140 countries, learning alongside over 1,200 of the best academics from across the globe, the University of Sheffield is one of the world's leading universities.
A member of the UK's prestigious Russell Group of leading research-led institutions, Sheffield offers world-class teaching and research excellence across a wide range of disciplines.
Unified by the power of discovery and understanding, staff and students at the university are committed to finding new ways to transform the world we live in.
Sheffield is the only university to feature in The Sunday Times 100 Best Not-For-Profit Organisations to Work For 2018 and for the last eight years has been ranked in the top five UK universities for Student Satisfaction by Times Higher Education.
Sheffield has six Nobel Prize winners among former staff and students and its alumni go on to hold positions of great responsibility and influence all over the world, making significant contributions in their chosen fields.
Global research partners and clients include Boeing, Rolls-Royce, Unilever, AstraZeneca, Glaxo SmithKline, Siemens and Airbus, as well as many UK and overseas government agencies and charitable foundations.
Contact
For further information please contact:
Hannah Postles
Media Relations Officer
University of Sheffield
0114 222 1046
h.postles@sheffield.ac.uk