Peregrine falcons breed successfully at University
A pair of peregrine falcons nesting at the University of Sheffield has become Yorkshire's first urban breeding pair, thanks to the concerted efforts of staff and volunteers from the University and the Sheffield Bird Study Group.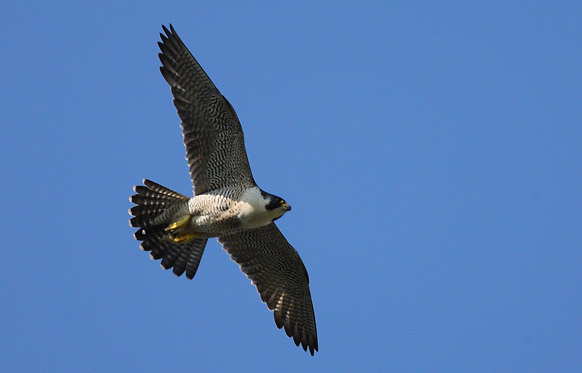 Professor David Wood, from the University's Department of Hispanic Studies and Chair of the Sheffield Bird Study Group, has kept a close eye on the pair's behaviour since a nest platform was placed atop St George's Church in early 2010.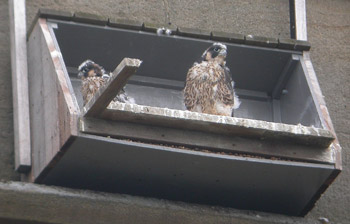 Professor Wood explained how the recent exciting developments have been observed: "In February I saw the first signs of territorial behaviour around St George's as the pair attacked a Kestrel over Brookhill roundabout, then in late March copulation was observed on several occasions. This was a clear indication that they intended to breed at the site and both birds were seen repeatedly on and in the nest platform. They've been sitting on eggs for a few weeks, and the adults' behaviour indicates that the eggs have now hatched."
Phil Riley, Energy Manager in the University's Department of Estates and Facilities Management, said: "The University plans to install a webcam near the nest over the summer. This will not only act as a security camera to ensure the nest is not tampered with, but will also allow us to make high quality images of these beautiful wild birds available to the public."
The peregrines may face an uphill battle to ensure their chicks' survival in this year's poor weather conditions, according to Professor Wood: "The weather has been bad for them, as it has been for all breeding birds. I know that other pairs of peregrines covered by webcams have struggled, with some chicks dying on the nest in the cold and heavy rain.
"Fortunately, it seems the fact that the St George's birds got down to laying their eggs a little later than some other pairs has favoured them, as the chicks have not been exposed to the worst of the unseasonal weather."
He added: "However, they still face a series of potential hurdles before the chicks fledge, and people can help by keeping watch for any signs of human disturbance (peregrine nests are protected by law) and by supporting the good work of organisations such as the RSPB or the Sheffield Bird Study Group."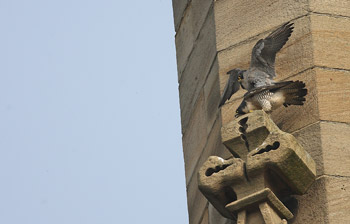 Peregrine falcons have previously been an endangered species due to pesticides, illegal persecution from game-keeping interests and being a target for egg collectors. Their population has steadily increased since the 1970s because of better legal protection and control of pesticides. The birds are usually found around the sea coast but have recently been seen in more built up areas, and have bred successfully on buildings and bridges in several cities.
Professor Wood led the project to get peregrines nesting in Sheffield after seeing similar platforms successfully constructed and used in Derby, Manchester and Lincoln. The pair at St George's is the first to nest in Sheffield city centre since records began.
Professor Wood continued: "Peregrines are one of the most spectacular species in Britain, traditionally associated with remote sea cliffs and inaccessible sites, and to be able to see them in urban Sheffield is an absolute privilege. I know they have brought a great deal of pleasure to local residents around St George's and beyond, as well as to me personally. For the pair to be successful on their first breeding attempt is fantastic and I was really thrilled when I watched the female taking food to the nest, the clearest indication yet that the chicks have hatched. It certainly makes the efforts of all involved hugely worthwhile."
Phil Riley said: "The success has been a University-wide effort. I worked closely with Professor Wood, Jim Lonsdale and other colleagues in the University's Department of Estates and Facilities Management to ensure a suitable nest box was constructed and appropriately located. I am delighted that all our hard work has been rewarded."
Additional information
Keep up to date with the peregrines' progress here:
Sheffield Peregrines blog

Sheffield Bird Study Group
SBGS

Royal Society for Protection of Birds
RSPB

The University of Sheffield
With nearly 25,000 students from 125 countries, the University of Sheffield is one of the UK´s leading and largest universities. A member of the Russell Group, it has a reputation for world-class teaching and research excellence across a wide range of disciplines.
The University of Sheffield has been named University of the Year in the Times Higher Education Awards for its exceptional performance in research, teaching, access and business performance. In addition, the University has won four Queen´s Anniversary Prizes (1998, 2000, 2002, 2007). These prestigious awards recognise outstanding contributions by universities and colleges to the United Kingdom´s intellectual, economic, cultural and social life. Sheffield also boasts five Nobel Prize winners among former staff and students and many of its alumni have gone on to hold positions of great responsibility and influence around the world.
The University's research partners and clients include Boeing, Rolls Royce, Unilever, Boots, AstraZeneca, GSK, ICI, Slazenger, and many more household names, as well as UK and overseas government agencies and charitable foundations.
The University has well-established partnerships with a number of universities and major corporations, both in the UK and abroad. Its partnership with Leeds and York Universities in the White Rose Consortium has a combined research power greater than that of either Oxford or Cambridge.
Contact
For further information please contact:

Amy Stone
Media Relations Officer
The University of Sheffield
0114 222 1046
a.f.stone@sheffield.ac.uk