Researchers show the value of Perovskite solar cells in addressing global environmental challenges
Researchers test Perovskite solar cells (PSCs), which have been widely praised as a more sustainable alternative to traditional solar cell technology
Study shows that PSCs are easier and cheaper to produce and manufacture than other existing photovoltaic solar cell technologies
Findings show that PSCs have the shortest energy payback period, making them a significant advancement in the development of clean energy generation
A new study from the University of Sheffield has confirmed the potential for Perovskite solar cells (PSCs) to be a 'game changer' in addressing global environmental challenges.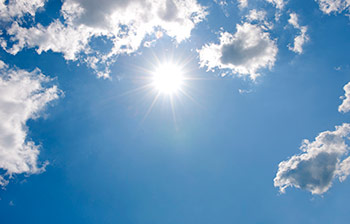 PSCs, a recent innovation in solar energy, have been praised for being easier and cheaper to produce than other photovoltaic solar cells – but testing of these claims has been limited.
Therefore, a team of researchers, including Dr Taofeeq Ibn Mohammed, Professor Lenny Koh and Professor Ian Reaney from the University of Sheffield, alongside collaborators from the universities of Kent, Nottingham and Leicester, investigated their potential and shortcomings.
The team compared PSCs with other existing photovoltaic technologies, including an examination of the kind of materials used in their production, how difficult it is to manufacture them, and how much it costs to produce and manufacture them. They also carried out a systematic hybrid life cycle assessment of PSCs, meaning that every aspect associated with PCSs, including greenhouse gas emission, material use, land use, pollution and toxicology, was considered.
They found PSCs are a more environmentally friendly, sustainable option for generating energy and they were shown to have the shortest energy payback period of all solar technologies tested in the study. The findings were published in the journal Renewable and Sustainable Energy Reviews.
Professor Ian Reaney, from the University of Sheffield's Department of Materials Science and Engineering, explained: "In science we make a lot of assumptions about the environmental credentials of new technologies. With hybrid life cycle assessment, we can make rational decisions based on quantitative data and it is now clear that PSCs are a potential game changer for the solar cell community."
Professor Lenny Koh from the University of Sheffield's Management School, added: "Renewable energy technology such as solar cells can play a significant role in delivering future energy security.
"As the race for different types of PV technology intensifies to fill major international demand, important questions on their environmental and economic efficiencies need to be addressed. Our research found that perovskite solar cells not only are the most environmentally sustainable, they have the shortest payback period of less than a year."
Read the paper on Science Direct
Additional information
The University of Sheffield
With almost 27,000 of the brightest students from over 140 countries, learning alongside over 1,200 of the best academics from across the globe, the University of Sheffield is one of the world's leading universities.
A member of the UK's prestigious Russell Group of leading research-led institutions, Sheffield offers world-class teaching and research excellence across a wide range of disciplines.
Unified by the power of discovery and understanding, staff and students at the university are committed to finding new ways to transform the world we live in.
Sheffield is the only university to feature in The Sunday Times 100 Best Not-For-Profit Organisations to Work For 2017 and was voted number one university in the UK for Student Satisfaction by Times Higher Education in 2014. In the last decade it has won four Queen's Anniversary Prizes in recognition of the outstanding contribution to the United Kingdom's intellectual, economic, cultural and social life.
Sheffield has six Nobel Prize winners among former staff and students and its alumni go on to hold positions of great responsibility and influence all over the world, making significant contributions in their chosen fields.
Global research partners and clients include Boeing, Rolls-Royce, Unilever, AstraZeneca, Glaxo SmithKline, Siemens and Airbus, as well as many UK and overseas government agencies and charitable foundations.
Contact
For further information, please contact:
Hannah Postles
Media Relations Officer
University of Sheffield
0114 222 1046
h.postles@sheffield.ac.uk