Personalised prescription tool could help to combat antibiotic resistance
Students developing device to diagnose viral and bacterial infections
New tool could lead to more informed prescriptions helping to tackle antibiotic resistance
Device uses genetically engineered bacteria to detect bacterial infections in blood samples
Students from the University of Sheffield are building a device capable of quickly diagnosing bacterial infections, which could help doctors improve the way they prescribe treatment for patients.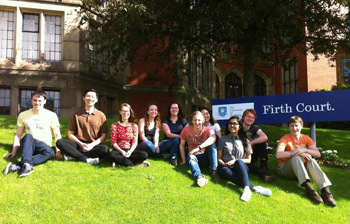 The new tool could help doctors make more informed prescriptions, which in turn could help to tackle antibiotic resistance by reducing the number of patients with viral infections being prescribed antibiotics.
Plans for the new tool, which could differentiate between bacterial and non-bacterial infections, are being showcased at iGEM 2016 – a leading international competition held in Boston, USA, where some of the world's brightest student scientists unveil their latest innovations.
The Sheffield students hope that the device could be placed in GP surgeries or walk-in centres to enable patients with flu-like symptoms to give a small blood sample and be promptly told whether they have a bacterial or non-bacterial infection and be treated accordingly.
The diagnostic tool uses genetically engineered bacteria to detect the presence of a bacterial infection in a patient's blood sample.
It can distinguish between a viral and bacterial infection by detecting a protein known as lipocalin. This protein is produced in high levels by cells of the immune system in response to bacterial infections.
The protein's function is to bind to small molecules which bacteria use to access iron in order to grow.
The Sheffield team, which consists of students from a range of science, engineering and medicine disciplines, are developing the device so that genetically modified bacteria mixes with a patient's blood sample and turn florescent when there are low levels of the lipocalin protein – indicating a viral not bacterial infection.
Saylee Jangam, a student from the University of Sheffield's iGEM team, said: "The main aim behind this project is to create more informed prescriptions to address the ever increasing resistance against antibiotics that we face today.
"Antibiotic resistance is a huge problem and this is why we chose to base our project on it. We may not be able to reverse it, but with our device, we could potentially slow it down.
"What's even more interesting is that we are using genetically engineered bacteria to detect the presence of bacterial infections in blood – that's right – using bacteria to detect bacteria."
The University is currently conducting world-class research into infectious diseases. Sheffield scientists across all levels of study are developing radical solutions to global problems of disease and antimicrobial resistance as part of projects including Florey, Imagine, and the Sheffield Antimicrobial Resistance Network (SHAMROK). These are signature research projects addressing some of the world's biggest biomedical problems.
The iGEM 2016 competition is held between 27 and 31 October 2016.
Additional information
For more information on the University's iGEM 2016 team, please visit: http://2016.igem.org/Team:Sheffield
For more information on the opportunities to study science, engineering and medicine courses at the University, please visit: https://www.sheffield.ac.uk/study/
The University of Sheffield
With almost 26,000 of the brightest students from around 120 countries, learning alongside over 1,200 of the best academics from across the globe, the University of Sheffield is one of the world's leading universities.
A member of the UK's prestigious Russell Group of leading research-led institutions, Sheffield offers world-class teaching and research excellence across a wide range of disciplines.
Unified by the power of discovery and understanding, staff and students at the university are committed to finding new ways to transform the world we live in.
In 2014 it was voted the number one university in the UK for Student Experience by Times Higher Education and in the last decade has won four Queen's Anniversary Prizes in recognition of the outstanding contribution to the United Kingdom's intellectual, economic, cultural and social life.
Sheffield has six Nobel Prize winners among former staff and students and its alumni go on to hold positions of great responsibility and influence all over the world, making significant contributions in their chosen fields.
Global research partners and clients include Boeing, Rolls-Royce, Unilever, AstraZeneca, Glaxo SmithKline, Siemens and Airbus, as well as many UK and overseas government agencies and charitable foundations.
Contact
For further information please contact: 
Sean Barton
Media Relations Assistant
University of Sheffield
0114 222 9852
s.barton@sheffield.ac.uk