Paving the way for pioneering new cancer treatments
Scientists at the University of Sheffield are fighting an incurable type of cancer with a pioneering new approach which could not only halt devastating bone damage, but also repair it.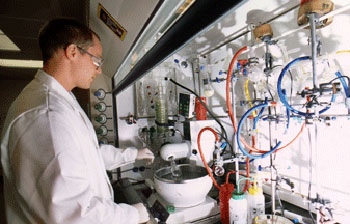 A ground breaking research programme developing new drugs to tackle myeloma is now underway thanks to a £1.1 million grant from the charity Leukaemia and Lymphoma Research.
Senior Clinical Lecturer in Haematology, Dr Andrew Chantry, and his team at the University's Medical School and Department of Biomedical Sciences are working towards a revolutionary treatment for the disease.
Myeloma is a cancer of the white blood cells that causes bone marrow and renal failure, as well as debilitating bone disease. Despite often successful chemotherapy, patients will relapse and life expectancy after diagnosis for older patients is just three and a half years.
Dr Chantry said: "As well as eventually being fatal, myeloma causes substantial pain and loss of mobility. We hope to significantly improve current treatments by testing a range of new compounds which can stimulate the bone formation process and help regrowth of healthy bone.
"We believe that relapse happens because a certain percentage of myeloma cells are able to lie dormant and avoid treatment. If we can detect how these cells are distinct from other myeloma cells, we can use combinations of recently introduced chemotherapy drugs to target them."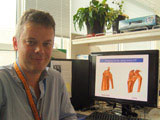 As well as studying the effects of a range of anti-cancer and bone formation drugs in the laboratory, the researchers will use cells from myeloma patients to conduct genetic research into the causes of myeloma.
Professor Chris Bunce, Research Director at Leukaemia & Lymphoma Research, said: "This project directly addresses both the need to eradicate those cancer cells which can avoid standard chemotherapy and the need for drugs to target the devastating bone disease caused by myeloma.
"If this laboratory research is successful, it will pave the way for clinical trials in patients. It has the potential to decrease suffering and take strides towards establishing a cure for the disease."
Additional information
Leukaemia & Lymphoma Research
Leukaemia & Lymphoma Research is dedicated to saving the lives of blood
cancer patients through the promotion and assistance of research into causes,
diagnosis and treatment. We are committed to advancing the interests of patients
and increasing public understanding of blood cancers.
Around 30,000 people of all ages, from children to adults are diagnosed with blood
cancers such as leukaemia, lymphoma and myeloma in the UK every year.
We receive no government funding and rely entirely on voluntary support. In the
next five years we need to raise £120 million to continue our lifesaving work.
Further information, including patient information booklets, is available from
beatingbloodcancers.org.uk or on 020 7405 0101.
For further information, please contact Henry Winter at the Leukaemia &
Lymphoma Research Press Office on 020 7269 9019, press mobile 07824
375880, or email: hwinter@beatingbloodcancers.org.uk
The University of Sheffield
With nearly 25,000 of the brightest students from 125 countries coming to learn alongside 1,181 of the world's best academics, it is clear why the University of Sheffield is one of the UK's leading universities. Staff and students at Sheffield are committed to helping discover and understand the causes of things - and propose solutions that have the power to transform the world we live in.
A member of the Russell Group, the University of Sheffield has a reputation for world-class teaching and research excellence across a wide range of disciplines. The University of Sheffield has been named University of the Year in the Times Higher Education Awards 2011 for its exceptional performance in research, teaching, access and business performance. In addition, the University has won four Queen's Anniversary Prizes (1998, 2000, 2002, 2007), recognising the outstanding contribution by universities and colleges to the United Kingdom's intellectual, economic, cultural and social life.
One of the markers of a leading university is the quality of its alumni and Sheffield boasts five Nobel Prize winners among former staff and students. Its alumni have gone on to hold positions of great responsibility and influence all over the world, making significant contributions in their chosen fields.
Research partners and clients include Boeing, Rolls-Royce, Unilever, Boots, AstraZeneca, GSK, ICI, Slazenger, and many more household names, as well as UK and overseas government agencies and charitable foundations.
The University has well-established partnerships with a number of universities and major corporations, both in the UK and abroad. Its partnership with Leeds and York Universities in the White Rose Consortium has a combined research power greater than that of either Oxford or Cambridge.