University appoints new Pro-Vice-Chancellor for Research and Innovation
The University of Sheffield has announced the appointment of Professor David Petley as its new Pro-Vice-Chancellor for Research and Innovation.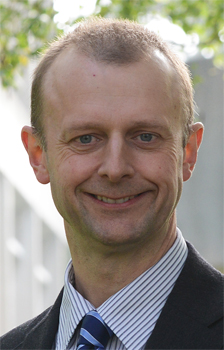 Professor Petley will lead the University's commitment to internationally excellent research and innovation across the Faculties of Science, Engineering, Medicine, Social Sciences and the Arts and Humanities.
His work will include promoting and supporting the University's prestigious research institutes and centres, including the Advanced Manufacturing Research Centre and the Grantham Centre for Sustainable Futures, as well as the development of international research partnerships with other academic institutions and organisations.
He will also be a member of the University's Executive Board.
University of Sheffield Vice-Chancellor Professor Sir Keith Burnett said: "I am delighted that Professor Petley will be joining us in the crucially important role of Pro-Vice-Chancellor for Research and Innovation. Sheffield has an excellent reputation for research and innovation which impacts on the lives of people in communities around the world."
He added: "Professor Petley's own research in the area of landslides, in often poor, high-mountain areas around the world, is a clear example of this – and that insight mixes with an excellent track record of senior leadership within UK universities.
"He will be joining a community of scholars, from postgraduate researchers through to established world-leading researchers, whose subjects range from the treatment of diseases, pioneering plants which can endure the most difficult conditions, advanced engineering, as well as the history and politics which so powerfully shape our world. It is a tremendously important role and one with a huge potential to do good."
Professor Petley began his university life a geographer and then studied for a PhD in Earth Sciences at University College London. He then became a lecturer in Environmental Sciences and Engineering Geology, joining the University of Durham in 2000 where he became the Wilson Professor of Hazard and Risk.
While at Durham he also served as Deputy Head of the Faculty of Social Sciences and Health, then Dean of Research and Dean of Global Engagement. In 2014 he joined the University of East Anglia as Pro-Vice-Chancellor for Research and Enterprise.
Professor Petley's personal research focuses on landslides, especially in high mountain areas. His current field areas of study are Nepal, Chile and New Zealand.
Professor Petley said: "I am delighted to be joining the University of Sheffield. It is an institution with an extraordinary track record in research and innovation, and a reputation that is second to none for its education and student experience. I am greatly looking forward to playing a key role in the development of the University over the next few years, and to working with colleagues across the institution.
"In addition, I am keenly aware that the University has a powerful reputation for the translation of its research and partnership with large global and smaller local companies, which is central to the strategy of the City Region, its economy and the aspirations of local people. This is clearly key to the emerging priorities of the UK government and I am confident that the University will continue to be a leader in this area."
Professor Petley will take up the role of Pro-Vice-Chancellor for Research and Innovation at the University of Sheffield from 1 November 2016.
Additional information
The University of Sheffield
With almost 27,000 of the brightest students from over 140 countries, learning alongside over 1,200 of the best academics from across the globe, the University of Sheffield is one of the world's leading universities.
A member of the UK's prestigious Russell Group of leading research-led institutions, Sheffield offers world-class teaching and research excellence across a wide range of disciplines.
Unified by the power of discovery and understanding, staff and students at the university are committed to finding new ways to transform the world we live in.
Sheffield is the only university to feature in The Sunday Times 100 Best Not-For-Profit Organisations to Work For 2016 and was voted number one university in the UK for Student Satisfaction by Times Higher Education in 2014. In the last decade it has won four Queen's Anniversary Prizes in recognition of the outstanding contribution to the United Kingdom's intellectual, economic, cultural and social life.
Sheffield has five Nobel Prize winners among former staff and students and its alumni go on to hold positions of great responsibility and influence all over the world, making significant contributions in their chosen fields.
Global research partners and clients include Boeing, Rolls-Royce, Unilever, AstraZeneca, Glaxo SmithKline, Siemens and Airbus, as well as many UK and overseas government agencies and charitable foundations.
Contact
For further information please contact:
Hannah Postles
Media Relations Officer
University of Sheffield
0114 222 1046
h.postles@sheffield.ac.uk