Children's Radiologist becomes first woman in inspiring research role
A University of Sheffield Radiologist is the first woman to take on a prestigious national role inspiring young radiologists to become researchers of the future.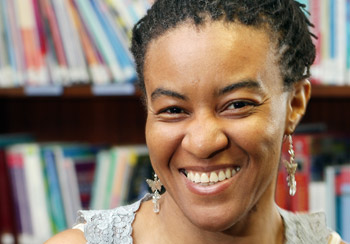 Dr Amaka Offiah, Clinical Senior Lecturer at the University of Sheffield and Radiologist at Sheffield Children's Hospital, has been appointed as the 2013 Royal College of Radiology Roentgen Professor, travelling the country to speak with trainees and inspire new studies in her field.
Dr Offiah, who has worked for Sheffield Children's NHS Foundation Trust and the University of Sheffield for the last three years as a Higher Education Funded Council for England (HEFCE) clinical senior lecturer, said: "I'm delighted to be the first woman to take on this role and am really looking forward to spreading the word about radiology and research – it really is a fascinating subject."
A national expert in radiological research into child abuse, she is currently developing technology that will give a more accurate diagnosis around links between children with broken bones and the likelihood of child abuse.
As part of her new national role, Dr Offiah, who fought off tough competition for the prestigious national post, will travel to eight chosen locations in the UK inspiring junior radiologists and consultants to do research.
This will include stimulating their interest in research and developing their knowledge around applying for grants and preparing publications and presentations.
She said: "Research may occasionally be frustrating, however it is also often extremely rewarding, when it leads to important breakthroughs for radiology and medicine as a whole.
"Although it often takes longer than we would like for a project to develop, ultimately it is worth all the hard work when we see how new technologies or techniques help individuals and their families."
She will take up the role in Spring 2013.
Additional information
The University of Sheffield
With nearly 25,000 students from 125 countries, the University of Sheffield is one of the UK´s leading and largest universities. A member of the Russell Group, it has a reputation for world-class teaching and research excellence across a wide range of disciplines.
The University of Sheffield has been named University of the Year in the Times Higher Education Awards for its exceptional performance in research, teaching, access and business performance. In addition, the University has won four Queen´s Anniversary Prizes (1998, 2000, 2002, 2007). These prestigious awards recognise outstanding contributions by universities and colleges to the United Kingdom´s intellectual, economic, cultural and social life. Sheffield also boasts five Nobel Prize winners among former staff and students and many of its alumni have gone on to hold positions of great responsibility and influence around the world.
The University´s research partners and clients include Boeing, Rolls Royce, Unilever, Boots, AstraZeneca, GSK, ICI, Slazenger, and many more household names, as well as UK and overseas government agencies and charitable foundations.
The University has well-established partnerships with a number of universities and major corporations, both in the UK and abroad. Its partnership with Leeds and York Universities in the White Rose Consortium has a combined research power greater than that of either Oxford or Cambridge.
Contact
For further information please contact:
Amy Stone
Media Relations Officer
The University of Sheffield
0114 222 1046
a.f.stone@sheffield.ac.uk