University of Sheffield to reduce use of single-use drinks cups as part of sustainability commitment
Trial 20p levy on single-use drinks cups is being introduced in a bid to reduce their consumption on campus
The University of Sheffield has reduced its coffee supply chain to a three-step process - the first framework of its kind for any University in the UK
Partnerships with local businesses to supply coffee has minimised the University's carbon footprint and environmental impact
The University is using its own world-leading research to become a more sustainable organisation
The University of Sheffield is introducing a trial 20p levy on single-use drinks cups next week in a bid to reduce their consumption on campus and raise awareness of their environmental impact.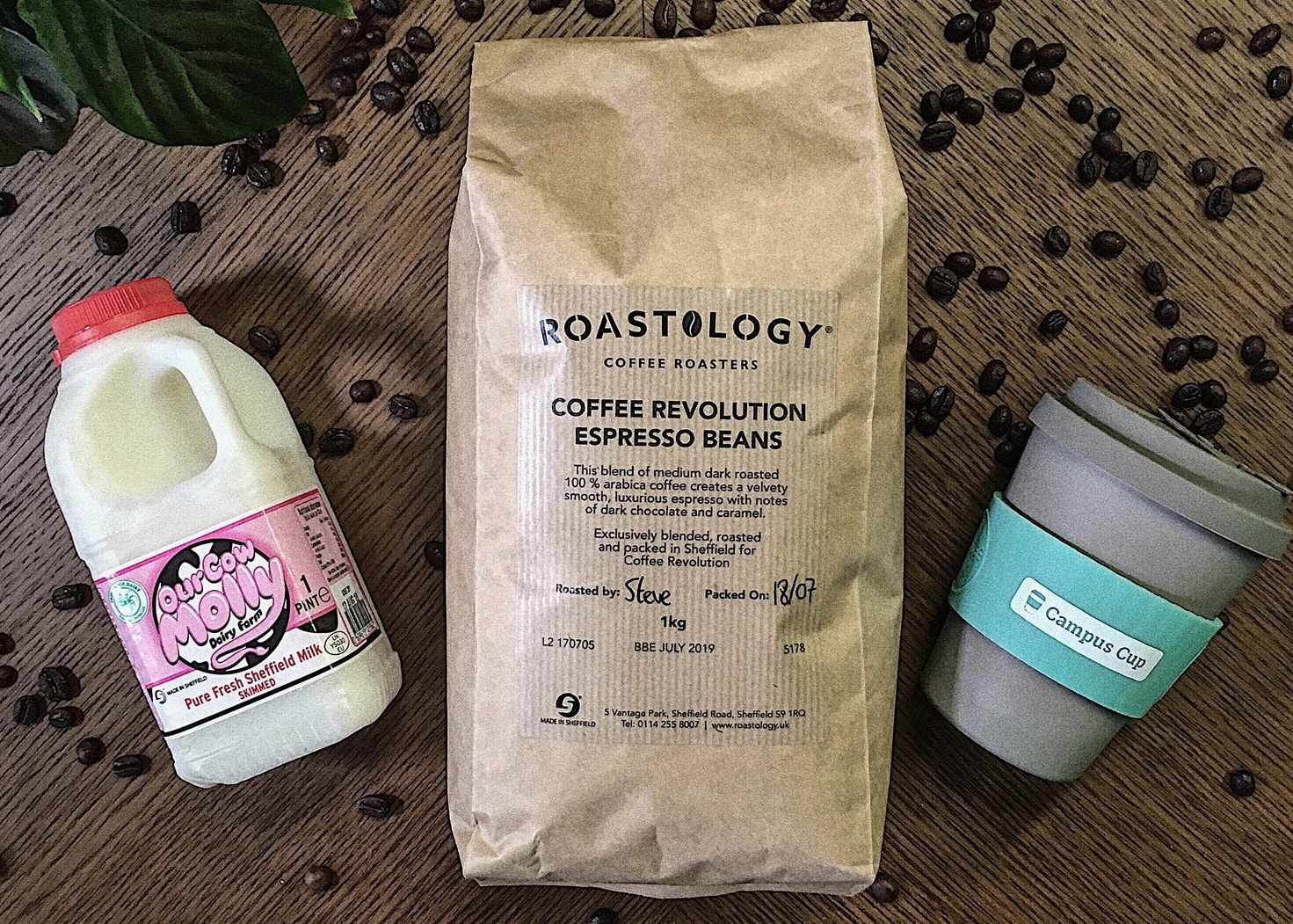 In the UK only one per cent of 2.5 billion single use coffee cups are recycled. The University alone sells almost a million hot drinks in its outlets every year - the majority of them in single-use cups.
To coincide with the launch of the University's first sustainability strategy (15-19 October 2018), students and staff will be encouraged to use their own reusable cups or join the University's Campus Cup deposit scheme. Money from the levy will be donated to the Surfers Against Sewage charity, which works to help clean up the UK's oceans and beaches.
Mel Kee, Sheffield Students' Union Development Officer for 2018/19, has been working closely with the University on the levy. She said: "As a society we need to move away from our current throwaway culture and coffee is a great example of this. The levy is about making staff and students aware of the impact of their everyday practices, and pushing towards use of reusables over single-use."
The levy on single use cups is part of a larger initiative by the University to ensure every cup of coffee sold on campus is produced as sustainably and ethically as possible. The University has looked at every aspect of a cup of coffee - the beans, the milk and the cups - to see how it can be made more sustainable.
Local company Roastology, which has a roastery just three miles away from the main campus, is the official University coffee supplier.
Roastology has a direct trade agreement with the CENCOIC co-operative in the Cauca region of Colombia, meaning that the coffee enjoyed across campus travels in a three step process. The coffee is grown at a height of 1300 metres, around 200 miles from the equator before being processed and shipped to Sheffield where it is roasted near Meadowhall before being delivered to the University - a first of its kind framework for any University in the UK. This shorter supply chain ensures the University knows where it coffee comes from and that the bean growers benefit properly.
Our Cow Molly, the only dairy farm in Sheffield that processes and bottles its own milk, provides for all 13 of the University's coffee shops and its convenience shop.
Milk travels only four miles from the farm to the University and by purchasing locally, every penny from the milk remains in Sheffield, benefiting the local economy and community. By using a local supplier, the University's carbon footprint and environmental impact is also minimised.
Professor Duncan Cameron, Professor of Plant and Soil Biology and Co-director of the Plant Production and Protection (P3) Centre of excellence for translational agricultural technologies, who is leading the University's sustainability strategy said: "Our work with both Our Cow Molly and Roastology has enabled us to collapse our coffee supply chain, ensuring we know where each element of the cups of coffee we sell on comes from.
"The partnerships demonstrate how our research and procurement decisions are coming together to address a real-world sustainability challenge. Our work on coffee is one example of our commitment to making the University of Sheffield more sustainable. Our new sustainability strategy will help us to carry out more projects like this; using our world-leading research to examine sustainability challenges, which in turn will influence our actions on campus."
The launch of the sustainability strategy will see a five-day programme of talks discussing how the University is using its research to tackle economic and environmental challenges. The strategy has been developed by a team of University research students and is based around the UN's Sustainable Development Goals.
Additional information
The University of Sheffield
With almost 29,000 of the brightest students from over 140 countries, learning alongside over 1,200 of the best academics from across the globe, the University of Sheffield is one of the world's leading universities.
A member of the UK's prestigious Russell Group of leading research-led institutions, Sheffield offers world-class teaching and research excellence across a wide range of disciplines.
Unified by the power of discovery and understanding, staff and students at the university are committed to finding new ways to transform the world we live in.
Sheffield is the only university to feature in The Sunday Times 100 Best Not-For-Profit Organisations to Work For 2018 and for the last eight years has been ranked in the top five UK universities for Student Satisfaction by Times Higher Education.
Sheffield has six Nobel Prize winners among former staff and students and its alumni go on to hold positions of great responsibility and influence all over the world, making significant contributions in their chosen fields.
Global research partners and clients include Boeing, Rolls-Royce, Unilever, AstraZeneca, Glaxo SmithKline, Siemens and Airbus, as well as many UK and overseas government agencies and charitable foundations.
Campus Cup deposit scheme
Sheffield Students' Union and the University of Sheffield introduced the first ever coffee cup return scheme to run on a UK campus earlier this year to reduce the use of disposable cups.
Campus Cup combines the ease of buying a hot drink in a disposable cup, with the environmental benefits of using a reusable cup. Staff and students put down a £5 deposit to join the scheme and receive a Campus Cup sleeve. Participants receive their hot drink in a reusable cup and once they have finished, return the used cup to any cafe on campus, without needing to clean the cup themselves.
An added incentive to join the scheme is the 20p discount participants receive every time they buy a hot drink in a University cafe. This also applies when customers use their own reusable cup.
Contact
For further information please contact:
Clare Parkin
Media Relations Officer
0114 222 9851/222 1047
clare.parkin@sheffield.ac.uk