Report calls for support for BTEC students going into university education
Project aimed at breaking down barriers faced by high achieving students holding alternative qualifications to A-level, who go on to study in competitive courses at university, found misconceptions still exist toward their abilities and qualifications
Findings show a growth in the number of students entering university with equivalent qualifications such as BTECs, with T-levels and apprenticeships set to boost this further
Students entering university courses with equivalent qualifications tend to suffer poorer degree outcomes compared with A-level only students
Report can help inform government review into tertiary education and provide recommendations for supporting the transition to degree level study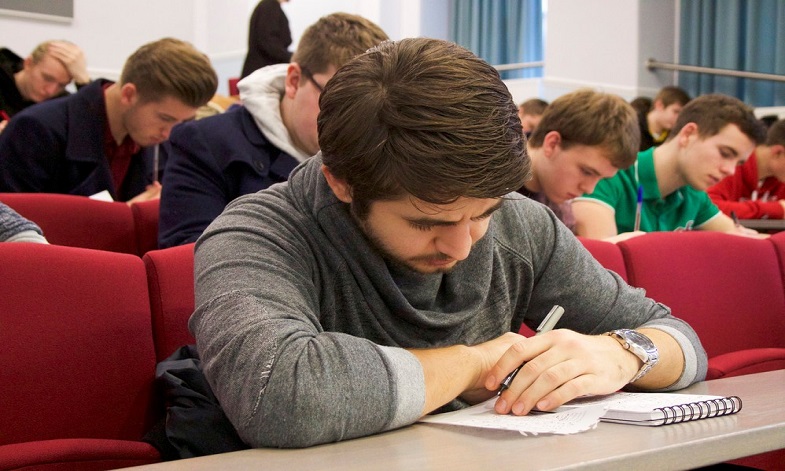 Students who enter university with equivalent qualifications such as BTECs benefit from better support to tackle barriers in their transition into higher education, a report led by the University of Sheffield has found.
The findings released today (14 May 2018) mark the end of an 18-month collaborative project aimed at challenging preconceptions and breaking down the barriers faced by high achieving BTEC students who go on to study in competitive courses at university.
Launched in response to changing trends in students' entry qualifications and recent government reviews into tertiary education, the Higher Education Funding Council for England (HEFCE) funded project highlighted a growth in the number of students entering university with equivalent qualifications such as BTECs. It is expected T-levels and apprenticeships are likely to increase this trend towards a greater mix of pre-entry level qualifications further, however, the findings suggest equivalent qualifications can still often be seen as a second class qualification – a stereotype that needs challenging.
Challenging misconceptions about students who come to university via equivalent BTEC qualifications compared to those on the traditional academic route of A-level is crucial

Professor Wyn Morgan, Vice-President for Education

The study involved schools and colleges working with the University of Sheffield to undertake a practical set of activities to understand better, and potentially support students, with the top grades in equivalent qualifications to A-levels in their transition to studying at university. It is expected that the Sheffield-focussed results are reflective of the issues faced nationwide by students entering university with equivalent qualifications.
The report also highlighted that students entering university courses with equivalent qualifications tended to suffer poorer degree outcomes compared with A-level only students and at times faced different assumptions and perceptions than those entering with traditional A-level qualifications. The study aimed to find out more about the reasons why and suggest ideas to ensure universities, schools and colleges can better prepare high achieving students with alternative qualifications for success in higher education.
Other findings included:
The need for a better understanding from schools of the skill-sets that are essential and desirable for learners to acquire before they enter higher education, particularly to enable students to cope with the examination focus of many university courses.
An adjustment in teaching and assessment methods from universities to better understand the content and value of equivalent qualifications in terms of the particular strengths they bring.
The reformed BTEC qualification better prepares students for university than ever before but understanding qualifications and the match with degree courses should be a core part of any university's recruitment work.
Dramatic differences in the number of students entering the University of Sheffield with equivalent qualifications by department, which suggests a disciplinary approach.
The importance of an improved understanding of BTEC and other equivalent qualifications in higher education in order to challenge possible misconceptions and biased perceptions by supporting better informed views.
The project provides recommendations for UK universities to better support BTEC students transitioning into higher education. These include universities and schools or colleges working more closely with one another to help myth-bust around BTECs. This would in turn enable admissions and academic staff to make informed decisions about the appropriate match between students' prior qualifications and their chosen university courses.
The report also outlined the importance of universities supporting an inclusive teaching and learning environment, with greater awareness about how negative, pre-conceived views on equivalent qualifications may impact on students. As part of this, activity to support transition into higher education for students with equivalent qualifications – such as summer schools – would be beneficial.
Finally, the report suggests universities make their admissions criteria clearer to ensure equivalent qualifications including BTECs are clearly highlighted by discipline as suitable entry requirements within university prospectuses.
Professor Wyn Morgan, Vice-President for Education at the University of Sheffield, said: "Challenging misconceptions about students who come to university via equivalent BTEC qualifications compared to those on the traditional academic route of A-level is crucial, as higher education should be open to all those with talent and ability.
"The findings have helped us develop greater awareness and understanding of equivalent qualifications, as well as provided universities with recommendations to further develop their own teaching and support in order to continue to offer students the best possible experience at university.
"At a crucial time in which the government is reviewing tertiary education, we hope the findings can help inform universities across the country to ensure that students do not feel we place barriers to success in their way."
Finding Potential: How a selective University can attract and retain high quality students with equivalent qualifications to A levels
Will be available to download from 5pm Monday 14 May 2018.
Additional information
The University of Sheffield
With almost 29,000 of the brightest students from over 140 countries, learning alongside over 1,200 of the best academics from across the globe, the University of Sheffield is one of the world's leading universities.
A member of the UK's prestigious Russell Group of leading research-led institutions, Sheffield offers world-class teaching and research excellence across a wide range of disciplines.
Unified by the power of discovery and understanding, staff and students at the university are committed to finding new ways to transform the world we live in.
Sheffield is the only university to feature in The Sunday Times 100 Best Not-For-Profit Organisations to Work For 2018 and for the last eight years has been ranked in the top five UK universities for Student Satisfaction by Times Higher Education.
Sheffield has six Nobel Prize winners among former staff and students and its alumni go on to hold positions of great responsibility and influence all over the world, making significant contributions in their chosen fields.
Global research partners and clients include Boeing, Rolls-Royce, Unilever, AstraZeneca, Glaxo SmithKline, Siemens and Airbus, as well as many UK and overseas government agencies and charitable foundations.
Contact
For further information, please contact:
Shemina Davis
Media Relations Manager
The University of Sheffield
0114 222 5339
shemina.davis@sheffield.ac.uk