A masters and its apprentice: Research Fortnight visits the AMRC Training Centre
Rachel Hall from Research Fortnight visits the University of Sheffield's AMRC training centre to learn more about our innovative apprenticeships programme.
Originally published 5 April 2016 on Research Fortnight
A masters and its apprentice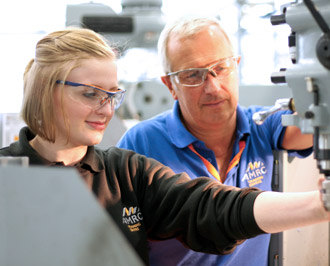 A long chain of steel foundries, factories and rolling mills line the railway from Doncaster to Sheffield. It's a reminder both of the area's fading industrial past and of its future, capitalising on its skills base to supply parts to the aviation industry. It's also the catchment area for the University of Sheffield's new advanced manufacturing degree apprenticeships, aimed at providing the next generation of working-class youngsters with a passport to good jobs that will fill local industrial skills shortages.
The apprenticeships are the next step in the evolution of the Advanced Manufacturing Research Centre, a catapult centre connecting the university's metallurgy and engineering research departments with the local aerospace industry. Although it was opened in 2001, it wasn't until 2012 that an in-house training centre was launched, in response to demand from member businesses for help tackling skills shortages. From September 2017, the centre will begin offering degree apprenticeships backed by the Higher Education Funding Council for England, with the first students enrolling on a foundation year this autumn. It is part of a bigger national effort to expand degree apprenticeships: on 24 March Sajid Javid, the business secretary, announced a £10 million fund to boost recruitment; figures suggest that more than 30,000 people were enrolled on higher apprenticeships in the six months to January 2016.
When it launches, the Sheffield degree apprenticeship will be a three–year course, in which one day a week is spent on practical skills work at the centre and a further one day a month is spent at the university's main campus, studying the theory underpinning that work. It will all be complemented by extensive online learning resources. There will even be the option to take the qualification up to Masters level.
Kerry Featherstone, head of training at the Advanced Manufacturing Research Centre, says the curriculum has been developed in close collaboration with local companies. She has already observed considerable interest in the programmes from member companies, as well as from existing students. "We're not just looking at a degree programme that exists within Sheffield University and saying let's make it part-time study, we are making sure this is something that is fit for industrial requirements," she says. The course does however benefit palpably from the main university campus: the centre will draw on its developed student support infrastructure to help apprentices adjust to higher education. This is particularly important, given most will have chosen an apprenticeship over a more traditional route as a result of their preference for a different, more hands-on way of learning. "In recognising that, we have structured the foundation degree and the degree in a way that combines practical and academic study," she says. "We can't get away from the academia, but we can recognise that they learn better by doing, so practical applications and putting academic theory into context is key for them."
Although Featherstone stresses that the Advanced Manufacturing Research Centre is very much considered a part of the university, it feels different to a traditional campus. It's a big glassy building located around six miles out of town on an industrial park. Students mill around dressed in black uniforms and safety specs, not jeans and T-shirts, and descend to a factory floor rather than classrooms. There, they repeatedly practice the different technical skills they are taught on industry-standard machinery, writing up the details in an assessment book. Most are young: three-quarters are aged between 16 and 19, and have chosen to pursue an apprenticeship after deciding university wasn't for them. Many are from families for whom the thought of university is a distant dream. According to Featherstone, it's not unusual for students to be startled to find upon arrival that they are receiving merits or distinctions where they have been used to under-achieving, prompting many to mull taking their studies up to degree level. For the older students, most have run up against limitations on earnings in their careers and are seeking to upskill in the hope of finding better paid work.
We're not just looking at a degree programme that exists within Sheffield University and saying let's make it part-time study, we are making sure this is something that is fit for industrial requirements.

kerry featherstone, head of training at the amrc with boeing
According to Featherstone, the Advanced Manufacturing Research Centre gives the university the opportunity to "tap into marketplaces, whether it's young people or organisations, that traditionally wouldn't have seen themselves as being able to access the university". Many apprentices would never have considered higher education, just as many of the member businesses would not have thought themselves big enough to get involved―some even now have banks sponsoring their apprentices. The university is also able to draw on the research centre's experience in developing other programmes, such as to inform its planned executive MBA in advanced manufacturing. Equally it has enabled Sheffield to forge a meaningful partnership with the local technical college, which specialises in engineering. The college will send 60 students to gain experience on its workshop floor over summer, with the possibility of transferring to an apprenticeship and eventually a degree. There's also a constant programme of outreach activities with local schools, to ensure a continuous pipeline of new apprentices. "It gives them the ability to understand that Sheffield University could be an option for them," she says.
This is confirmed on the shop floor by the apprentices themselves. Charlotte Grainger, one of the few girls, says that in spite of dreaming of a career in engineering since primary school, she hated her A-levels and didn't get along with her teachers. She had "all but given up", until discovering the apprenticeship scheme, where she finds the more practical style of learning suits her better. She now plans to continue to degree level, persuaded by the opportunity to build her qualification level up gradually and flexibly. Likewise for Alex Wingfield, who says he hadn't "felt comfortable" with the commitment and debt that university entails. He adds that he has found himself better suited to the apprenticeship's coursework-based assessment style than to cramming for exams.
For Featherstone, a successful apprenticeships programme relies on understanding the market and the industry in which it is operating, and creating a good team to get it launched. This is best achieved by leveraging existing relationships, and being attentive to businesses' concerns―for instance, to remedy the perception that apprentices go back to small enterprises speaking "jargon talk", the research centre has introduced an apprentice mentoring programme to facilitate their return. As the programme develops it's important to continue talking to industry partners to ensure the curriculum remains fit for purpose, which Sheffield does through its industry advisory board. "It's not easy, it's not an overnight thing," she stresses.
Indeed, although it received initial funding from the European Regional Development Fund, the UK's Regional Growth Fund and from the university itself, the training centre is only beginning to break even after four years and 420 apprentices employed by 120 companies. Keith Ridgway, a Sheffield professor who founded the Advanced Manufacturing Research Centre with Boeing in 2001, says support from Keith Burnett, the vice-chancellor who has been outspoken on the benefits of using apprenticeships to bring in the white working class boys "missing" from universities, has been crucial.
At the time of its launch, there were concerns as to whether apprentices would have the requisite level of maths and science, he recalls. Evidence so far suggests that although they might be less qualified than other students in maths and physics, they are "far better qualified" than comparable engineering students in the practical aspects, such as design and understanding of engineering. "So we cater for that," he says. Attracting girls to the course remains a further hurdle, which Ridgway attributes to the perception locally that the inflexible hours offered by many manufacturing companies is incompatible with family life.
For Ridgway, the recipe to the training centre's success lies in the Advanced Manufacturing Research Centre and its links with established large companies, reputation for applied research and the impressive shiny buildings in which it is situated. This resonates among the local South Yorkshire communities, which like the links to a high-quality university and high-quality companies, as well as the package of a research centre and a training centre. In his view, Sheffield has been given a head start in the apprenticeships race thanks to being one of the few universities to have such a strong research base in manufacturing, which has proven "the ideal thing to start from". Developing something equivalent to the Advanced Manufacturing Research Centre from scratch would be "quite an investment", he acknowledges.
Indeed, Sheffield has been praised for being one of the few Russell Group institutions to have embraced the government's apprenticeship agenda. As well as the pre-existing infrastructure, Ridgway attributes this to the university's sense of "social cause", given that it already has sufficient demand for its courses not to have to look around for additional sources of applicants. Any surplus from the programme will be reinvested rather than taken as profit. "It was set up for the purpose of reskilling and part of the regeneration programme for Sheffield region, never to be a money making exercise for the university," he says.
Ridgway predicts that in the coming years, "a vast number" of British students will opt for the apprenticeship route and that it will become an increasingly important revenue stream for universities, including Sheffield. "I would say it's the way to go," he says. Indeed, government policy is looking to support universities in this respect: the Department for Business, Innovation and Skills announced a new £8 million fund to help universities deliver degree apprenticeships at the end of March. In the longer term, Ridgway envisages apprenticeships becoming "the preferred way of entering university", thanks to their lowering of the debt load, as well as the "more creative" ways in which they force courses to be taught and structured. "Universities always talk about access and we provide access to everyone to university, but when you scratch underneath that statement and ask what do you do, all it means is someone going out to a school and making a speech," says Ridgeway. "Whereas this is real access."