Royal birth expected to boost public interest in unique historical resource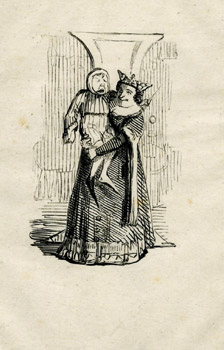 The birth of the Royal baby is expected to spark a surge of interest in Connected Histories, as users explore how royal births and their reception have changed throughout history.
Developed collaboratively with the University of Sheffield's Humanities Research Institute (HRI), Connected Histories brings together 22 digital resources related to early, modern and 19th century Britain.
The search engine allows researchers to collect and share important sources for British history in one place, showing up unexpected connections and surprising parallels, whether from 19thcentury newspapers, the records of courts and parliaments, or drawings. It also allows sophisticated searching of names, places and dates.
The project, funded by Jisc, an organisation which champions the use of digital technologies in education and research, is a partnership between the University of Sheffield, the University of Hertfordshire, the Institute of Historical Research and the University of London.
The University of Sheffield's HRI developed and maintains the search engine which drives the Connected Histories website, comprising around 30 billion items of data which have been analysed using language algorithms to facilitate searching by keyword, person name, place and date.
A search for terms related to 'royal births' highlights a wealth of information drawn from historical sources across British history, revealing changes in medical practices, celebrations and cultural behaviours. Highlights include:
Professor Bob Shoemaker, Director of Research at the University of Sheffield's Department of History, said: "The significance of events like this lies in large part in the long historical tradition in which they are situated. By providing unprecedented access to an extraordinarily rich collection of documents, Connected Histories revolutionizes the possibilities for anyone interested in history to find out more about our fascinating past."
Jane Winters, Head of Publications and IHR Digital at the University of London's Institute of Historical Research, said: "Researchers have benefited enormously from the digitisation of historical sources over the past couple of decades, by universities, archives, libraries and commercial organisations. However, varying access arrangements and methods of production have meant that many of these resources are under-exploited and the opportunities of the digital have not yet been fully realised. Connected Histories is conceived as a means of overcoming some of the barriers to access, by offering a simple route in to a huge and varied corpus of research materials. With a single search, the precedents and historical context for any major public event, such as a royal birth, can easily be discovered, in both image and text."
Paola Marchionni, Programme Manager at Jisc, said: "When Jisc funded Connected Histories to offer a unified entry point to a range of diverse historical collections, we didn't know it would become one of our 'jewels in the crown'. Since then the site has grown from strength to strength doubling the number of collections it now cross searches and establishing itself as a key online resource for the study of British history. "
Additional information
The Humanities Research Institute (HRI) is the University of Sheffield's institute for interdisciplinary research in the arts and humanities, with particular specialism in the digital humanities. To find out more visit: HRI
The Institute of Historical Research (IHR), founded in 1921, is one of 10 member Institutes of the School of Advanced Study, University of London. It is home to two important research centres and a major open access library, hosts over 60 seminar series and offers doctoral supervision in a wide range of historical subjects. It has a substantial publishing programme, hosts a number of innovative digital research projects, administers fellowships, runs specialist research training programmes and organises a variety of conferences and workshops each year. For further details, see IHR
The School of Advanced Study, University of London is the UK's national centre for the promotion and facilitation of research in the humanities and social sciences. The School brings together 10 prestigious research institutes to offer academic opportunities, facilities and stimulation across a wide range of subject areas for the benefit of the national and international scholarly community. The member institutes of the School are the Institutes of Advanced Legal Studies, Classical Studies, Commonwealth Studies, English Studies, Germanic & Romance Studies, Historical Research, Musical Research, Philosophy, Study of the Americas, and the Warburg Institute. The School also hosts a cross-disciplinary centre, the Human Rights Consortium, dedicated to the facilitation, promotion and dissemination of academic and policy work on human rights. SAS
Jisc offers digital services for UK education and research, owned by the Association of Colleges (AoC), GuildHE and Universities UK (UUK). The charity enables people in higher education, further education and skills in the UK to perform at the forefront of international practice by exploiting fully the possibilities of modern, digital empowerment, content and connectivity.
Jisc has been at the forefront of the practical application of technology in schools, colleges and universities for over two decades. We've earned a reputation as a trusted partner for the education and research sectors and today we combine the latest in digital thinking, network and IT services with access to content and resource procurement to deliver new and better ways of working for all customers to achieve operational advantage.
Find out more at JISC
The University of Sheffield
With nearly 25,000 of the brightest students from 117 countries coming to learn alongside 1,209 of the world's best academics, it is clear why the University of Sheffield is one of the UK's leading universities. Staff and students at Sheffield are committed to helping discover and understand the causes of things - and propose solutions that have the power to transform the world we live in.
A member of the Russell Group, the University of Sheffield has a reputation for world-class teaching and research excellence across a wide range of disciplines. The University of Sheffield has been named University of the Year in the Times Higher Education Awards 2011 for its exceptional performance in research, teaching, access and business performance. In addition, the University has won four Queen's Anniversary Prizes (1998, 2000, 2002, 2007), recognising the outstanding contribution by universities and colleges to the United Kingdom's intellectual, economic, cultural and social life.
One of the markers of a leading university is the quality of its alumni and Sheffield boasts five Nobel Prize winners among former staff and students. Its alumni have gone on to hold positions of great responsibility and influence all over the world, making significant contributions in their chosen fields.
Research partners and clients include Boeing, Rolls-Royce, Unilever, Boots, AstraZeneca, GSK, Siemens, Yorkshire Water, and many more household names, as well as UK and overseas government agencies and charitable foundations.
The University has well-established partnerships with a number of universities and major corporations, both in the UK and abroad. The White Rose University Consortium (White Rose) is a strategic partnership between 3 of the UK's leading research universities of Leeds, Sheffield and York. Since its creation in 1997 White Rose has secured more than £100M into the Universities.
Contact
For further information please contact:
Amy Stone
Media Relations Officer
The University of Sheffield
0114 222 1046
a.f.stone@sheffield.ac.uk