Invisible world of science brought to life in new exhibition
New exhibition brings invisible world of molecular and atomic structures to life
Artwork represents some of the key chemical reactions that sustain life on Earth
Collaboration uses art to demonstrate research by scientists at University of Sheffield
Exhibition set to tour cities across the North of England until 2020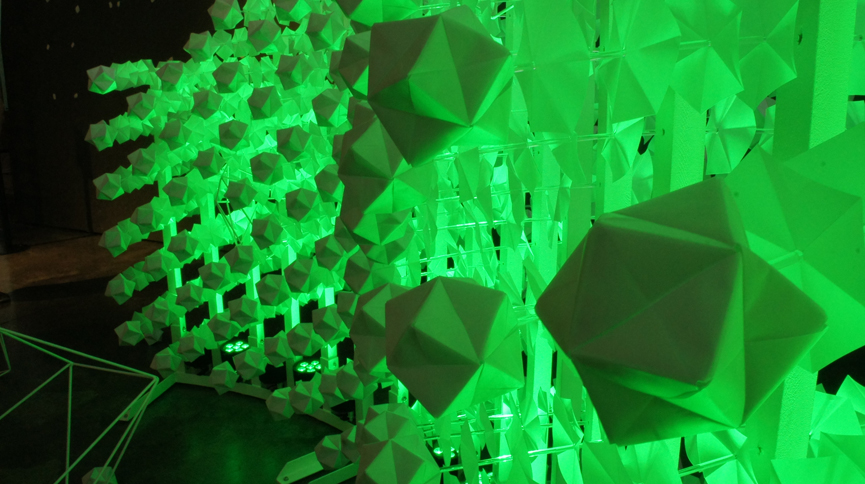 A new exhibition which brings to life an invisible world of molecular and atomic structures has been launched this week (12 November 2018) by a scientist at the University of Sheffield.
The Metabolon exhibition, developed by Dr Nate Adams from the University's Department of Molecular Biology and Biotechnology with artist Seiko Kinoshita, features a range of artistic installations representing some of the key chemical reactions that take place to sustain life on Earth.
The installations explore the chemical transformations responsible for turning the planet green, exploring how chlorophyll is made, providing a unique glimpse into life on a molecular level.
Launching at the Visual Arts Centre in Scunthorpe before moving to the Hartlepool Art Gallery and the Manchester Central Library, the artwork on display will also illustrate how enzymes and proteins create beautiful structures to protect the key chemicals needed to create energy.
The chemical reactions featured in the displays all represent research that is being performed by Dr Adams and his colleagues in their lab at the University of Sheffield.
The touring exhibition is aiming to change people's perceptions towards both art and science, which are often seen as incompatible subjects.
Dr Adams, whose first art and science exhibition brought to life why species of jellyfish are able to glow in the dark, said: "Scientific research can involve working with lots of data, graphs and equations, but a better way to share our findings is to do so using art.
"Science is based on imagination. Researchers develop virtual or cartoon representations of their work in their mind's eye, which makes art the perfect way to share these visions with other people.
"The Metabolon exhibition is based on this concept. We've taken our research into some of the most fundamental chemical processes that sustain life on Earth and used art to demonstrate new insights into how these processes work. We hope that the installations can help people to learn more about the world around us in a much more interesting way than just reading information from a textbook."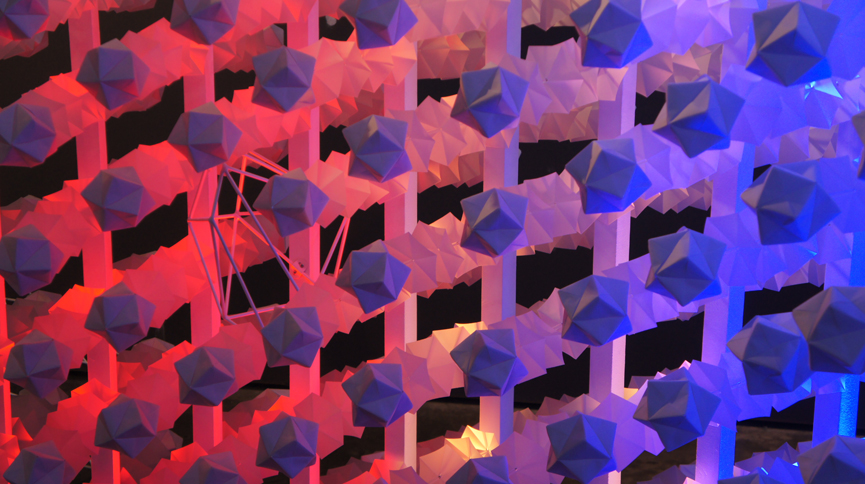 The Metabolon exhibition runs from Monday 12 November 2018 to 7 January 2019 at the Visual Arts Centre in Scunthorpe.
It then moves to the Hartlepool Art Gallery from 19 January 2019 until 16 March 2019.
The final exhibition will then be held at Manchester Central Library in 2020 (specific dates TBC).
For more information on the exhibition, including details of how to visit and locations of each gallery, visit: http://metabolon.group.shef.ac.uk/
Additional information
The University of Sheffield
With almost 29,000 of the brightest students from over 140 countries, learning alongside over 1,200 of the best academics from across the globe, the University of Sheffield is one of the world's leading universities.
A member of the UK's prestigious Russell Group of leading research-led institutions, Sheffield offers world-class teaching and research excellence across a wide range of disciplines.
Unified by the power of discovery and understanding, staff and students at the university are committed to finding new ways to transform the world we live in.
Sheffield is the only university to feature in The Sunday Times 100 Best Not-For-Profit Organisations to Work For 2018 and for the last eight years has been ranked in the top five UK universities for Student Satisfaction by Times Higher Education.
Sheffield has six Nobel Prize winners among former staff and students and its alumni go on to hold positions of great responsibility and influence all over the world, making significant contributions in their chosen fields.
Global research partners and clients include Boeing, Rolls-Royce, Unilever, AstraZeneca, Glaxo SmithKline, Siemens and Airbus, as well as many UK and overseas government agencies and charitable foundations.
Contact
For further information please contact:
Sean Barton
Media Relations Officer
University of Sheffield
0114 222 9852
s.barton@sheffield.ac.uk