'Jaws' may help humans grow new teeth, shark study suggests
Study identifies network of genes that help sharks grow new teeth throughout their lifetime
Humans possess same cells but tooth regeneration ability is limited
Research paves the way for development of therapies for human tooth loss
A new insight into how sharks regenerate their teeth, which may pave the way for the development of therapies to help humans with tooth loss, has been discovered by scientists at the University of Sheffield.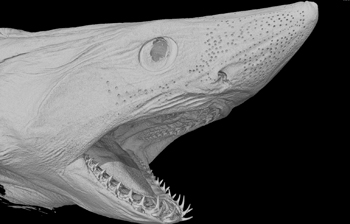 The study has identified a network of genes that enables sharks to develop and regenerate their teeth throughout their lifetime. The genes also allow sharks to replace rows of their teeth using a conveyer belt-like system.
Scientists have known for some time that some fish, such as sharks and rays, develop rows of highly specialised teeth with the capacity for lifelong regeneration. However the genetic mechanisms which enable this to happen were poorly understood.
Now the research team, led by Dr Gareth Fraser from the University of Sheffield's Department of Animal and Plant Sciences, has identified how a special set of epithelial cells form, called the dental lamina, which are responsible for the lifelong continuation of tooth development and regeneration in sharks.
Humans also possess this set of cells, which facilitate the production of replacement teeth, but only two sets are formed – baby and adult teeth - before this set of specialised cells is lost.
The Sheffield-led team show that these tooth-making genes found in sharks are conserved through 450 million years of evolution, and probably made the first vertebrate teeth. These 'tooth' genes, therefore make all vertebrate teeth from sharks to mammals, however in mammals like humans, the tooth regeneration ability, that utilises these genes, has been highly reduced over time.
Dr Gareth Fraser from the University of Sheffield said: "We know that sharks are fearsome predators and one of the main reasons they are so successful at hunting prey is because of their rows of backward pointing, razor-sharp teeth that regenerate rapidly throughout their lifetime, and so are replaced before decay.
"The Jaws films taught us that it's not always safe to go into the water, but this study shows that perhaps we need to in order to develop therapies that might help humans with tooth loss."
Through analysing the teeth of catshark embryos, the researchers characterised the expression of genes during stages of early shark tooth formation. They found that these genes participate in the initial emergence of shark's teeth and are re-deployed for further tooth regeneration.
The study suggests that at the beginning of the sharks' evolutionary history, their teeth were most likely continuously regenerated and used a core set of genes from members of key developmental signalling pathways, which were instrumental in sharks evolving to maintain the ability to re-deploy the genes to replace teeth when needed.
This research was supported by the Natural Environment Research Council, and the Leverhulme Trust. The Natural History Museum also provided shark specimens, which were scanned in the museum's Imaging and Analysis Centre. Findings from the research are published in the journal Developmental Biology and can be accessed via: http://www.sciencedirect.com/science/article/pii/S0012160616300483
Additional Information
The University of Sheffield
With almost 27,000 of the brightest students from over 140 countries, learning alongside over 1,200 of the best academics from across the globe, the University of Sheffield is one of the world's leading universities.
A member of the UK's prestigious Russell Group of leading research-led institutions, Sheffield offers world-class teaching and research excellence across a wide range of disciplines.
Unified by the power of discovery and understanding, staff and students at the university are committed to finding new ways to transform the world we live in.
In 2014 it was voted number one university in the UK for Student Satisfaction by Times Higher Education and in the last decade has won four Queen's Anniversary Prizes in recognition of the outstanding contribution to the United Kingdom's intellectual, economic, cultural and social life.
Sheffield has five Nobel Prize winners among former staff and students and its alumni go on to hold positions of great responsibility and influence all over the world, making significant contributions in their chosen fields.
Global research partners and clients include Boeing, Rolls-Royce, Unilever, AstraZeneca, Glaxo SmithKline, Siemens and Airbus, as well as many UK and overseas government agencies and charitable foundations.
Contact
For further information please contact:
Sean Barton
Media Relations Assistant
University of Sheffield
0114 222 9852
s.barton@sheffield.ac.uk