Apprentice of the Year returns from her USA trip of a lifetime
An engineer from Chesterfield, named 'Apprentice of the Year' at the University of Sheffield's Advanced Manufacturing Research Centre (AMRC) Training Centre's annual awards earlier this year, won the opportunity to visit the global aircraft giant Boeing in the USA this summer.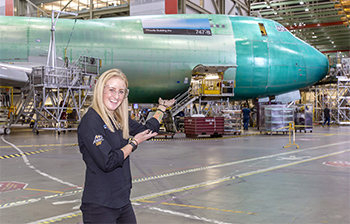 Leigh Worsdale, 18, an apprentice at auto-machine manufacturer Foxwood Diesel, has enjoyed a tour of Boeing's sites in Los Angeles, Portland and Seattle - learning more about the world-renowned aerospace manufacturer.
Speaking about her trip, Leigh said: "I never thought when I began my apprenticeship that I would be given an opportunity like this. It was amazing to see all the Boeing factories and see things and go to places where members of the public don't usually get to go."
Leigh found the most interesting part of her trip was the visit to Boeing's Renton factory in Seattle where she got to see first-hand how the global aerospace company designs, tests and builds its 737 aircraft.
She said: "It was amazing seeing where they build the new planes. The factory is so big we had to get a golf buggy to travel around it."
During the trip, Leigh also got to try her hand at sailing at Union Lake in Seattle, visiting the famous Pike Place Market, and enjoying some time on Los Angeles' famous Venice Beach.
Director of the AMRC Training Centre, Kerry Thompson, said: "We're very proud of what Leigh has achieved on her apprenticeship and it is brilliant that Boeing is able to support our Apprentice of the Year in this trip to their factories in the USA.
"It really opens up a new world of engineering innovation to our winner and we hope Leigh can bring that inspiration back to the UK and her employer."
Leigh's trip comes at an exciting time for manufacturing in the local region. This week Boeing starting work on its first manufacturing facility in Europe - Boeing Sheffield - which will be making parts for the aircraft Leigh witnessed being assembled.
Additional Information
For more information about the AMRC Training Centre and apprenticeships, visit www.amrctraining.co.uk
The University of Sheffield
With almost 27,000 of the brightest students from over 140 countries, learning alongside over 1,200 of the best academics from across the globe, the University of Sheffield is one of the world's leading universities.
A member of the UK's prestigious Russell Group of leading research-led institutions, Sheffield offers world-class teaching and research excellence across a wide range of disciplines.
Unified by the power of discovery and understanding, staff and students at the university are committed to finding new ways to transform the world we live in.
Sheffield is the only university to feature in The Sunday Times 100 Best Not-For-Profit Organisations to Work For 2017 and was voted number one university in the UK for Student Satisfaction by Times Higher Education in 2014. In the last decade it has won four Queen's Anniversary Prizes in recognition of the outstanding contribution to the United Kingdom's intellectual, economic, cultural and social life.
Sheffield has six Nobel Prize winners among former staff and students and its alumni go on to hold positions of great responsibility and influence all over the world, making significant contributions in their chosen fields.
Global research partners and clients include Boeing, Rolls-Royce, Unilever, AstraZeneca, Glaxo SmithKline, Siemens and Airbus, as well as many UK and overseas government agencies and charitable foundations.
Contact
For further information please contact:
Hannah Postles
Media Relations Officer
University of Sheffield
0114 222 1046
h.postles@sheffield.ac.uk