Government funding to boost number of underprivileged students in higher education
A partnership project to help increase the number of young people from a wider range of backgrounds across South Yorkshire going to university has been allocated almost £13 million in government funding.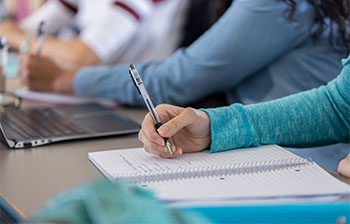 The funding has been awarded under the National Collaborative Outreach Programme (NCOP), following a successful joint bid by the Higher Education Progression Partnership (HEPP), the University of Sheffield and Sheffield Hallam University.
The programme is part of the government's commitment to double the participation of students in higher education from disadvantaged backgrounds by 2020 and increase the number of black and minority ethnic (BME) students by 20 per cent over the same time period.
This programme is only available in specific regions, including South Yorkshire, in schools where participation in university courses or degree level apprenticeships is lower than would be expected based on GCSE results.
The South Yorkshire bid includes a number of other partners including regional further education colleges, all four local authorities, Business in the Community and the Sheffield City Region Local Enterprise Partnership.
The funding of £12.9 million will be provided over four years, with the activities in partner schools and colleges starting in January 2017.
There will be a varied programme of engagement for pupils aged 13 to 18-years-old in Year 9 to Year 13, with participating schools closely involved in the planning and monitoring of activity in order to meet their particular needs.
There will also be opportunities for parents and communities to become involved.
Professor Wyn Morgan, Pro-Vice-Chancellor for Learning and Teaching at the University of Sheffield and Chair of the HEPP board, said: "The two universities in Sheffield have an excellent track record of working collaboratively to support schools and colleges in the city and region.
"This funding will help to reach those most disadvantaged in the region to realise their potential and achieve success through higher education."
Sheffield Hallam University Vice-Chancellor, Professor Chris Husbands, said: "This new funding gives us a fabulous opportunity to target and extend our collaborative outreach work to a broader range of young people.
"We want to raise the aspirations of these young people who think university isn't achievable by working closely with schools and colleges to highlight the higher education opportunities available to them."
HEPP is jointly funded by the University of Sheffield and Sheffield Hallam University and provides targeted activities and impartial information to schools and colleges across the Sheffield city region to help prepare their students to make decisions about higher level study.
Additional information
For more information about HEPP visit the website http://extra.shu.ac.uk/hepp/
For further information about NCOP visit the website http://www.hefce.ac.uk/sas/ncop/
The University of Sheffield
With almost 27,000 of the brightest students from over 140 countries, learning alongside over 1,200 of the best academics from across the globe, the University of Sheffield is one of the world's leading universities.
A member of the UK's prestigious Russell Group of leading research-led institutions, Sheffield offers world-class teaching and research excellence across a wide range of disciplines.
Unified by the power of discovery and understanding, staff and students at the university are committed to finding new ways to transform the world we live in.
Sheffield is the only university to feature in The Sunday Times 100 Best Not-For-Profit Organisations to Work For 2016 and was voted number one university in the UK for Student Satisfaction by Times Higher Education in 2014. In the last decade it has won four Queen's Anniversary Prizes in recognition of the outstanding contribution to the United Kingdom's intellectual, economic, cultural and social life.
Sheffield has six Nobel Prize winners among former staff and students and its alumni go on to hold positions of great responsibility and influence all over the world, making significant contributions in their chosen fields.
Global research partners and clients include Boeing, Rolls-Royce, Unilever, AstraZeneca, Glaxo SmithKline, Siemens and Airbus, as well as many UK and overseas government agencies and charitable foundations.
Contact
For further information please contact:
Shemina Davis
Media Relations Manager
University of Sheffield
0114 222 5339
shemina.davis@sheffield.ac.uk