University of Sheffield spin-out secures investment to develop first-in-class antibiotic
Funding will help development of new antibiotics which target highly drug-resistant bacteria
10 million lives a year at risk due to superbug infections
Research will focus on FENs – a group of enzymes essential for bacterial cell growth
A new class of antibiotics which target highly drug-resistant bacterial infections could be one step closer after a Sheffield drug discovery spin-out company secured a major investment to tackle one of the world's biggest health threats.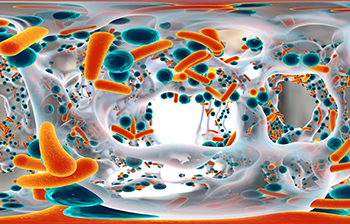 Defenition Limited, a spin-out company from the University of Sheffield, has agreed funding of up to £415,000 from IP Group plc, the developer of intellectual property-based businesses, to support the vital development of a new class of antibiotics.
The continued rise in antibiotic-resistant bacteria suggests that by 2050, 10 million lives a year will be at risk due to superbug infections. In order to tackle this global health crisis, the company's initial focus will be on bacteria that the US Centers for Disease Control and Prevention view as the biggest drug-resistant threats.
The early-stage drug company, which was formed in May 2016, will commercialise and enhance world-leading research on flap endonucleases (FENs) – a group of bacterial enzymes that are vital for bacterial cell growth due to their essential role in DNA replication – conducted by Professor Jon Sayers from the University of Sheffield's Department of Infection, Immunity & Cardiovascular Disease.
Using its own screening platform, Defenition is identifying small molecule inhibitors of FENs which is a novel approach to tackling highly drug-resistant bacteria in a targeted manner with a reduced likelihood of developing resistance.
Jon Sayers, Founder of Defenition and Professor of Functional Genomics at the University of Sheffield, said: "Increasing resistance to antimicrobials is frequently cited as one of the biggest threats to human health.
"We have formed Defenition to address this critical need for new antibiotics. We have an exciting plan to target FENs, a new antibacterial target, that we believe will transform the treatment of highly resistant bacterial infections."
Defenition continues to work closely with the University of Sheffield, including The Florey Institute for Host-Pathogen Interactions and Sheffield Institute for Nucleic Acids.
Part of the funding raised will also sponsor FEN-based drug discovery research within the Department of Infection, Immunity & Cardiovascular Disease.
Sarah Fulton Tindall, Director of Research and Innovation Services (RIS) at the University of Sheffield, said: "I am delighted that RIS and the Sheffield Healthcare Gateway have brought together an academic with a fantastic research ambition to meet this important societal challenge with our preferred investors IP Group, who bring access to capital and expertise to translate the science to a medicinal use."
Additional information
Defenition Limited
Defenition is an early-stage drug discovery spinout company from the University of Sheffield that is focussed on developing a new class of antibiotics for highly resistant bacterial infections.
IP Group
IP Group is a leading intellectual property commercialisation company which focuses on evolving great ideas, mainly from its partner universities, into world-changing businesses. The Group has pioneered a unique approach to developing these ideas and the resulting businesses by providing access to business building expertise, capital (through its 100%-owned FCA-authorised subsidiary IP Capital), networks, recruitment and business support. IP Group has a strong track record of success and its portfolio comprises holdings in approximately 80 early-stage to mature businesses across four main sectors -- Biotech, Cleantech, Healthcare and Technology. The Company is listed on the Main Market of the London Stock Exchange under the code IPO.
For more information, please visit our website at www.ipgroupplc.com.
The University of Sheffield
With almost 27,000 of the brightest students from over 140 countries, learning alongside over 1,200 of the best academics from across the globe, the University of Sheffield is one of the world's leading universities.
A member of the UK's prestigious Russell Group of leading research-led institutions, Sheffield offers world-class teaching and research excellence across a wide range of disciplines.
Unified by the power of discovery and understanding, staff and students at the university are committed to finding new ways to transform the world we live in.
Sheffield is the only university to feature in The Sunday Times 100 Best Not-For-Profit Organisations to Work For 2016 and was voted number one university in the UK for Student Satisfaction by Times Higher Education in 2014. In the last decade it has won four Queen's Anniversary Prizes in recognition of the outstanding contribution to the United Kingdom's intellectual, economic, cultural and social life.
Sheffield has six Nobel Prize winners among former staff and students and its alumni go on to hold positions of great responsibility and influence all over the world, making significant contributions in their chosen fields.
Global research partners and clients include Boeing, Rolls-Royce, Unilever, AstraZeneca, Glaxo SmithKline, Siemens and Airbus, as well as many UK and overseas government agencies and charitable foundations.
For further information, please visit www.sheffield.ac.uk
Contact
For further information please contact:
Amy Pullan
Media Relations Officer
University of Sheffield
0114 222 9859
a.l.pullan@sheffield.ac.uk