Marathon walk set to raise vital funds to bring revolutionary medical imaging to Yorkshire
Ramblers invited to take part in The Big Walk 2018 to help raise thousands of pounds to bring the first MRI-PET scanner to the region
The scanner will provide the most detailed images of inside the human body and transform research into a number of devastating diseases
Generous donations have helped the Sheffield Scanner appeal reach £1.4 million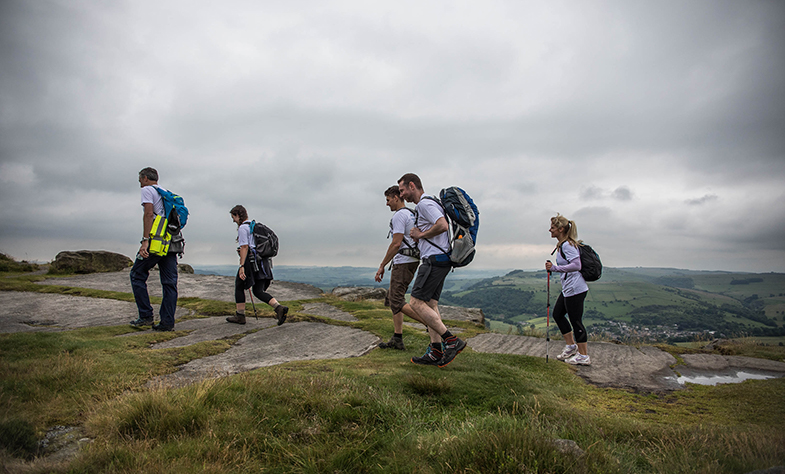 A marathon walk across the Peak District, hosted by the University of Sheffield, is set to raise vital funds to bring revolutionary medical imaging to Yorkshire.
Staff, students, alumni, friends of the University and members of the public are invited to take part in The Big Walk 2018 in support of the Sheffield Scanner Appeal - which aims to bring the first MRI-PET scanner to the region, to transform research into devastating diseases including Alzheimer's, cancer, stroke, Parkinson's and heart disease.
The £2 million ground-breaking facility, which will be one of only eight in the UK, is the most advanced medical imaging technology to date and will be a vital investment in the healthcare of people in the region, across the UK and beyond.
This year's Big Walk will take place on Friday 22 June 2018 starting in Lodge Moor, three miles west of the University. The route will then pass through Stanage Edge, Derwent Edge, Low Bradfield and Loxley Valley before finishing at the University campus.
Medically, it can help thousands of patients but it is also so much more than that. When someone is ill it is not just them that suffers, their family and friends are affected too.

Becky Masaba-Kituyi

Dave Meadows, Development Officer at the University of Sheffield and lead community fundraising officer of the Sheffield Scanner Appeal, said: "The Big Walk is a terrific opportunity for people to enjoy a day walking in the Peak District whilst raising funds for a cause that will benefit the whole of South Yorkshire.
"The University carries out life changing medical research. The Big Walk is a chance for everyone to support this by opening a new scanner facility that will help to transform our understanding of many devastating illnesses.
"We would love more local people to join us on the Big Walk. Together we can work towards our final target of £2 million to bring an MRI-PET scanner to Sheffield."
The new scanner will provide doctors with a more precise and accurate assessment of serious conditions leading to better treatments and monitoring of patients.
The knowledge provided by the scanner will give researchers the opportunity to take new discoveries from the laboratory into clinical trials and develop new therapies and better outcomes for patients.
Breakthroughs in research will lead to easier and faster diagnosis, characterisation, staging and treatment of disease.
Becky Masaba-Kituyi, from the University of Sheffield's Admissions Department and alumna of the Sheffield Institute for Interdisciplinary Biblical Studies, said: "The Sheffield Scanner has the opportunity to make a real difference to so many lives.
"It has a personal significance for me as my nan passed away a few years ago and shortly after, my grandad passed away too. Both suffered from different forms of dementia."
Almost 300 people took part in last year's Big Walk which raised over £100,000 for the Sheffield Scanner Appeal. Thanks to generous donations the appeal now stands at £1.4 million.
Caryn Masters, Director of Accommodation and Commercial Services at the University of Sheffield and UNICUS, said: "My motivation for doing the Big Walk 2018, is that I have personally experienced the impact cancer and dementia can have, through my parents being affected by these diseases.
"I've been lucky enough to take on supported charity walks to Kilimanjaro and Nepal a few years back, so I thought it was time to dust off my boots again. I'm really looking forward to raising funds for this amazing piece of equipment. Of course it's a bonus in that it's taking place in one of the most scenic parts of the country."
Donate to the Sheffield Scanner Appeal
Additional information
The University of Sheffield
With almost 29,000 of the brightest students from over 140 countries, learning alongside over 1,200 of the best academics from across the globe, the University of Sheffield is one of the world's leading universities.
A member of the UK's prestigious Russell Group of leading research-led institutions, Sheffield offers world-class teaching and research excellence across a wide range of disciplines.
Unified by the power of discovery and understanding, staff and students at the university are committed to finding new ways to transform the world we live in.
Sheffield is the only university to feature in The Sunday Times 100 Best Not-For-Profit Organisations to Work For 2018 and for the last eight years has been ranked in the top five UK universities for Student Satisfaction by Times Higher Education.
Sheffield has six Nobel Prize winners among former staff and students and its alumni go on to hold positions of great responsibility and influence all over the world, making significant contributions in their chosen fields.
Global research partners and clients include Boeing, Rolls-Royce, Unilever, AstraZeneca, Glaxo SmithKline, Siemens and Airbus, as well as many UK and overseas government agencies and charitable foundations.
Contact
For further information, please contact:
Harry Clulow
Media and PR Apprentice
University of Sheffield
0114 222 1047
h.clulow@sheffield.ac.uk