Sexual health in older people should not be overlooked, says study
Evidence shows sex is important to quality of life in older people
Health care professionals' handling of the sexual health of over 50s needs improvement
Findings showed couples aged over 80 were more likely to share sexual likes than those ages 50-79
Men over 80 felt greater obligation to have sex with their partner
A new study has highlighted the sexual health of people over 50 should not be overlooked by health care professionals in order to help maintain wellbeing in old age.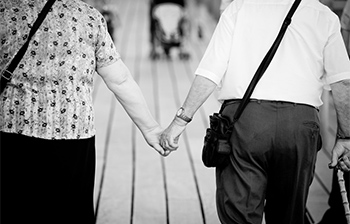 The research, published in the Journal of Sexual Research, was conducted by the University of Sheffield, University of Manchester and Manchester Metropolitan.
Researchers analysed data from the English Longitudinal Study of Ageing to examine difficulties with sexual activities and function, attitudes towards sex and details about the current sexual partners of over 50s.
Dr Sharron Hinchliff from the University of Sheffield's School of Nursing and Midwifery, said: "There is a growing body of evidence showing that sexual activity is important to the quality of life of older adults, and that it can be influenced by physical, psychological and social factors. However, older adults' experiences of sexual difficulties remain relatively unexplored.
"People over the age of 50 can experience sexual difficulties in different ways. For some, they have a negative impact on their psychological wellbeing. Whether or not a sexual difficulty within the relationship has a negative impact within that relationship also differs between couples.
"For instance, some participants in the study mentioned becoming more intimate as a way to deal with sexual changes.
"The variations in the way that health professionals approach sexual difficulties in older adults indicates that improvements need to be made to help meet the needs of our ageing population."
The research, which coincides with the release of a new report entitled 'How long will I love you?' from the same study, gathered data from more than 7,000 over 50s.
The new report published by the International Longevity Centre (ILC-UK) found that women over 80 were more likely to share the sexual likes of their partner, feel emotionally close to them and not feel obligated to have sex with them than those aged 50-79.
Men over 80 also reported that they were more likely to share the sexual likes of their partner and feel emotionally close to them than those aged 50-79. However, men over 80 also reported that they felt a greater degree of obligation to have sex with their partner than at any age between 50-79.
Using the Satisfaction with Life Scale measurement of subjective wellbeing, the study also found that for both men and women aged 50-90+, there was a positive association between frequency of kissing, fondling and petting and overall levels of subjective wellbeing.
However, whilst women's subjective wellbeing continued to increase with frequency of intimate behaviour, subjective wellbeing was slightly lower amongst men who reported having sexual intercourse with their partners every day than it was for those who reported intercourse two or three times per week.
Despite the report's findings on the importance of intimacy in later life, it concludes that not enough is being done to ensure that older people have access to good sexual health care and support.
"We know that many men and women remain sexually active throughout their lives, and that intimate relationships in later life can continue to have a positive impact on overall health and wellbeing," said Baroness Sally Greengross OBE, Chief Executive of ILC-UK.
"Unfortunately, in 2017 there is still a need to dispel myths around relationships in later life.
"Organisations like the ILC-UK will continue to make the case for a life course approach to sexual health and relationships which sees advice and services available from the college to the care home."
Dr David Lee, Research Fellow at The University of Manchester, said: "We know that positive sexuality and intimacy throughout the lifecourse is linked to higher levels of happiness and wellbeing – irrespective of age.
"Older people have a right to good sexual health care and should be able to easily access joined up services to help them meet that goal.
"Health professionals need to proactively engage with older people to better manage problems that impact on both individuals and couples sexual health and function. By normalising conversations around sex and older people, health professionals can help to counter steretypes and misconceptions around sex in later life, which will ultimately improve public health."
To view the study please visit: http://www.tandfonline.com/doi/full/10.1080/00224499.2016.1269308
http://www.ilcuk.org.uk/
Additional Information
The University of Sheffield
With almost 27,000 of the brightest students from over 140 countries, learning alongside over 1,200 of the best academics from across the globe, the University of Sheffield is one of the world's leading universities.
A member of the UK's prestigious Russell Group of leading research-led institutions, Sheffield offers world-class teaching and research excellence across a wide range of disciplines.
Unified by the power of discovery and understanding, staff and students at the university are committed to finding new ways to transform the world we live in.
Sheffield is the only university to feature in The Sunday Times 100 Best Not-For-Profit Organisations to Work For 2016 and was voted number one university in the UK for Student Satisfaction by Times Higher Education in 2014. In the last decade it has won four Queen's Anniversary Prizes in recognition of the outstanding contribution to the United Kingdom's intellectual, economic, cultural and social life.
Sheffield has six Nobel Prize winners among former staff and students and its alumni go on to hold positions of great responsibility and influence all over the world, making significant contributions in their chosen fields.
Global research partners and clients include Boeing, Rolls-Royce, Unilever, AstraZeneca, Glaxo SmithKline, Siemens and Airbus, as well as many UK and overseas government agencies and charitable foundations.
For further information, please visit: www.sheffield.ac.uk
The International Longevity Centre (ILC-UK) is a futures organisation focussed on some of the biggest challenges facing Government and society in the context of demographic change. Much of its work is directed at the highest levels of Government and the civil service, both in London and Brussels. It has a reputation as a respected think tank which works, often with key partners, to inform important decision-making processes. Its policy remit is broad, and covers everything from pensions and financial planning, to health and social care, housing design, and age discrimination. They work primarily with central government, but also actively build relationships with local government, the private sector and relevant professional and academic associations.
The University of Manchester, a member of the prestigious Russell Group of British universities, is the largest and most popular university in the UK. It has 20 academic schools and hundreds of specialist research groups undertaking pioneering multi-disciplinary teaching and research of worldwide significance. The University is one of the country's major research institutions, rated fifth in the UK in terms of 'research power' (REF 2014), has had no fewer than 25 Nobel laureates either work or study there, and had an annual income of just over £1 billion in 2014/15.
Contact
For further information please contact:
Amy Pullan
Media Relations Officer
University of Sheffield
0114 222 9859
a.l.pullan@sheffield.ac.uk