University of Sheffield top in north for graduate prospects
University of Sheffield ranked top in the north for producing employable graduates
The Times and Sunday Times Good University Guide 2018 ranks Sheffield top in the north for graduate prospects
Six University of Sheffield degree subjects are in top three disciplines for graduate employability prospects in the UK
The University of Sheffield is the top university in the north of England for producing employable graduates, according to data published by the Sunday Times.
The Times and Sunday Times Good University Guide for 2018 reveals that 82.6 per cent of graduates from the University of Sheffield secure graduate-level employment or further study after finishing their studies.
It also reveals that University of Sheffield degree programmes in six different disciplines produce some of the most employable graduates in the UK. These include degrees spanning the arts and humanities, engineering, medicine, science and social sciences.
According to the guide:
One third of University of Sheffield degree subjects are in the top 10 disciplines for graduate employability prospects in the UK.
Two thirds of University of Sheffield degree subjects are in the top 20 disciplines for graduate employability prospects in the UK.
Six University of Sheffield degree subjects are in the top three disciplines for graduate employability prospects in the UK.
Professor Sir Keith Burnett, President and Vice-Chancellor of the University of Sheffield, said: "I am delighted that the University has been recognised for working with students to help them develop the skills and experience needed to build a successful and rewarding career. Companies are keen to recruit graduates from our University and this latest accolade reflects the preparation our students receive in their courses and a wide range of related activities, work experience, enterprise support and volunteering.
"We are proud that our university partnerships also enable students undertake projects with some of the world's leading companies and organisations during their time at Sheffield, linking their learning to real world application. From trainee doctors and dentists to engineers, scientists and journalists, we are deeply proud of the impact our graduates have on society as they put their knowledge to work after graduation. We are always seeking ways to help students succeed in finding great opportunities as employees or in establishing their own enterprises, from learning a new language to experience in leading projects or presenting to a group."
The Times and Sunday Times Good University Guide for 2018 also praises the University's pioneering work on degree apprenticeships, blending internationally-leading research with excellent industry-sponsored technical education.
Data on Sheffield's graduate employability prospects follows the University's position as one of the top 20 favourite recruiting grounds for The Times' 100 leading employers, according to the 2017 graduate market survey by High Fliers.
Paul Fennell, Head of Careers and Employability at the University of Sheffield, said: "The University of Sheffield has partnerships with a range of employers both in the UK and all over the world who work with us to boost the employment prospects of our students.
"Leading employers recruit Sheffield students once they finish their studies but, importantly, they also work with our students during the course of their degree through a range of workshops, internships and placements to boost their employability and prepare them for the graduate jobs market. A degree from Sheffield gives students vital skills to help them build a successful and rewarding career in their chosen industries."
He added: "In engineering for example, our students can take a year in industry. Our arts and humanities students can undertake a placement in a variety of businesses both in the UK and oversees. Students from our Faculty of Medicine, Dentistry and Health can gain vital experience from placements in Sheffield's renowned teaching hospitals and health service providers. Our science students can gain experience working with some outstanding national and multinational organisations and our social sciences students can apply their learning in organisations across the UK and beyond."
Laura Blackedge, a Student Recruitment Officer at PwC, who are one of several large businesses the University of Sheffield works closely with, said: "PwC have had great success working with the University of Sheffield and recruiting their students into our Undergraduate and Graduate opportunities. We recruit University of Sheffield students from all degree subjects and value the range of skills and experiences that they bring to a diverse firm such as PwC."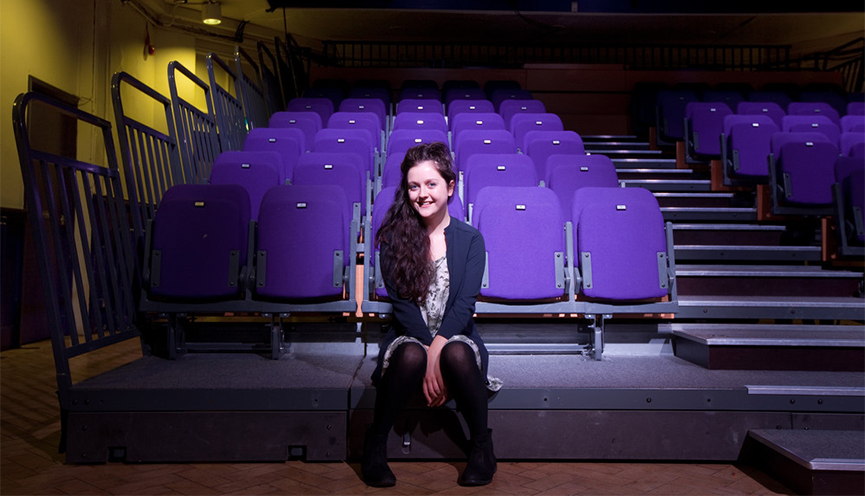 Helen Monks, who graduated from the University of Sheffield's School of English and has since worked as an actress starring in the Channel 4 sitcom Raised By Wolves, said the University played a key role in helping her realise the opportunities available to her post-graduation.
She said: "The University of Sheffield's Careers Service was so helpful, especially for students studying humanities. It helps you to work out how to be employable and gives you encouragement on how to use the skills you've learnt at university and practically apply them in the real world.
"Something I'd recommend is to get involved in everything you can and do everything you can. It's only three years so make the most of being in this place where everything is available to you. It's a chance to work out what you're good at, what you love and what you thrive in."
Sophie Crane, who studied biology at the University and now works in sports broadcasting with the Hawk-Eye computer system added: "Studying biology has given me endless skills that are exceptionally transferrable, which have helped me massively in my journey so far. I am now working in sports broadcasting with Hawk-Eye, which is most well-known for tennis line calling, using highly technical software and mechanics to live broadcast a range of different sporting events.
"During my second year studying biology, I took part in a science communication module - Talking the Talk: Getting Science onto Film. This module completely changed my career aspirations - I was applying to study a postgrad in dietetics. I decided to test the water in TV and science communication, so I joined the student media station, Forge TV. From then on, I threw myself into filming and reporting for the station. I loved it and I knew I wanted to pursue the TV route after graduation."
Destinations of graduates from the University of Sheffield – find out more.
Studying at the University of Sheffield
Additional Information
The University of Sheffield
With almost 27,000 of the brightest students from over 140 countries, learning alongside over 1,200 of the best academics from across the globe, the University of Sheffield is one of the world's leading universities.
A member of the UK's prestigious Russell Group of leading research-led institutions, Sheffield offers world-class teaching and research excellence across a wide range of disciplines.
Unified by the power of discovery and understanding, staff and students at the university are committed to finding new ways to transform the world we live in.
Sheffield is the only university to feature in The Sunday Times 100 Best Not-For-Profit Organisations to Work For 2017 and was voted number one university in the UK for Student Satisfaction by Times Higher Education in 2014. In the last decade it has won four Queen's Anniversary Prizes in recognition of the outstanding contribution to the United Kingdom's intellectual, economic, cultural and social life.
Sheffield has six Nobel Prize winners among former staff and students and its alumni go on to hold positions of great responsibility and influence all over the world, making significant contributions in their chosen fields.
Global research partners and clients include Boeing, Rolls-Royce, Unilever, AstraZeneca, Glaxo SmithKline, Siemens and Airbus, as well as many UK and overseas government agencies and charitable foundations.