University of Sheffield recognised as top employer for workplace equality
The University of Sheffield has been named as a top employer for workplace equality by LGBT charity Stonewall
The University has achieved its highest ever ranking of 24th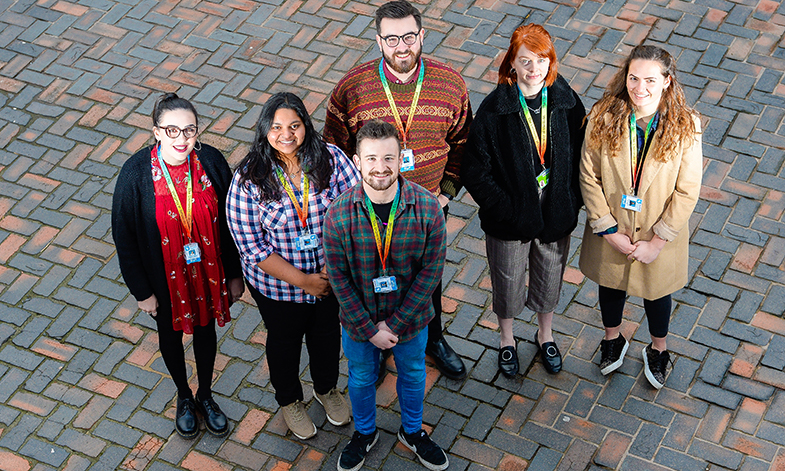 The University of Sheffield has been named as a top employer for workplace equality for the fifth year in a row by the leading LGBT charity Stonewall, moving up 64 places to achieve its highest ever ranking of 24th.
In recognition of its continued dedication to workplace equality, the University has been ranked in the Stonewall Top 100 Employers list – a definitive list showcasing the best employers for lesbian, gay, bi, and trans staff.
The Stonewall Top 100 Employers are the best performing employers on the charity's Workplace Equality Index – an annual audit of workplace culture for LGBT staff.
The index is becoming increasingly competitive with more than 434 employers submitting entries this year, the highest number since it first opened in 2005.
The University aims to support people - regardless of their sexual orientation or any other equality characteristic - to work together to create and be part of an all-encompassing community.
Working with Stonewall, the University uses the index as a way to measure its efforts to tackle discrimination and create an inclusive workplace for lesbian, gay, bi and trans+ employees. This year, the charity received 92,000 responses making it one the largest national employment surveys in Britain. Sheffield will now use the results of the survey to help continue its focus on LGBT+ equality.
The University of Sheffield's Senior Diversity Champion, Provost and Deputy Vice Chancellor Gill Valentine, said: "At the University of Sheffield we actively champion equality, diversity and inclusion, which has helped us to create an open, inclusive environment for everyone, including LGBT+ staff and students. To have risen up the rankings this year is extremely pleasing and is testament to the people who work at the University making it such a remarkable place to work, so I'm delighted to be part of an institution with such a diverse and inclusive community.
"Equality is a hugely important issue for me personally. I believe people should be accepted for whoever they are and they should be able to bring their whole selves to work in a warm and welcoming environment."
Equality is a hugely important issue for me personally. I believe people should be accepted for whoever they are and they should be able to bring their whole selves to work in a warm and welcoming environment.

The University of Sheffield's Senior Diversity Champion, Provost and Deputy Vice Chancellor Gill Valentine

This year marks the two year anniversary of Open@TUoS, a network of LGBT+ allies, who are working together to progress LGBT+ inclusion at the University of Sheffield.
Open@TUoS was developed with the LGBT+ Staff Network and aims to empower all staff to help create an open, inclusive environment for LGBT+ colleagues and students at the University. Supporters do this by sharing information, encouraging people to become actively involved in LGBT+ activities and by asking staff to visibly support LGBT+ inclusion.
In the last two years more than 1,600 members of staff have proactively become supporters of Open@TUoS.
This figure rose by 20 percent following the launch of our #RainbowLanyard campaign. This campaign was created to spread the word about the importance of visible allies and of creating a visually inclusive campus in the run-up to LGBT History Month (February 2018). From Monday 22 January, outlets across campus have sold hot drinks in a special limited edition rainbow lanyard cup. Staff and students have been encouraged to share their rainbow cup selfies on Twitter with the hashtag #rainbowlanyard and @SheffUnistaff to show support.
Darren Towers, Executive Director at Stonewall said: "The University of Sheffield and all those who have made this year's Top 100 Employers list have done a fantastic job. Taking part in our Index shows real commitment to understanding and advancing LGBT equality. This year, for the first time, the Index looked at what employers were doing for trans equality in the workplace. This work is crucial. We recently published LGBT in Britain: Trans Report, which revealed the profound inequality facing trans people in Britain today. Half of trans people have hidden their identity at work for fear of discrimination. This must change and it's encouraging to see so many organisations make a commitment to trans equality. With their support and hard work we can create a world where all lesbian, gay, bi and trans employees are welcomed and accepted without exception."
Josh Willacy, Lead for Yorkshire, Lincolnshire and the housing sector at Stonewall said: "It is brilliant to see the University of Sheffield in the Stonewall Top 100 for the fifth time, the organisation's commitment to being LGBT inclusive through innovative work, inclusive leadership and developing meaningful allies is remarkable. This has been our most challenging Workplace Equality Index to date and the university continues to set the bar both for the sector and region. To be recognised in this way is a real achievement and is very well deserved."
Additional information
The University of Sheffield
With almost 29,000 of the brightest students from over 140 countries, learning alongside over 1,200 of the best academics from across the globe, the University of Sheffield is one of the world's leading universities.
A member of the UK's prestigious Russell Group of leading research-led institutions, Sheffield offers world-class teaching and research excellence across a wide range of disciplines.
Unified by the power of discovery and understanding, staff and students at the university are committed to finding new ways to transform the world we live in.
Sheffield is the only university to feature in The Sunday Times 100 Best Not-For-Profit Organisations to Work For 2017 and was voted number one university in the UK for Student Satisfaction by Times Higher Education in 2014. In the last decade it has won four Queen's Anniversary Prizes in recognition of the outstanding contribution to the United Kingdom's intellectual, economic, cultural and social life.
Sheffield has six Nobel Prize winners among former staff and students and its alumni go on to hold positions of great responsibility and influence all over the world, making significant contributions in their chosen fields.
Global research partners and clients include Boeing, Rolls-Royce, Unilever, AstraZeneca, Glaxo SmithKline, Siemens and Airbus, as well as many UK and overseas government agencies and charitable foundations.
Contact
For further information please contact:
Mary Hickey
Media and Communications Officer
0114 2221034
m.o.hickey@sheffield.ac.uk