Sheffield welcomes international students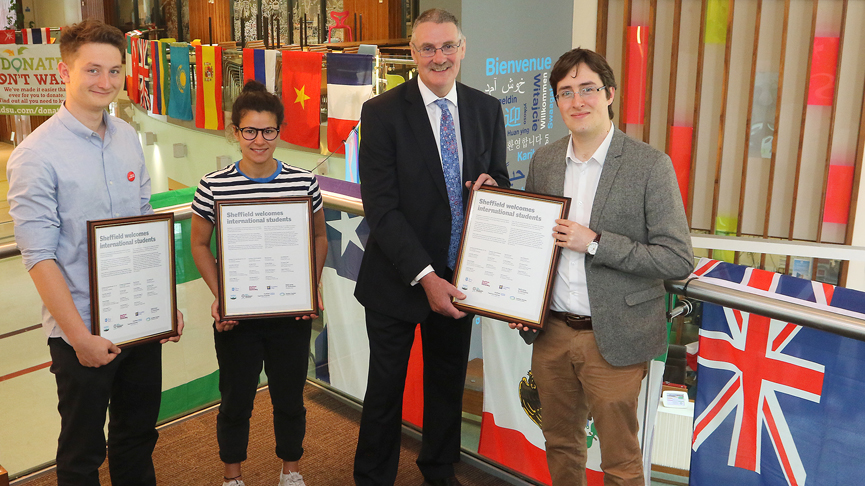 ---
Sheffield's universities, college, MPs and city leaders have united to send out a strong message that Sheffield is a global city which warmly welcomes students from all over the world.
A statement highlighting the city's commitment to international students and celebrating the positive cultural and economic impact they have on Sheffield's vibrancy was issued at the national conference of the UK Council for International Student Affairs (UKISA) in Sheffield last week (29 June - 1 July 2016).
Richard Wright, Executive Director of Sheffield Chamber of Commerce and Industry, presented the pledge to Students' Union leaders from the University of Sheffield, Sheffield Hallam University and Sheffield College.
He said: "Sheffield is a great city for many reasons but we are justly proud of the number of international students who choose to study at our universities and colleges. When I was a student many years ago we had international students on our course and they have remained friends all my life.
"They obviously contribute massively to our economy but, equally importantly, they enrich our lives. We wish to be an international and cosmopolitan city and our international students are massively important in that journey. They are more than welcome."
The statement, which highlights how international students act as ambassadors for the city, has been signed by Mr Wright on behalf of the Chamber of Commerce, the Vice-Chancellors of the University of Sheffield and Sheffield Hallam University, the Chief Executive of Sheffield College, the city's six MPs, the Leader and Chief Executive of Sheffield Council, the Chief Executive of Welcome to Yorkshire, South Yorkshire's Police and Crime Commissioner and the Chief Executive of Sheffield Teaching Hospitals NHS Foundation Trust.
Dom Trendall, President of the University of Sheffield's Students' Union, said: "Here at the University of Sheffield and Sheffield Students' Union, we value and recognise the contribution of our international students to the community. We believe that it is this diversity that makes University an exciting place to go. Both the University and the Students' Union are committed to welcoming students from all around the world because we believe that 'we are international'."
Emily Wilkes, President of Sheffield Hallam University's Students' Union, said: "We at Sheffield Hallam Students' Union have always and will continue to support its international students. We are proud that they come to our institution to gain an education, and we appreciate their contribution to our diverse city."
James Bangert, President of Sheffield College Students' Union, said: "Our Students' Union is proud to support its international students. These students come to Sheffield to gain an education but whilst here they provide investment and culture and diversity to our city. They make our city a better and more tolerant place to live."
Statement: Sheffield welcomes international students
Sheffield is committed to welcoming international students and is proud and grateful for all they bring to our city, which is their home for a time.
These students, who study at Sheffield's two universities and college, make a contribution to our city which is much more than just financial. They work in our hospitals, schools and businesses. They volunteer for more than 140 Sheffield charities and add new perspectives, food and cultural opportunities.
Years after our international students leave Sheffield, they are global ambassadors for the city, the region and its people. They feel proud of the education and friendships they made here. We are proud that they go on to make the world a better place, working as scientists, engineers, doctors, nurses, teachers and leaders in over 100 countries.
Our city is also deeply grateful for the investment and vibrancy our international students bring - over £120 million into our city's economy each year, around 10% of inward investment in Sheffield. Our city regeneration and the growth of many small businesses owes a huge amount to international students. Now, in a time of change, we want to reassure potential international students from around the world that you are welcome in Sheffield.
Thousands of others have had a wonderful experience in this city, and this will continue.
Professor Sir Keith Burnett CBE, FRS, Vice Chancellor, The University of Sheffield
Professor Chris Husbands, Vice Chancellor, Sheffield Hallam University
Paul Corcoran, Chief Executive, The Sheffield College
John Mothersole, Chief Executive, Sheffield City Council
Councillor Julie Dore, Leader of the Council, Sheffield City Council
Sir Gary Verity, Chief Executive, Welcome to Yorkshire
Dr Alan Billings, South Yorkshire Police and Crime Commissioner
Sir Andrew Cash, Chief Executive, Sheffield Teaching Hospitals NHS Foundation Trust
Richard Wright, Executive Director, Sheffield Chamber of Commerce, Chair of Governors, The Sheffield College
Clive Betts MP, Member of Parliament for Sheffield South East
Rt Hon Nick Clegg MP, Member of Parliament for Sheffield Hallam
Angela Smith MP, Member of Parliament for Penistone & Stocksbridge
Louise Haigh MP, Member of Parliament for Sheffield Heeley
Paul Blomfield MP, Member of Parliament for Sheffield Central
Gill Furniss MP, Member of Parliament for Brightside & Hillsborough
Additional information
The University of Sheffield
With almost 27,000 of the brightest students from over 140 countries, learning alongside over 1,200 of the best academics from across the globe, the University of Sheffield is one of the world's leading universities.
A member of the UK's prestigious Russell Group of leading research-led institutions, Sheffield offers world-class teaching and research excellence across a wide range of disciplines.
Unified by the power of discovery and understanding, staff and students at the university are committed to finding new ways to transform the world we live in.
Sheffield is the only university to feature in The Sunday Times 100 Best Not-For-Profit Organisations to Work For 2016 and was voted number one university in the UK for Student Satisfaction by Times Higher Education in 2014. In the last decade it has won four Queen's Anniversary Prizes in recognition of the outstanding contribution to the United Kingdom's intellectual, economic, cultural and social life.
Sheffield has five Nobel Prize winners among former staff and students and its alumni go on to hold positions of great responsibility and influence all over the world, making significant contributions in their chosen fields.
Global research partners and clients include Boeing, Rolls-Royce, Unilever, AstraZeneca, Glaxo SmithKline, Siemens and Airbus, as well as many UK and overseas government agencies and charitable foundations.
Contact
For further information please contact:
Hannah Postles
Media Relations Officer
University of Sheffield
0114 222 1046
h.postles@sheffield.ac.uk