New SHIELD to tackle antibiotic resistance
Scientists have received a £3.5m funding boost to investigate new ways to combat antimicrobial resistance with super white blood cells.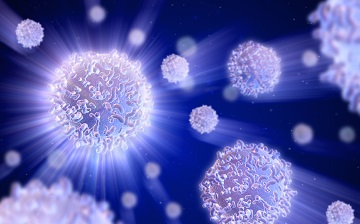 The SHIELD Consortium led by the University of Sheffield with partners from Edinburgh, Birmingham and Newcastle universities will look at developing therapies within the body to kill harmful bacteria.
Current work has focused on developing new antibiotics that fight bacteria but an increasing number of bacteria are becoming resistant to these drugs.
Instead, the team want to increase the body's own response in combating these bacteria by enhancing the capacity of phagocytes - a special type of white blood cell that eat and kill bacteria. The team aim to enhance how these cells kill bacteria while limiting the generation of harmful inflammation.
David Dockrell, Professor of Infectious Diseases and Co-director of the Florey Institute for Host Pathogen Interactions at the University of Sheffield, said: "The human body regularly fights bacteria without any problems. This is because blood cells circulating in our immune system, called macrophages and neutrophils, fight the first signs of infection in the body by recognising and destroying the bacteria.
"This project seeks to increase our understanding of exactly how these immune cells work so that we can maximise the ability of the cells to not only destroy harmful bacteria but also limit the damage to healthy tissue caused by excessive inflammation. If we can identify what genes within these cells are the most important in the optimal killing of bacteria, it could lead to medicines being developed that can re-engage and enhance this vital process when it fails."
The funding is part of a £9.5m funding package announced today (Thursday 19 May 2016) by the Medical Research Council (MRC) as part of a cross-council initiative to tackle antimicrobial resistance (AMR).
The University of Bristol has received £2.2m for a project looking at the potential to develop new types of antibiotics from fungi and the University of Leeds has been awarded £3.8m to develop a new tool that can be used by doctors to detect the presence of a bacterial or viral infection quickly before antibiotics are prescribed to stop their unnecessary use.
The awards together mark one of the biggest investments into AMR since the initiative launched and will use new technology to exploit natural compounds, develop a tool to offer better and faster diagnostics and explore how the body's own immune system can be boosted to fight infection.
AMR is a significant and growing challenge. The world is facing an increase in the number and type of bacteria resistant to antibiotics alongside stagnation in the development of new antibiotics or viable alternatives. It is clear that an interdisciplinary approach at a global level is needed to tackle the challenge in order to save millions of lives being lost as a result of antibiotic-resistant bacteria.
The MRC has been working with the other research councils that form Research Councils UK to identify research opportunities that cross disciplines to help tackle the rise in AMR.
The latest round of awards have been funded by the MRC, Biotechnology and Biological Sciences Research Council (BBSRC), Economic and Physical Social Research Council (EPSRC) and Economic and Social Research Council (ESRC) through the AMR cross-council initiative, as part of a strategic and co-ordinated effort to address the growing problem head on.
Dr Jonathan Pearce, Head of Infections and Immunity at the MRC, said: "If the antibiotics that we rely on to protect us after common surgery like caesareans, joint replacements, chemotherapy and transplant surgery, don't work, it's going to have a catastrophic effect on our healthcare system. That's why it's so important we continue to invest in research into AMR.
"There is undoubtedly an urgent need to develop new antibiotics but tacking the issue of AMR is about much more. We need to be imaginative and look at what alternatives there are to antibiotic use, and to do this successfully we need to work in partnership. These awards are a concrete example of what the MRC in collaboration with the others research councils are doing at an interdisciplinary level to fight AMR."
Additional Information
The University of Sheffield
With almost 27,000 of the brightest students from over 140 countries, learning alongside over 1,200 of the best academics from across the globe, the University of Sheffield is one of the world's leading universities. A member of the UK's prestigious Russell Group of leading research-led institutions, Sheffield offers world-class teaching and research excellence across a wide range of disciplines. Unified by the power of discovery and understanding, staff and students at the university are committed to finding new ways to transform the world we live in. Sheffield is the only university to feature in The Sunday Times 100 Best Not-For-Profit Organisations to Work For 2016 and was voted number one university in the UK for Student Satisfaction by Times Higher Education in 2014. In the last decade it has won four Queen's Anniversary Prizes in recognition of the outstanding contribution to the United Kingdom's intellectual, economic, cultural and social life. 
Sheffield has five Nobel Prize winners among former staff and students and its alumni go on to hold positions of great responsibility and influence all over the world, making significant contributions in their chosen fields. Global research partners and clients include Boeing, Rolls-Royce, Unilever, AstraZeneca, Glaxo SmithKline, Siemens and Airbus, as well as many UK and overseas government agencies and charitable foundations.
Medical Research Council
The Medical Research Council is at the forefront of scientific discovery to improve human health. Founded in 1913 to tackle tuberculosis, the MRC now invests taxpayers' money in some of the best medical research in the world across every area of health. Thirty-one MRC-funded researchers have won Nobel prizes in a wide range of disciplines, and MRC scientists have been behind such diverse discoveries as vitamins, the structure of DNA and the link between smoking and cancer, as well as achievements such as pioneering the use of randomised controlled trials, the invention of MRI scanning, and the development of a group of antibodies used in the making of some of the most successful drugs ever developed. Today, MRC-funded scientists tackle some of the greatest health problems facing humanity in the 21st century, from the rising tide of chronic diseases associated with ageing to the threats posed by rapidly mutating micro-organisms. www.mrc.ac.uk
Biotechnology and Biological Sciences Research Council
The Biotechnology and Biological Sciences Research Council invests in world-class bioscience research and training on behalf of the UK public. Our aim is to further scientific knowledge, to promote economic growth, wealth and job creation and to improve quality of life in the UK and beyond/ Funded by Government, BBSRC invested over £509M in world-class bioscience in 2014-15. We support research and training in universities and strategically funded institutes. BBSRC research and the people we fund are helping society to meet major challenges, including food security, green energy and healthier, longer lives. Our investments underpin important UK economic sectors, such as farming, food, industrial biotechnology and pharmaceuticals. www.bbsrc.ac.uk
Engineering and Physical Sciences Research Council
The Engineering and Physical Sciences Research Council is the UK's main agency for funding research in engineering and the physical sciences. EPSRC invests around £800 million a year in research and postgraduate training, to help the nation handle the next generation of technological change. The areas covered range from information technology to structural engineering, and mathematics to materials science. This research forms the basis for future economic development in the UK and improvements for everyone's health, lifestyle and culture. EPSRC works alongside other Research Councils with responsibility for other areas of research. www.epsrc.ac.uk
Economic and Social Research Council
The Economic and Social Research Council is the UK's largest funder of research on the social and economic questions facing us today. It supports the development and training of the UK's future social scientists and also funds major studies that provide the infrastructure for research. ESRC-funded research informs policymakers and practitioners and helps make businesses, voluntary bodies and other organisations more effective. The ESRC also works collaboratively with six other UK research councils and Innovate UK to fund cross-disciplinary research and innovation addressing major societal challenges. The ESRC is an independent organisation, established by Royal Charter in 1965, and funded mainly by the Government. www.esrc.ac.uk
For more information on the AMR cross-council initiative, please visit: www.mrc.ac.uk/research/initiatives/antimicrobial-resistance/tackling-amr-a-cross-council-initiative/
Contact
For further information please contact:
Kirsty Bowen
Media Relations Officer
University of Sheffield
 0114 222 1034
kirsty.bowen@sheffield.ac.uk